The Original Rideshare: Public Transit in the Era of Uber
By Robin O'Hara, February 12, 2019 06:09 AM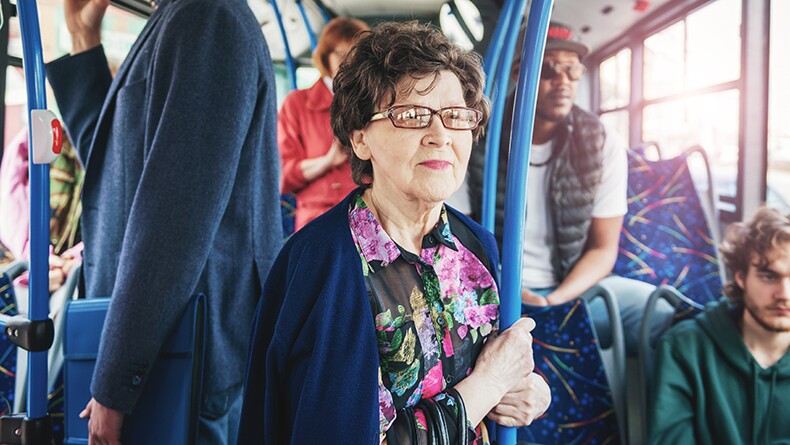 The idea of a group of people traveling together from Point A to Point B as a way to make transportation more efficient and more affordable isn't exactly new. At LA Metro, we've been doing that with buses and trains for over 60 years. But in the age of ride-hailing (e.g., Uber and Lyft), the transportation landscape has dramatically changed, and today there are many more options to consider than there were in the 1950s. The concept of Mobility as a Service (MaaS)—which, as its name suggests, is centered on users tapping multiple transportation options as a service rather than depending entirely on vehicle ownership—is more relevant than ever. Public transit fits perfectly into this new and still-emerging landscape, and LA Metro has responded accordingly.

A Case Study in MaaS: TAPforce

For the last decade, LA Metro's TAP smart card has allowed users to access both public rail and bus lines with one payment card. However, in the relatively short span of time since the introduction of that then-innovative offering, the number of transportation services has grown exponentially.

In order to offer the full scope of transportation options, LA Metro has built a MaaS platform with Salesforce technology. The technology expands the TAP Program—dubbed "Tap force" given the Salesforce platform—so that the TAP smart card can access not only rail and buses, but also can be used to rent bikes and cars as well as pay for tolls, parking, and, in the future, ride-hailing services.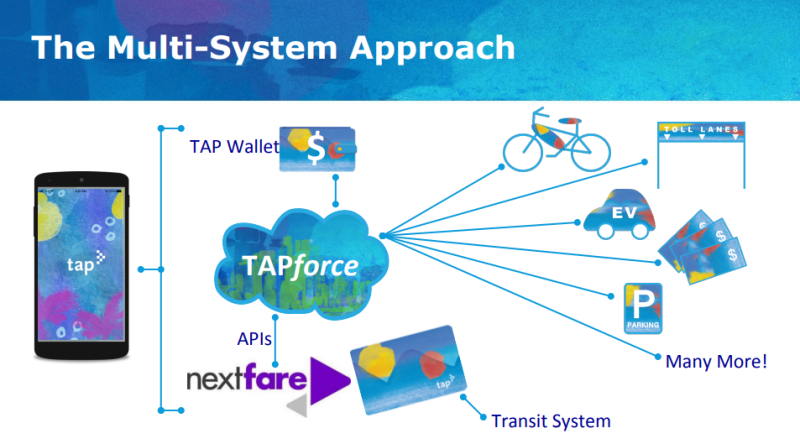 Competitors or Collaborators?

Such innovation is an imperative for all stakeholders. Public transit no longer has the luxury of being the only alternative to car ownership—and with the popularization of modern ride-hailing apps, public transportation must now compete unlike any time in its history. As riders increasingly shift toward ride-hailing services like Lyft and Uber, they also now expect innovation from their public transit systems. The LA region's "TAP force" MaaS system will accomplish just that, by making several types of transportation options available through one application.

But beyond directly competing, public and private transportation must also fill important holes for each other. On the whole, public transit still offers a more consistent, and often cheaper experience for all customers who need to get to work, school, or to a doctor. With private services, financial barriers and demand-driven availability can prevent access for some. But within public transportation, challenges remain around what we call the "first and last miles"—that is, how people get to a bus stop or rail station from their home, and to their final destination once that bus or train segment of their trip ends. Ride-hailing and the more affordable bike and scooter sharing systems, can serve an important role by filling the gap when walking to a stop or station is either impossible or impractical.

Public transit has an opportunity to be a convener for the often complicated array of public and private transportation options available to users. Our TAP force system offers one model for how that convening role can leverage technology to create a system that is mutually beneficial for consumers, businesses, and public transit.

The Role of Public Policy

Because public transit is provided by a mix of local, state or federal governments, collaboration between public transit and private companies also helps set the tone for conversations around regulations of private transportation services. If these private services can be better integrated into the larger public transit system (and coexist with existing public services), then they are likely to have a more positive experience working with local policymakers.

There are also policy considerations for public MaaS systems separate from the integration with private companies. For LA Metro, the updated TAP System would allow us to quickly and easily change pricing, or offer discounts to incentivize a particular action. For example, if a day has bad air quality and we want to have fewer drivers on the road, we might offer discounts for purchasing public transit options. Thus, all while providing better services to users, the innovative system will allow us to provide incentives that benefit the entire region.

In an age where private transportation companies have become large players in cities across the country, public transportation authorities have an obligation to innovate and bring disparate parties together to build a cohesive transportation network that provides residents with the best options for safe, reliable, and affordable mobility.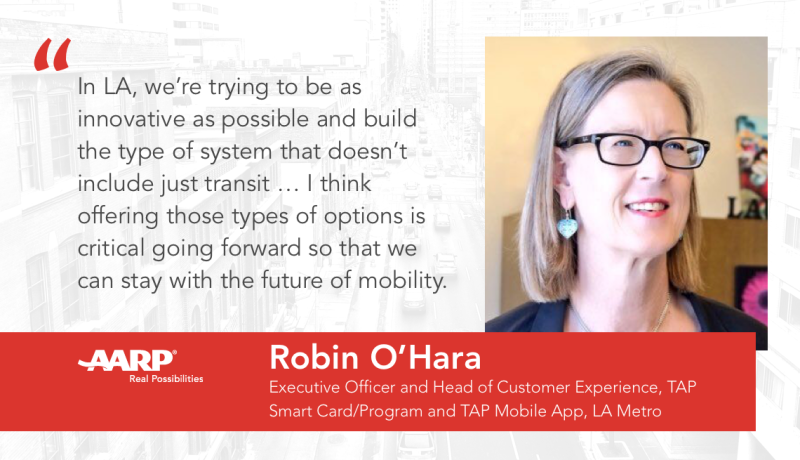 Robin O'Hara is Executive Officer and Head of Customer Experience for LA Metro's TAP Smart Card Program and TAP Mobile App. She was a panelist at the AARP Public Policy Institute Future of Transportation Solutions Forum and is a guest blogger for this series. Views in this blog do not necessarily reflect those of AARP or the AARP Public Policy Institute.

You may also be interested in other blogs in this AARP Public Policy Institute Future of Transportation series: