The Untapped Source for Business Growth You Would Have Learned About at Davos
By Jeffrey Gullo, December 16, 2020 07:32 AM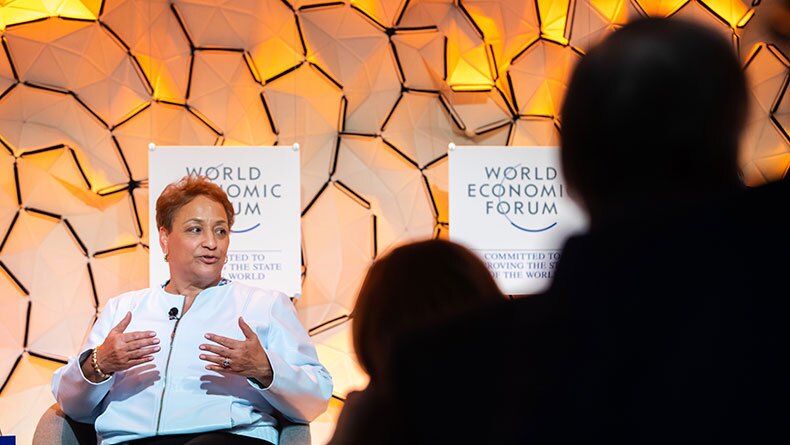 At Davos each year, some 2,500 business and policy leaders join together to discuss forward-looking ideas and tackle the pressing questions of the day. This January, AARP, OECD, and the World Economic Forum planned to launch our new report and learning platform to Davos attendees. While many are disappointed to miss the in-person event, we're thrilled to be able to share these new resources with you today.

In short, what our research found is that multigenerational teams perform better, earn more, and provide more worker satisfaction. And it is precisely the business case needed by employers at this moment in time.

The Future of Work

On the sidelines of the 2019 World Economic Forum Annual Meeting, a small group of executives, convened by AARP, gathered for dinner to discuss the future of work. Up until then, most future of work conversations revolved around megatrends—i.e. automation, globalization, and the gig economy. But at this meeting, leaders from private industry, policymakers, academics, and journalists were discussing the intersection of work and longevity, and the changing composition of the workforce.

Today, in general, people are living longer, healthier lives. As a result, the four- and five-generation workforce is a reality—one that is not lost on executives. In fact, in a survey of nearly 6,000 employers across OECD countries, 83% of global executives recognized that a multigenerational workforce is key to business growth and success. Yet, age is conspicuously absent from a large percentage of diversity and inclusion policies.

The message from that meeting was clear: we must measure the impact of age diversity and inclusion on productivity and long-term growth. We did just that.

The Business Case for Age Diversity

AARP, in collaboration with the OECD and World Economic Forum, established the Living, Learning, and Earning Longer (LLEL) initiative. This learning collaborative of private sector executives sought to not only identify the policies and practices to support a multigenerational workforce, but to develop new research on the implications for corporate bottom line. What we discovered was extraordinary.

The discussion that began in the snowy mountain town took us around the world. From New York to Singapore to Paris, through regional roundtables with over 100 executives, we gained tremendous insight into the thinking of employers. We learned what works and, equally important, what doesn't work when it comes to fostering age diverse teams. We returned to Davos last January, eager to discuss our initial findings.

Shortly after Davos, the pandemic gripped the world. While it has turned much of business and policy thinking on its head in the last year, it has not changed the validity or importance of these findings. Instead, the pandemic has accelerated the focus on the future of work, with many employers re-evaluating corporate policies and practices to identify opportunities to shore up business resilience. As companies charted new paths forward, our LLEL initiative followed suit, shifting to virtual engagements and offering resources on managing multigenerational teams during Covid-19.

Today, we have grown our learning collaborative to 52 companies, representing more than 2 million employees and over $1 trillion in revenue. The collaborative has informed groundbreaking new research and, this week, we are pleased to unveil the new OECD report, Promoting an Age-Inclusive Workforce: Living, Learning and Earning Longer. This report presents a business case for embracing greater age diversity at the workplace and debunks several myths about generational differences in work performance, attitudes and motivations towards work.

The 5 Points of a Multigenerational Workforce

To complement the report, AARP has also developed the digital learning platform Growing with Age, an online, interactive tool designed for executives to better understand the impact of age diversity and inclusion on a firm's overall performance.

These research products bring to light 5 key points regarding the multigenerational workforce:


Organizational resilience. Inclusion of age, gender, race, sexuality, and ability can strengthen business resilience to provide a competitive advantage.

Productivity. Mixed-aged teams generate a productivity spillover effect, when considering such factors as institutional knowledge transfer, mentoring, talent development, and reduced turnover.

Market potential. Employee age diversity unlocks greater market opportunities, better reflecting the diversity of a heterogeneous customer base.

Innovation. Intergenerational teams are a source for game-changing innovation. Analysis by the German Economic Institute found that each increase in the variance of workforce age increases the likelihood of achieving a product or process innovation by 1.5%.

Global economy. Raising the employment levels of workers over age 50 to match countries with the highest participation of 50+ workers will increase GDP across OECD countries by $10.3 trillion—offsetting the economic loss if older workers' employment levels were to remain stagnant.
Growing With Age Digital Learning Platform from AARP International on Vimeo.


Moving Forward

With vaccinations starting in the UK and U.S., and other countries following suit, we are beginning to see a glimmer of light at the end of a very long tunnel. As we begin to rebuild our companies, our communities and our economies, we must consider those sources of growth hiding in plain sight.

It's time to embrace age diversity and inclusion. It's good for people. It's even better for business.

For more information, visit aarp.org/growingwithage.