Visualizing the Housing Gap – the 2017 LTSS Scorecard
If you look at the 2017 Long Term Services and Supports (LTSS) Scorecard, you may notice that something is different in this third edition– housing and transportation indicators are included for the first time. Affordable and accessible housing and transportation options are key components of a livable community. Having options that people can access, regardless of their age, income, physical ability or other factors brings them closer to the community features and services they need to remain engaged in their communities.

AARP's Livability Index gives higher housing scores to neighborhoods in counties with more subsidized (sometimes known as affordable) housing, as it ensures that people of all incomes can have access to a place to live. One of the elements of a high-functioning LTSS system is that it gives people choices about where to live and receive services. Affordable housing is essential to shifting the delivery of LTSS from an institutional model towards home and community-based care. However, a major barrier to transitioning people out of institutions and back to their communities is the lack of affordable and accessible housing options. The Scorecard includes a measure of the supply of subsidized housing at the state level, an important resource to help individuals with lower incomes and LTSS needs stay in the community and receive services at home or in a community setting.

This Scorecard measure captures the total amount of subsidized housing opportunities—spanning many different programs—divided by the total number of housing units in a state. The total number of subsidized housing opportunities has risen since 2011, but it still falls short of current and future needs.

This chart shows the supply of subsidized housing opportunities in each state in 2015 (blue bars), the improvement from four years earlier (red line), and the gap in affordable housing opportunities (light blue solid area). Nationally, there are more than 18 million renters at or below area median income (most of whom are cost-burdened by housing) and fewer than 8 million potentially subsidized units. There is still an affordable housing crisis in our country.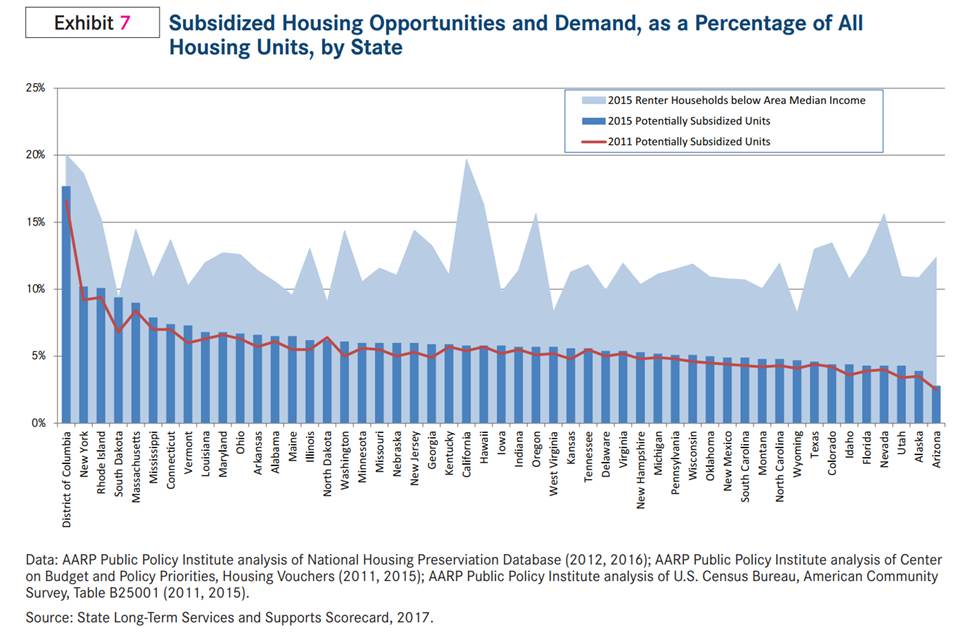 The solution seems simple – we should build more of this housing. Federal programs such as Section 202 have historically built new affordable housing for older adults with low incomes. However, the federal government has stopped funding new construction of this and similar programs, and fewer affordable apartments are available under these programs. Vouchers have become more popular due to their efficiency, but holders may have a hard time finding appropriate housing and landlords who will accept their voucher in more livable neighborhoods. Those counting on a subsidized unit might find that there are not enough available in a helpful location.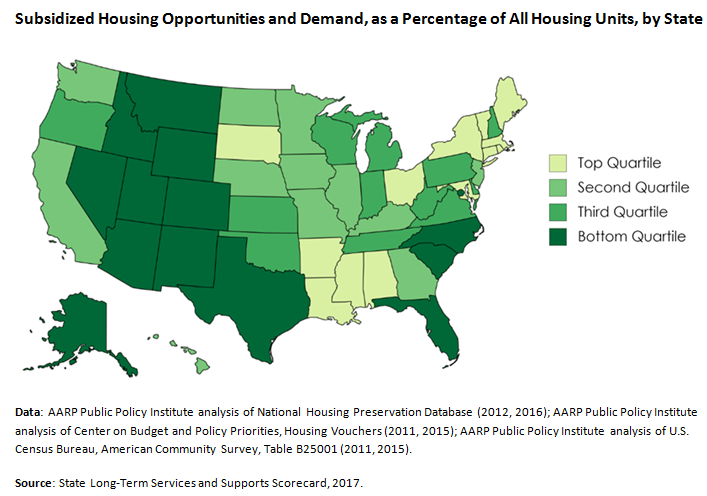 Decades ago, we did not anticipate that people with LTSS needs would stay in their communities, so most of our neighborhoods were not designed for their needs. While communities work to build more housing with "universal design" features, many units may have steps and other barriers that are problematic for those with LTSS needs. This must change if our communities are going to meet the goal of providing options for all people of all ages.

The good news is that there are more opportunities today (the blue bars in the chart) than in the past (the red line) as vouchers have increased and programs such as the Low Income Housing Tax Credit Program build more units. States can help by allocating these tax credits in ways that enhance livability, developing housing trust funds, grants or loan programs, or taking other steps. However, it is clear that government cannot solve this alone, especially when proposals to build new affordable housing meet objections. Building livable communities for all must be a goal for all - not just policymakers, but builders, homeowners, residents and neighbors.



Join Dr. Harrell and other AARP experts for a twitter chat to discuss housing needs and the LTSS Scorecard at 1pm EDT on July 19. Join the conversation using #PickUpthePace and share your questions and insights.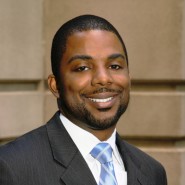 Rodney Harrell, PhD, is Director of Livable Communities for the AARP Public Policy Institute. His expertise includes neighborhood choice, housing affordability and accessibility, transit-oriented development, community redevelopment, sustainable community initiatives and other livable communities issues.

Follow Dr. Harrell on Facebook , Twitter , Pinterest, LinkedIn  and Google+.