Blacks Experience Blindness Most Often, but We Can Change Those Stats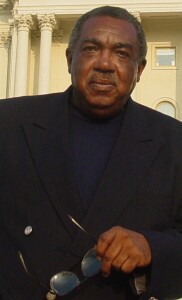 A. Peter Bailey, a noted journalist in Washington, had worn glasses since he was 21 — for more than 50 years. But gradually, even with glasses, his vision became dim and he could hardly see people from a distance.
Six years ago, Bailey had cataracts removed from his eyes. "Now that I've had the surgery I've only had to wear glasses when I'm reading," he says.
Get the latest tips on staying healthy — AARP Health Newsletter »
It happens all too often. First, the clouded, blurred or dim vision; then the difficulty seeing at night. Before long, sensitivity to light and glare develops, among other impairments. These are the top symptoms of cataracts, the leading cause of blindness in African Americans, according to the National Institutes of Health ( NIH).
Next to cataracts, there is glaucoma, the second leading cause of blindness for African Americans. For glaucoma, the initial symptoms are a lot less pronounced — usually a narrowing field of vision.
According to a report by A.D.A.M. Inc., a provider of consumer health information: "African Americans seem to have nearly twice the risk of developing cataracts than do Caucasians. This difference may be due to other medical illnesses, particularly diabetes. African Americans are much more likely to become blind from cataracts and glaucoma than Caucasians, mostly due to lack of treatment."
The good news is that cataracts, glaucoma and macular degeneration, an age-related vision condition, are often treatable if caught early. But they are also often preventable. Among the most recommended forms of preventive eye care is the use of ultraviolet-protective eyewear and regular visits to your eye doctor. Good eating habits are also an excellent way to improve and preserve our precious sight.
That means consuming foods rich with vitamins A, C and E, zinc, lutein, zeaxanthin and omega-3 fatty acids. These essential nutrients protect against inflammation and plaque, among other benefits. They can be found in foods such as green leafy vegetables; cold-water fish like salmon and sardines; walnuts and pistachios; berries, cherries and grapes; orange bell peppers; broccoli; tea; milk; eggs; and avocados.
Get discounts on eye care, exams, prescriptions and more — AARP Member Advantages. »
So during this national Save Your Vision Month, let's make a commitment to not take our eyesight for granted. Though researchers say that African Americans/blacks become blind at least four times more often than whites, we can change these statistics.
AARP helps people turn their goals and dreams into real possibilities, strengthens communities and fights for and equips Americans 50 and older to live their best lives. Discover all the ways AARP can help you, your family and your community at AARP Black Community.
Photo: Courtesy of A. Peter Bailey
Also of Interest

See the AARP home page for deals, savings tips, trivia and more