During Hispanic Heritage Month, Celebrate Healthy Living
This is the first in a series celebrating National Hispanic Heritage Month 2014 — Monday, September 15th through Wednesday, October 15.
Far too often we find ourselves rehearsing the negative statistics. For example, 10.6 percent of Mexican Americans and 10.8 percent of African Americans have diabetes, compared with 6.2 percent of white Americans, according to the Agency for Healthcare Research and Quality.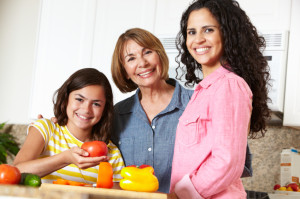 Also, Hispanics and blacks are more likely to suffer from obesity and hypertension, the two largest factors for heart disease, reports the Centers for Disease Control and Prevention.

>>  Want to Drop Pounds Fast? Try These Tactics

And then a study by the Harvard University School of Public Health concludes that "traditional healthy diet education campaigns often fail to reach" people who are in low-income and racial and ethnic minority groups.

These are indeed facts. But during National Hispanic Heritage Month, Sept. 15 to Oct. 15, there is much reason to celebrate despite the gloom and doom.

The first bit of good news is that there is lots of information available on nutrition and healthy living — specifically for Hispanics and African Americans. AARP, for example, has lots of information on how to cook Hispanic and African American cultural foods with a health twist. The National Institutes of Health also have a string of heart-healthy Latino recipes.

"In the Hispanic kitchen, we were organic before organic was the word of the day," Miami-based chef Pepín Hernández says in an article promoting healthy eating. "Our flavor was as healthy as it could be — [from] garlic, onions, olive oil, bay leaves, oregano. … We ate grains, fish, beans. We love flour, yes, but we can make it whole grain. What could be more healthy?"

And during National Soul Food Month in June, restaurateur Vonda McPherson let us know that fried chicken, collard greens with ham hocks, pork chops, and macaroni and cheese can be substituted with "wheat sauteed tilapia salad, grilled salmon cake panini, black-eyed pea dip and roasted green beans."

The U.S. Department of Agriculture is also pushing a healthier lifestyle for our children and grandchildren, giving tips on healthy after-school snacks, starting with an avocado-and-cheese sandwich. LetsMove.gov, First Lady Michelle Obama's website, promotes a healthy lifestyle through exercise — and also has healthy food and nutrition tips for children and adults.

Secondly, the availability of new health and preventive care through the Affordable Care Act is a reason to celebrate. "For Latinos, like other ethnic minorities, the law addresses inequities in access to quality, affordable health coverage. The Affordable Care Act invests in prevention and wellness, and gives individuals and families more control over their care," reports the U.S. Department of Health and Human Services.

>> Get discounts on health services with your AARP Member Advantages.

Finally, September not only begins National Hispanic Heritage Month, but President Barack Obama has also declared September as National Childhood Obesity Awareness Month. With this proclamation came more good news, as he announced a new report from the Centers for Disease Control and Prevention that gives much hope for a healthier future for adults and children alike. The CDC reported that though childhood obesity remains a significant problem, it has dropped 43 percent for children ages 2 to 5.

There is much room for improvement in the quality of life for Hispanics and African Americans. But let's take a moment to celebrate these strides for healthy living.

In celebration of Hispanic Heritage, join or renew now and save up to 25 percent off your membership dues.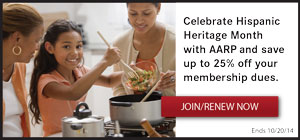 Also of Interest



See the AARP home page for deals, savings tips, trivia and more

Photo: monkeybusinessimages/iStock