From Passion to Profit
By Felicia Brown , April 10, 2017 04:30 PM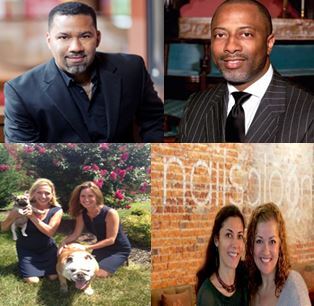 Have you thought about turning your passion and something that serves others into an opportunity that could pay the bills? Perhaps you sold lemonade, homemade desserts or candy when you were a kid. At that time, you were probably nurturing your entrepreneurial spirit. Many small-business owners will agree that when you're passionate about what you do, it does not feel like work; you're just doing what you were placed on this earth to do.
On Tuesday, April 18, at 7 p.m. ET, AARP will host From Passion to Profit , which will explore the journeys of three inspiring owners of Alan Michaels Design, Woofies and the NailSaloon. All three took a leap of faith and left the corporate world to pursue their passions, ultimately reaping a nice profit. This panel of entrepreneurs will be moderated by renowned musician Marcus Johnson , owner of FLO Wine and a U.S. Small Business Administration (SBA) award winner. The SBA will also discuss available resources for entrepreneurs. REGISTER NOW to hear these inspiring stories from the entrepreneurs who created these businesses:
Alan Michaels Design. After returning from a trip to Kowloon, China, where he was introduced to clothing and tailoring, and eventually leaving his day job of overseeing a minority business program with the NFL, fashion aficionado Michael Humphrey decided to chase his passion to become a full-time men's custom clothier and shoe designer. In 2005, he launched Alan Michaels Designs, located in Ashburn, Va., to not only sell menswear but educate men on identifying their personal sartorial style. Humphrey, who's always had a desire to "stand out and be seen," helps men, through his fashion passion, build their self-confidence. Working in an industry that's largely underrepresented by minorities, particularly African Americans, he networks through Custom Tailors and Designers Association (CTDA) to influence men of color who have an appetite and interest in the industry.
Woofies. Inspired by their passion and love for dogs, business owners Amy Reed and Leslie Barron left their corporate careers to establish a pet-sitting and dog-walking service. Being pet owners themselves, they knew firsthand the need to make sure their pets were in the best hands at all times when they were away from home or while traveling. As a result, Reed and Barron were frequently called upon to help care for others pets while the owners were away. Due to a high volume of demand, in 2004 they made the leap, and the business grew in a short seven years. Woofies now includes Pet Taxi, Overnight Care, Bed and Biscuit and mobile grooming services.
NailSaloon. Rated one of the best nail salons on this side of the Mississippi and located in Logan Circle of Washington, D.C., NailSaloon was opened by two friends who ditched their corporate jobs. After discussions over a cocktail and writing down ideas on napkins and envelopes, the NailSaloon was born. They envisioned what the shop would look like and the customer experience. They knew they wanted a place where friends, new and old, could talk and relax. They also donate 3 percent of their daily profit to charity. Andrea Vieira and Claudia Diamante are having a great time helping their customers feel special.
Want to hear more about how each of these owners got started? REGISTER NOW! Can't attend this webinar? Register and a link will be sent to you when the webinar is complete.
Thinking of starting a business? Check out www.aarp.org/startabusiness to see if starting a business is right for you.
AARP helps people turn their goals and dreams into real possibilities , strengthens communities and fights for and equips Americans 50 and older to live their best lives. Discover all the ways AARP can help you, your family and your community and connect with us on Facebook and Twitter .
Photo: AARP
Also of Interest