Lending to Relatives? What You Need to Consider
By Julianne Malveaux, March 22, 2015 03:25 PM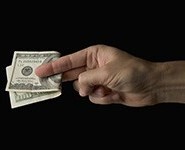 Sonny has bad credit and needs a small business loan. Of course you want to help, but can you make the payments or afford losing collateral if he defaults? Your daughter is going through a divorce and she needs the security deposit for her new apartment. If you give it to her, can you count on her to pay it back?

Auntie wants to go to Las Vegas and has asked her children, nieces and nephews to pitch in so she can make her trip.

The riskiest financial transaction is the long-term loan for Sonny. If he can't repay the loan you cosign for then you are on the hook for it. Can you afford to pay hundreds of dollars on that loan? Are you putting yourself in financial jeopardy? If you are in your 60s, 70s or 80s you may be risking your retirement to help. And if Sonny can't get a loan from the bank, he is a high-risk loan.

Get the latest tips on protecting your money — AARP Money newsletter »

Your daughter may or may not pay you back, but her loan is much smaller than Sonny's. Can you afford to help her out with a gift or loan? Is this a one-time request, or is this a pattern? While you might possibly afford the $2,000 or $3,000 she is asking for, you may want to clarify whether this is a loan or a gift. If it is a loan, put repayment terms in writing. If it is a gift, be clear that it is one you are not likely to repeat.

Auntie is clearly asking for a gift. Put what you can afford into the pot — and if you can afford it, offer a little more to top it off.

Here is my rule of thumb for relatives:



Don't put your financial stability at risk. Cosigning a loan is risky business and may jeopardize all of your assets. Making large loans that may not be repaid has the same effect. While you want to help Sonny, if you use your home or retirement accounts as collateral, you risk losing them.

If you are asked to lend a modest sum, give instead of lending. It reduces bad family feeling and offers the borrower the opportunity to pay it back if he or she can. Here's the conversation: "I know you are experiencing some challenges now, so I'd like to give you this money, because I don't want you to feel the pressure of paying me back. When you are in a better position, you can pay me some or all of this back if it is convenient. For now, I just want to help."

Give gleefully, especially if a request is not a frequent one. Say "Way to go, Auntie" as you contribute to the pot. Don't give more than you can afford, but give generously.


This is the fourth in a series of six guest blogs by economist, author and commentator Julianne Malveaux.

AARP helps people turn their goals and dreams into real possibilities, strengthens communities and fights for and equips Americans 50 and older to live their best lives. Discover all the ways AARP can help you, your family and your community at AARP Black Community, and connect with us on Facebook and Twitter.

Photo: Getty Images

Also of Interest



See the AARP home page for deals, savings tips, trivia and more