Remembering Willie T. Barrow, 'the Little Warrior'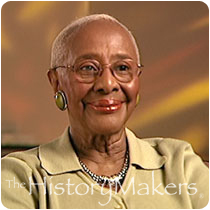 Just last year I wrote about the Rev. Willie T. Barrow, nicknamed the Little Warrior, as an example of seasoned civil rights leaders who chose to stay in the battle instead of retiring.
Receiving an award, she once said, "At the age of 89 years, I'm still working. The good Lord is not through with me yet."
Barrow, a veteran foot soldier for civil rights, passed away March 12 at the age of 90. The field organizer for the Rev. Martin Luther King Jr. and cofounder of his Operation Breadbasket, Barrow continued as a phenomenal leader on the board of the Rev. Jesse Jackson's Rainbow/PUSH Coalition.
Barrow was also among those stalwart leaders who paved the way for greater inclusion for women. Often lauded as being at the crux of the civil rights movement were the legendary men known as the "big six": King, A. Philip Randolph, Whitney Young, Roy Wilkins, James Farmer and John Lewis. But there were also the heroines like Barrow, who fought double battles as African Americans and as women.
Barrow sometimes recalled what it was like to be a female leader in the midst of the civil rights movement. On the evening of King's assassination, she said a male preacher tried to stop her from standing behind the pulpit at a rally because they didn't allow women behind the pulpit.
"Dr. King was just assassinated, and the buildings are burning and the young people are in the streets, and I just pushed him out of the way," she said in a 2006 story by the NNPA News Service.
It was with that same feisty spirit that she continued to live. With a civil rights record dating back to her adolescence, Barrow now goes down in history among the pioneers of the civil rights movement.
Jackson said it best upon the announcement of her death: "She was an authentic freedom fighter in the lineage of Sojourner Truth, Rosa Parks and Fannie Lou Hamer. In sickness and death her body was frail, but her spirit and good works were never feeble. Our memories of her will never die. Her flame of hope, freedom and justice will forever burn."
Get discounts on car rentals, airfare and hotels — AARP Member Advantages. »
AARP helps people turn their goals and dreams into real possibilities, strengthens communities and fights for and equips Americans 50 and older to live their best lives. Discover all the ways AARP can help you, your family and your community at AARP Black Community, and connect with us on Facebook and Twitter.
Photo: Courtesy of TheHistoryMakers.com
Also of Interest

See the AARP home page for deals, savings tips, trivia and more