Why Civil Rights Vets Keep Pressing On
The first in a series celebrating the 50th anniversary of the 1964 Civil Rights Act.
The civil rights struggles of the 1940s, '50s and '60s were largely led by youth and college students, many who were members of the Student Nonviolent Coordinating Committee or the NAACP Student Council. Now in their 70s, 80s and even 90s, some view their civil rights mission as a life's work with no retirement in the plan.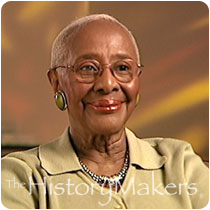 "I still have an interest in my people, and that keeps me anointed and ready to fight. And if you don't fight for what you want, you won't ever get it," says the Rev. Willie Barrow, a fiery 89-year-old nicknamed the "little warrior."

>> Visit AARP Black Community

Barrow received the 2014 Champion of Freedom Award from Chicago Mayor Rahm Emanuel Jan. 17 in recognition of her long civil rights record. Her activism extends back to the 1940s, when she led student demonstrations against segregated schools; she was a field organizer for the Rev. Martin Luther King Jr.; and she cofounded Operation Breadbasket, now the Rainbow/PUSH Coalition. Receiving the award, she concluded: "At the age of 89 years, I'm still working. The good Lord is not through with me yet."

Ernest G. Green is only 72 but shares the same sentiment. Escorted by federal troops on Sept. 25, 1957, Green was the oldest of the famous "Little Rock Nine," the first black students to integrate Central High School in Little Rock, Ark., after the Brown v. Board of Education desegregation ruling in 1954. He frequently speaks about his Little Rock experience at colleges, universities and high schools with a goal of inspiring young people to take on issues that affect them.

>> Women Leaders of the Civil Rights Movement

"There's a connection because, given that we were teenagers, that resonates with many young people and gives them an opportunity to understand that they have a chance and opportunity to make changes," he says. "Maybe not do the same thing that we did in Little Rock, but my opinion is that we all have our Little Rock moments."

With the National Institutes of Health projecting that the number of Americans age 65 or older will double from 35 million over the next 25 years, the lifestyles of these older activists may become increasingly commonplace.

"I plan to keep pressing as long as I'm here," says Doris Crenshaw, a 70-year-old Montgomery, Ala., community leader. When Rosa Parks, the "mother of the civil rights movement," was arrested, Crenshaw was the 12-year-old vice president of the NAACP Student Council and was encouraged by Parks.

>> Sign up for the AARP Advocacy Newsletter

She now enjoys mentoring young leaders as founder and CEO of the Southern Youth Leadership Development Institute. Crenshaw resolves, "I'm in relatively good health now and my energy is still good and we have a lot of work to still do."

Photo: Courtesy of TheHistoryMakers.com

Also of Interest

See the AARP home page for deals, savings tips, trivia and more.