Brain-Healthy Lifestyle Works to Prevent Alzheimer's Disease; U.S. Dementia Rates Drop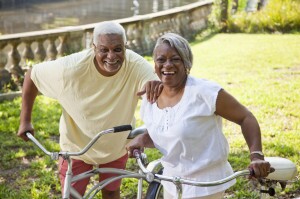 After just two years, older people who exercised, socialized and ate a healthy diet improved their memory, focus and other signs of brain health, according to a breakthrough study presented at the Alzheimer's Association International Conference in Copenhagen, Denmark, this week. In another piece of good news, researchers announced at the conference that dementia rates are dropping in the United States - quite possibly because people are getting the message that healthy living can protect brain health.
"These findings show that prevention is possible, and that it may be good to start early," lead author Miia Kivipelto, from the Karolinska Institute in Sweden, told Time.
>> Sign up for the AARP Health Newsletter 
For the lifestyle study, 1,260 Finnish adults ages 60 to 77 at high risk for developing Alzheimer's disease were divided into two groups. Half the participants were put on an lifestyle intervention program that included diet, exercise, social activities and brain training, as well as careful monitoring of blood pressure and cholesterol. A control group got regular health advice. After two years, the group that received the intensive lifestyle interventions performed significantly better than the control group on tests of memory, planning, problem-solving and quick thinking.
This study is the "first randomized control trial showing that it is possible to prevent cognitive decline" using a combination of lifestyle interventions in older adults, said Kivipelto. The scientists plan a seven-year follow-up study that will track how many of the study participants get Alzheimer's disease or other forms of dementia.
>> Discuss with others how your health is truly your wealth
Other heartening research presented at the conference found that dementia rates in the United States and several European countries seem to be declining. An American over age 60 today has a 44 percent lower chance of developing dementia than a similar-aged person did roughly 30 years ago, according to scientists at Boston University School of Medicine who analyzed participants in the large, ongoing Framingham Heart Study.
>> Get travel discounts with your AARP Member Advantages.
"For an individual, the actual risk of dementia seems to have declined," said Kenneth Langa, a University of Michigan expert on aging who discussed the studies Tuesday. He attributed the decline to higher education levels as well as better control of cholesterol and blood pressure. The Alzheimer's Association, however, was quick to point out that worldwide prevalence of Alzheimer's disease is projected to increase in the decades ahead as the planet's population ages.
Photo: Kali9/iStock

Also of Interest

See the AARP home page for deals, savings tips, trivia and more