Living on the Edge: Getting Into Some Good Trouble to Close the Opportunity and Longevity Gap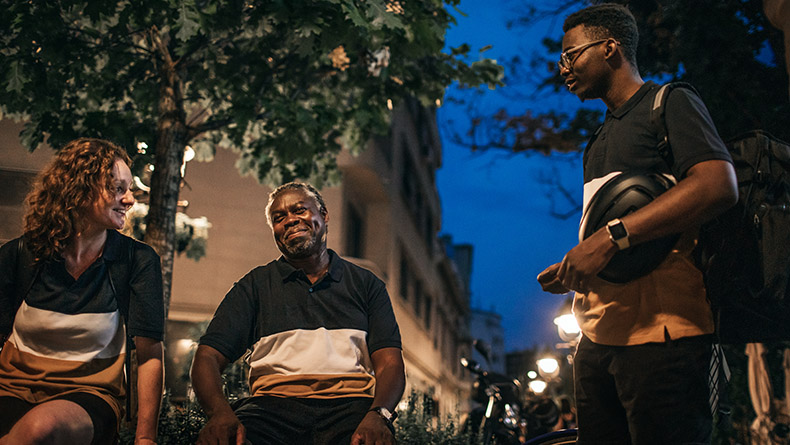 We all are experiencing and weathering three major crises. A pandemic has infected nearly 6 million Americans and caused close to 175,000 deaths. Along with the pandemic came the biggest economic shock, with GDP falling at a 32.9% annual rate—the deepest decline since records began in 1947. And if we thought things could not get any worse, in May, we all bore witness to the senseless killing of George Floyd dying at the hands of a white police officer who held a knee to his neck. The video of Floyd crying out for his dead mother and his children before his final breath is forever etched in our human consciousness and marks another stain in our journey to become a better union.

These crises call for innovative solutions and greater collaboration from leaders in business and government. No sector can solve these issues alone and it is imperative that we have a multisectoral approach to address the cumulative disadvantages that the most vulnerable members of our society face. Through personal, public, and private sector responsibility, we must work together to close the opportunity gap and lessen inequities across the lifespan that can inhibit the ability for people to live longer, healthier, and more productive lives as they age.

To discuss how a multisectoral approach and partnerships across industries can drive progress toward equity, AARP hosted an expert panel discussion last week, organized in partnership with the Social Innovation Summit. Read more about the discussion and about the solutions panelists raised to address inequity.

The featured speakers were:

Michael Tubbs, mayor of Stockton, California
Chris Hughes, co-chair of the Economic Security Project
Tawanna Black, founder, and CEO of the Center for Economic Inclusion
Reuben Teague, vice president of Impact and Responsible Investments at Prudential Financial



Problems Too Big for Us to Solve Alone


In America, we often overemphasize the individual and miss out on the power of collective action. The coronavirus pandemic has revealed we are all facing the same storm, but not everyone is in the same boat. Longstanding inequality means the pandemic affects some groups—Blacks, Latinos, American Indians, and Alaska Natives, restaurant and retail workers, health care providers, and caregivers, just to name a few—much more than others. Despite progress on some fronts, the United States continues to have large disparities in wealth and life expectancy, based on ZIP code and race. As Teague said, neighborhoods are still hyper-segregated by race—barely better than during the 1960s, and not nearly what Civil Rights leaders of that era envisioned. The pace to shrink the racial income gap has been slow despite changing demographics. In fact, Tawanna Black said her area, Minneapolis-Saint Paul, has narrowed its racial income gap by only $521 in the past 10 years.

In addition to these ongoing problems, the country is in the middle of a historic economic and health crisis, and, as Hughes pointed out, it's going to take historically bold solutions to re-stabilize an unstable economy. The CARES Act provided a one-time payment to tens of millions of Americans, but on average, that money lasted only 10 days, he said; 80% of families spent it on groceries, rent or electric bills. But a one-time payment isn't enough when rent comes due every month, Hughes said. We must build more resilient and inclusive economies to ensure that people can bounce back from financial shocks.

"If there's anything the coronavirus has taught us, it's that we are highly interdependent creatures, biologically and socially, and that we rely on each other not only for our health and sustenance but for fulfillment and happiness," Hughes said.

Solutions Across Public and Private Sectors

Big problems—whether pandemics or the racial wealth gap—require bold solutions. We must hold leaders accountable both for acknowledging inequity and taking concrete, anti-racist action to address it, Black said. Holding companies accountable could mean creating a shared set of data points that are public and transparent, pushing leaders to set goals for improving diversity and outlining consequences if they don't meet their goals. It's clear that making a pledge isn't enough, and it will take public pressure to make real change happen.

On the policy side, panelists suggested that raising the minimum wage, establishing an income floor, and offering universal childcare could help address the racial wealth gap. To lessen the segregation of society, we need to invest money in creating housing opportunities for all people in all areas of the country, and we need to break down policy and financial barriers to make that housing accessible.

Most Americans' number-one expense is housing, Teague said, with households spending 30% to 50% of their incomes for a place to live in major metropolitan areas. Particularly in areas where employment has boomed but housing has lagged, business leaders can press policymakers to make room for more people, which in turn means a larger local workforce. Companies need to pay their workers what Black called a "family-sustaining wage" for their local area and provide benefits, including healthcare benefits, that allow workers to be financially resilient. Going forward, communities should hold businesses that have pledged to improve their compensation and diversity accountable to ensure they follow through with action.

Good Trouble: Envisioning Better Communities

Anti-racism is a daily, active practice, not a destination. Let's stay hopeful as we reckon with the hatred and racism that our country has not yet fully reckoned with. Talk about unfair systems and structures, but don't leave people as powerless victims without any sense of pushing to make things better. It's important that we emphasize individual agency while recognizing the real structural barriers.

Working across generations can help us progress. At age 26, Tubbs became Stockton's youngest mayor and its first Black mayor. As a young official, he said he has needed older mentors, particularly African-American mentors, to teach him the history of an area or problem and offer advice. But these elders are not just observers; in many cases, they are leaders and innovators who are "still in the fight," still building partnerships and cooperation across multiple generations to benefit their community.

"There's a need to make space for longevity in doing this work because it's not going to be done in your 30s. It's not going to be done in your 40s," Tubbs said. "There are a lot of folks who are older who still are in the fight, who are still in the game, who are still pushing, and just need people to push alongside them and don't need to be pushed aside because they just have so much they have to offer and give."

The battle to achieve our full potential and address racial justice is ageless. In the words of the late Congressman John Lewis, "Democracy is not a state. It is an act, and each generation must do its part to help build our beloved community, a nation, and world society at peace with itself." So, let's get into some good trouble together and continue the fight.