Employment for those ages 55+ holds steady in November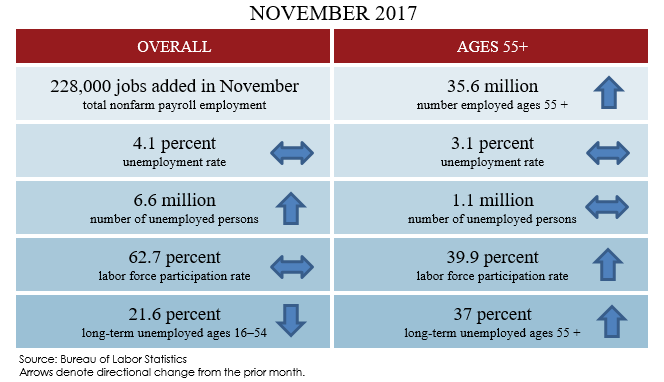 Employment overview

The Bureau of Labor Statistics (BLS) November Employment Situation Summary showed the economy added 228,000 jobs—down slightly from the 244,000 jobs added in October (revised down from 261,000). Both the overall unemployment rate and the unemployment rate for persons 55 and older remained unchanged from October at 4.1and 3.1 percent, respectively. The number of unemployed individuals ages 55+ was also unchanged at 1.1 million and the labor force participation rate for those 55 and older increased slightly to 39.9 percent in November from 39.8 percent in October. As in October, jobs were added in professional and business services, manufacturing, and health care. The percentage of jobseekers ages 55+ who are long-term unemployed, defined as looking for work for 27 or more weeks, increased from 34.7 percent to 37 percent.

Spotlight on Employment Projections to 2026

In October 2017, the BLS released its latest employment projections for 2016 to 2026. The data cover overall job growth, labor market demographics, and industry projections. The overall employment forecast for the United States is an increase of 11.5 million workers in the decade leading up to 2026. This represents an increase from 156.1 million to 167.6 million workers, or 0.7 percent annual growth. The projected growth rate is faster than the 0.5 growth rate during the previous decade, which was strongly influenced by the effects of the Great Recession.

The demographics of the labor force are projected to grow more diverse and will be influenced by the overall aging of the population.

In 2026 the labor force participation rate is projected to decrease to 61.0 percent, down from 62.8 percent in 2016. The highest level of labor force participation, 67.1 percent, occurred in 2000. The aging population is forecast to lower overall labor force participation as more people exit the labor market. At the same time, however, the aging population will lead to greater numbers of older workers in the workforce.

The BLS predicts that the share of workers 55 and older will grow to 24.8 percent in 2026, an increase from 22.4 percent in 2016 and 16.8 percent in 2006. Slow labor force growth will also reflect, to some degree, a slowdown in the growth of the civilian non-institutional population. The annual rate of 0.9 percent population growth from 2016 to 2026 is slower than both the 1.0 percent growth from 2006 to 2016 and the 1.3 percent growth from 1996 to 2006.

New jobs will largely be in the service sector, accounting for approximately 9 out of 10 new jobs. As the population ages, health care and social assistance industries, as well as the occupations within these industries, are projected to make up a large proportion of the jobs created in the years leading up to 2026. Nearly 4.0 million jobs are projected to be added by 2026 in this sector, representing approximately one-third of all new jobs. By 2026 it will be the largest major sector of the U.S. economy. Many of these jobs will require high skills levels and at least some level of postsecondary education.

For more details, check out the November Employment Data Digest, PPI's monthly review of job trends for those ages 55 and over.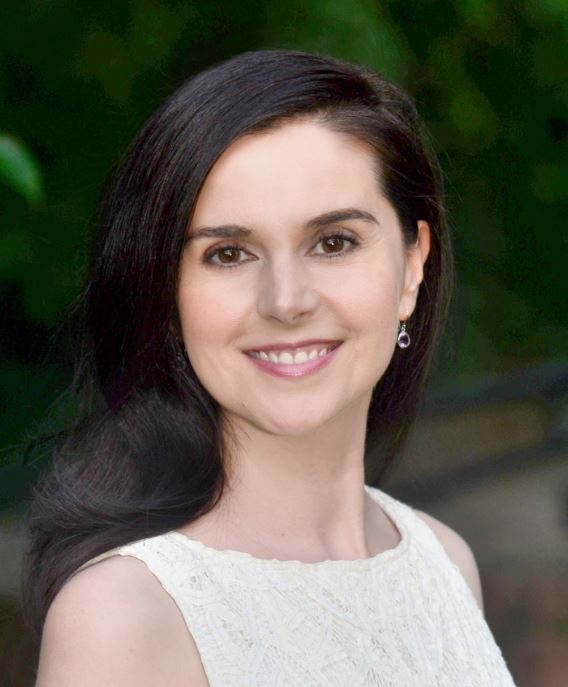 Jen Schramm is a senior strategic policy advisor at the AARP Public Policy Institute. Her areas of expertise include employment trends, policy challenges and opportunities related to workers and jobseekers ages 50 and above, and skills and credentialing for mid- and late-career workers.