AARP Nursing Home COVID-19 Dashboard Special Report: Surge Continues Over Thanksgiving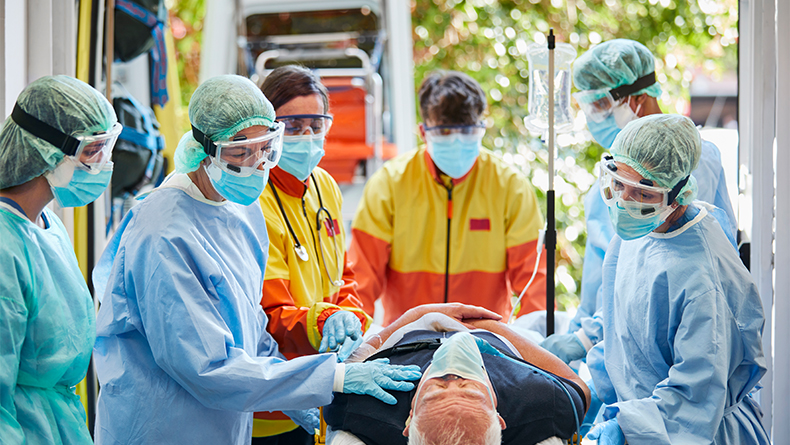 As many data watchers saw, the December 10 release of AARP's Nursing Home COVID-19 Dashboard revealed a shocking increase in resident deaths, and resident and staff cases. In the four weeks from October 19 to November 15, the number of deaths increased by two-thirds, and the number of new cases doubled compared to the previous four weeks.

This most recent release tracked the alarming trend through mid-November. Meanwhile, beyond the walls of nursing homes, community spread continued to increase. Total reported U.S. COVID-19 deaths nearly doubled from about 8,000 in the week ending November 15 to more than 15,000 in the week ending December 6, while new cases increased from 1.0 million to 1.4 million over the same time period. Experts had warned Americans that cases would increase as families traveled and visited each other before returning to their own homes and communities, and the reported numbers have proved these warnings correct.

What has been happening in nursing homes during that time? This special report acts as a supplement to our latest Dashboard update, examining just-released data to highlight COVID-19 impacts on nursing home residents and staff over the three weeks surrounding the Thanksgiving holiday.

From November 16 to December 6, we find that nursing home resident deaths, resident cases, and staff cases have continued to surge unabated. The rate of resident deaths has doubled from 0.78 to 1.53 per four weeks per 100 residents (the scale used in the Dashboard). The rates of resident and staff cases have increased by nearly two-thirds, to 9.4 and 8.4 per four weeks per 100 residents, respectively.

Remarkably—and what's so concerning—is that these current national rates are higher than the rates for any individual state at the time we launched the first Nursing Home COVID-19 Dashboard in mid-October (data for the four weeks ending September 2020).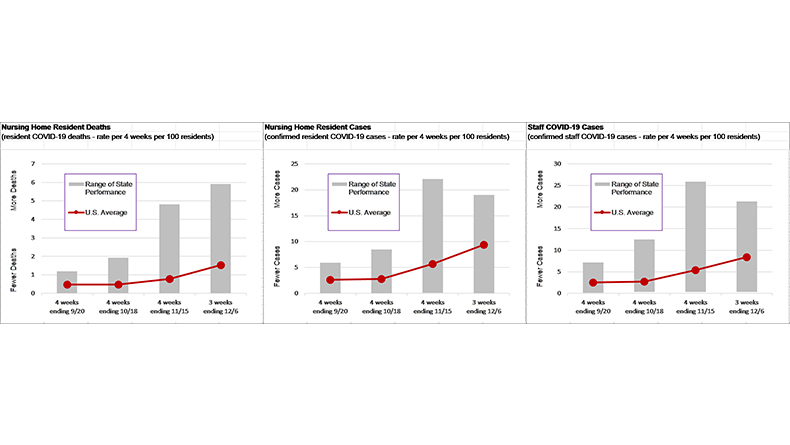 The rapid increase in nursing home deaths and cases in those last three weeks is on top of the similarly alarming trend in the last Dashboard report. Cumulative since the four weeks ending October 18, the rate of nursing home resident deaths, resident cases, and staff cases have each more than tripled in just seven weeks. Deaths and cases continue to surge, with the most recent week being the highest of all.

No corner of the country has been spared. Every state in the country except Hawaii has seen an increase in the nursing home resident death rate and staff infection rate over the last seven weeks. And all but Hawaii, Delaware, and South Carolina have seen an increase in resident cases. Data for the United States and for every state is available for download here.

Look for the next Dashboard update in mid-January. In addition, look out for more AARP Nursing Home COVID-19 Dashboard Special Reports to supplement the Dashboard with the latest information.