AARP Pushes States to Increase Access to Care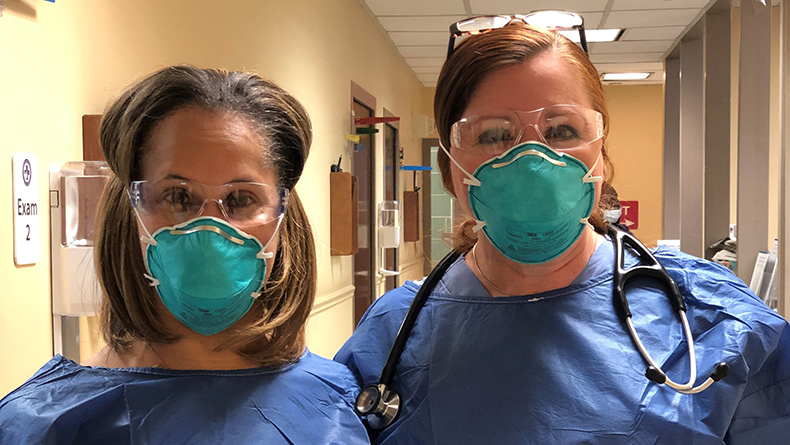 In the face of the outbreak, AARP is providing information and resources to help older people and those caring for them protect themselves from the virus and prevent it from spreading to others. You can find AARP's coronavirus resources at www.aarp.org/coronavirus.

At the onset of the COVID-19 pandemic in the U.S., AARP urged numerous governors to take an important step: Remove the mandate that requires advanced practice registered nurses (APRNs) to have contracts with physicians to provide clinical care. Removing these and other restrictions, even temporarily, would enlarge the pool of skilled clinicians who could provide people with much-needed care.

Governors and state legislatures have followed through. Amid a slew of state and federal moves to help people weather a public health crisis unprecedented in most people's lifetimes, numerous executive orders or other state-level policies have been implemented. More are sure to follow.

Under normal circumstances, 28 states have laws, policies, and regulations that hamper consumers' easy access to primary care. For example, many states do not allow APRNs to provide care unless a physician is overseeing the visit—formally known as a contract. Sometimes, "oversight" means simply that a physician reviews 10% of an APRN's patients' charts. This paperwork adds up to less time spent with the physicians' own patients.

It's important to note that APRNs—that is, nurse practitioners, certified nurse-midwives, clinical nurse specialists, and certified registered nurse anesthetists—all have master's or doctoral degrees and advanced clinical training. Their experience and skills allow them able to carry out specific health care duties. Like physicians, they do not attempt to carry out health care for which they are not trained, but refer patients to specialists as needed.

The COVID-19 health crisis has given new impetus on AARP's long-lived efforts through its Center to Champion Nursing in America (CCNA), as well as state offices, to give consumers better access to primary care by lifting outdated restrictions. Since mid-February, numerous AARP state offices and nursing coalitions have urged policymakers to issue orders to reduce wait times and allow people to obtain skilled care more quickly. CCNA is an initiative of AARP Foundation, AARP and the Robert Wood Johnson Foundation.

Kentucky, Louisiana, Massachusetts, New Jersey, New York, Virginia, and Wisconsin are seven states that have entirely—if temporarily—lifted the requirement that nurse practitioners be under contract with physicians to provide care, expanding access to health care for 58.7 million people. This means that people who typically live in an area with a shortage of health care facilities now have a more options and can receive skilled care more quickly.

In Arizona, COVID-19 was the catalyst for a permanent change that had been debated for years. By executive order, certified registered nurse anesthetists may now provide pain management and anesthesia services without the supervision of a physician. This especially helps those in rural areas who need care for chronic pain, who no longer need drive long distances for this care. It also frees up time for physicians to provide care.

Below are temporary changes that other states have made by executive orders or by activating emergency plans. The situation is changing by the day; this is the status as of April 20 of this sampling. For more information regarding all healthcare workforce temporary policy changes, please see the National Governor's Association corona virus website.

California. The executive order removes the limit on the number of nurse practitioners that physicians may contract with, meaning that nurse practitioners can see more people—and physicians are not tied up needlessly overseeing nurse practitioners. The governor's temporary order also allows retired clinicians to provide care and provides some flexibility for the ability of soon-to-graduate nursing students and their ability to practice.

Colorado. Residents now have access to medical clinicians who are licensed in other states but who are in Colorado. Typically, clinicians may practice only in states in which they are licensed. This temporary waiver applies to registered nurses, APRNs, and physicians.

Delaware. Residents may, for now, obtain care by clinicians who are licensed in other states. Clinicians include registered nurses, APRNs, physicians, pharmacists, and mental health providers.

Florida. APRNs and physicians who are licensed in other states now may provide health care in the state.

Illinois. Clinicians licensed in other states, including registered nurses, physicians, physician assistants, and respiratory therapists, may for now provide care in Illinois.

Kansas. Provides patients direct access to APRNs practicing advanced nursing to the full extent of their education and training at designated facilities to respond to COVID pandemic.

Maine. Residents now have more options for obtaining prescription medications. Prior to the pandemic, nurse practitioners were required to have a 24-month contract with a physician or an established nurse practitioner before being able to prescribe medication.

Pennsylvania. This executive order allows nurse practitioners to practice in another clinical specialty—such as emergency care for people with COVID—and eases restrictions on what they may prescribe, making it easier for people to obtain prescribed medications. However, nurse practitioners must still have contracts with a primary and substitute physician collaborator.

South Carolina. An incremental temporary lifting of restrictions means that APRNs who are licensed in Georgia or North Carolina and who have contracts with physicians may provide care in South Carolina during the pandemic.

West Virginia. The governor has allowed the board of nursing to waive requirements for APRNs to contract with physicians to prescribe some controlled substances. Once the temporary rule is implemented, patients can directly access various prescriptions and refills of controlled substances from an APRN.