Racial and Ethnic Disparities in Financial Access to Dental Care among Medicare Beneficiaries: Something to Chew On
By Lynda Flowers, August 10, 2015 03:47 PM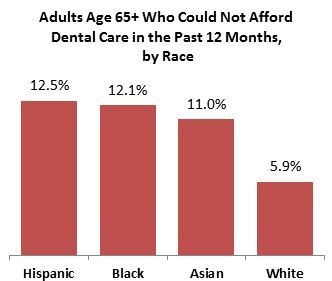 Good oral health is a vital part of general health and overall well-being. However, it requires the regular use of dental services. Yet many older adults are unable to afford the care they need to maintain healthy teeth and gums. Moreover, there are significant disparities in financial access to dental services among older adults. In 2014, twice as many older adults of color were unable to afford dental care in the past 12 months than their white counterparts (Chart).

Multiple studies have found a strong link between good oral health and improved blood sugar control among persons with type 2 diabetes. Type 2 diabetes is a condition that disproportionately affects racial minorities. [1]



Most state Medicaid programs provide some level of dental coverage for adults. However, the quality of benefit varies widely among them.

In addition, Medicare does not provide beneficiaries with a general outpatient dental benefit, even for routine cleanings. Medicare Part A (Hospital Insurance) will pay for certain dental services provided in inpatient hospital settings. However, beneficiaries who want coverage for routine dental care must look for other sources, such as Medicare Advantage plans that offer dental coverage or purchase a separate dental plan.

As the U.S. population ages, an increasing number of older adults—especially racial and ethnic minorities—risk not having their oral health needs met because they cannot afford to see a dentist. This raises health, quality of life, and health equity issues for all older Americans. Now is the time for federal and state policymakers to put concerted efforts into making adequate and affordable dental coverage available to Americans of all ages and to close the disparities gap.

[1] Hispanics (35 percent) and African Americans (34 percent) compared with whites (19 percent ). AARP calculation using data from the Behavioral Risk Fact Surveillance Survey, 2013.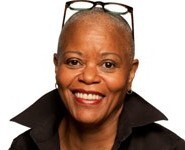 Lynda Flowers is a senior strategic policy adviser specializing in Medicaid issues, health disparities, public health and health care quality.

Follow on Twitter: @LFhealthpolicy