Rightsizing Transportation Technology for Rural America
By Jana Lynott, May 24, 2021 08:53 AM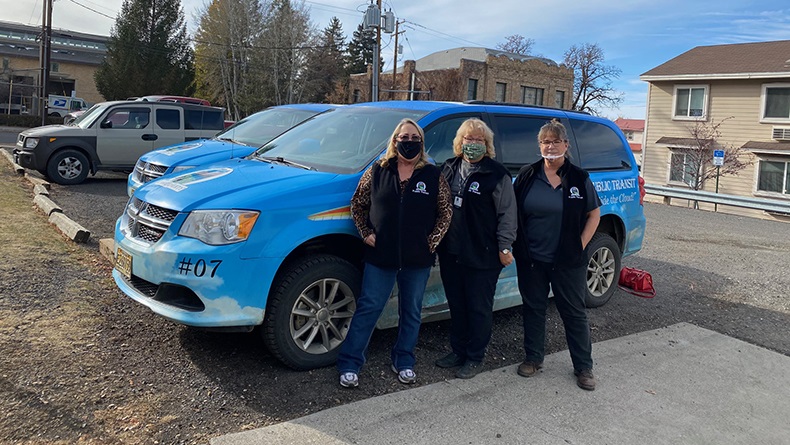 When it comes to technology, many rural transportation providers face a mismatch between their needs and what's on the market today, particularly in terms of ride-scheduling software solutions. Software developers make assumptions about the agencies that will use their products, the services they provide, the availability of IT staff to monitor and maintain systems, and more. If an agency happens to fit in those boxes, off-the-shelf products could work quite well. However, for a small transit agency or transportation service in a rural area, operations may not align with any of these assumptions.

That was certainly the case for two nonprofit transportation providers—Inner Court Family Center (ICFC) and Lake County Senior Center Association (LCSCA) in highly rural Lake County, Oregon. The two nonprofits wanted to streamline ride-scheduling tasks and communication with drivers, make billing more transparent, and gain insights into cost drivers such as road conditions and trip distances. But they found off-the-shelf software solutions too complex and expensive for their needs.

In 2020, AARP provided funding to Full Path Transit Technology to work with ICFC and LCSCA to develop software suited to the needs of small providers with no more than a dozen vehicles. The project was also intended to be a proof-of-concept of a new data standard that allows two or more providers to coordinate their services to function as a single transportation provider. The resulting open-source software is RideSheet.

How It Works

Small nonprofit transportation providers are often the only game in town. In many parts of the United States there is no public transportation, no taxi, Uber or Lyft. Nondrivers, many of whom are older or have a disability, depend on human service agencies and volunteer driver programs for rides to the doctor, grocery store, and visits with friends. As our nation's population ages there is increasing demand for the transportation services offered by organizations such as ICFC and LCSCA.

That's where the new software comes in. The software was designed with the rural client in mind. For instance, RideSheet overcomes a problem common to rural areas: inaccurate Google Maps location results. It accomplishes this by using the Google Maps geocoding service to validate and format accurate street addresses that are easy to find by drivers. The software also builds upon general knowledge of spreadsheets, word processing, and calendar apps by integrating and migrating these functions to the cloud. Trip data is tracked in Google Sheets and can be exported to Google Calendar for easy visualization of drivers' schedules and to Google Docs for generating driver manifest reports. RideSheet will replace ICFC's and LCSCA's use of its makeshift and inefficient system built around local desktop spreadsheets, white boards, and pen and paper.

With RideSheet, agencies can track their services and exchange trip data with each other in a streamlined, secure manner using two customized, independent Google Sheets and without the need for rural providers' tools of the trade such as email, fax, or phone calls between providers, or for manual rekeying of trip information. RideSheet allows ICFC and LCSCA to share all their scheduled runs with one another in enough detail so that each agency can assess whether there is an opportunity to add a passenger of their own to the other agency's run or to fulfill a trip request from the other agency. The Application Programming Interface (API) that enables this interoperability adheres to the new transactional data standard (TDS).

Right-sized Technology Supports the Crucial Mission of Nonprofits in Rural America

By automating trip scheduling in a system rightsized for the real-life strengths and constraints of rural nonprofits, RideSheet frees up staff time, allowing them to focus on their core mission. In the words of Andrea Wishart, Executive Director, Lake County Senior Center Association, "We're worthy of having some good tools to use." RideSheet offers small providers like LCSCA an affordable technology solution to better serve riders who have few if any options to get where they need to go.

To learn more about RideSheet and whether it is suitable to your program's needs, see this AARP publication and listen to these webinars recorded by NADTC .