Telehealth and Medicare: Post-Pandemic, Medicare Telehealth's Future Remains Unclear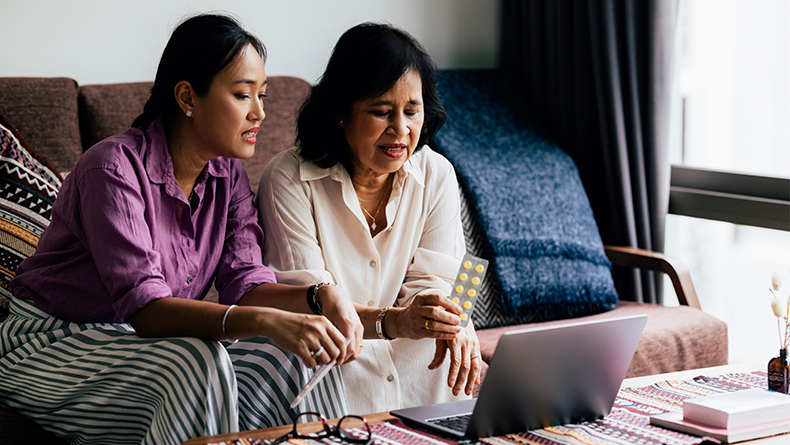 Medicare policies implemented in response to the COVID-19 Public Health Emergency helped improve access to telehealth services for millions of people with Medicare. As observed during the pandemic, having a telehealth option offers benefits for individuals and family caregivers, including reducing risk of COVID or flu transmission, as well as eliminating travel time and transportation costs. However, with the public health emergency now over, Medicare telehealth coverage could change significantly when a temporary extension of expanded coverage expires at the end of 2024. While the broader use of telehealth during the pandemic provided new information on telehealth use, there is nonetheless a need for continued research and evaluation of telehealth as a foundation for future policy.

Telehealth use before and during the pandemic

Telehealth visits refer to medical appointments with a health care clinician that are remote or "virtual." These often occur as video conferences but may also include telephone calls, also referred to as "audio-only" visits. Medicare requires these virtual visits to take place in "real-time"—that is, the patient and clinician meet together at the same time—and limits access for most services only to patients who have an established relationship with the provider.

Prior to the COVID-19 pandemic, Medicare covered telehealth services only under limited circumstances. For most types of virtual visits, Medicare previously required that the patient reside in a rural area, where access to health care is often limited. People needed to travel to a designated location like a physician's office, clinic, or hospital. From these locations, they could participate in virtual visits with specialists and other clinicians. Medicare did not cover telehealth visits in a person's home or in any setting for patients living in urban areas.

When the pandemic began in early 2020, many people were reluctant to make in-person visits to doctors or hospitals—even some people with life-threatening conditions like heart attack and stroke—due to fear of infection with the COVID-19 virus. In March of 2020, Medicare made telehealth available to all people with Medicare, regardless of whether they lived in urban or rural areas. Medicare also waived many of its existing restrictions, expanding coverage so people could receive telehealth services from their homes. During the public health emergency, Medicare offered providers the same payment rates for telehealth services as in-person office visits and allowed clinicians to waive cost-sharing amounts. Also, state licensure requirements were relaxed to allow doctors and other clinicians to practice telehealth across state lines to serve patients located in states where the provider was not licensed.

As a result of this combination of circumstances, telehealth use increased dramatically among people with Medicare. Telehealth visits rose from pre-pandemic levels of fewer than 100,000 visits per month to a peak of almost 9 million in April 2020 (see Figure 1). Use declined after that, before leveling out during the second half of 2021 at about 2.5 million visits per month.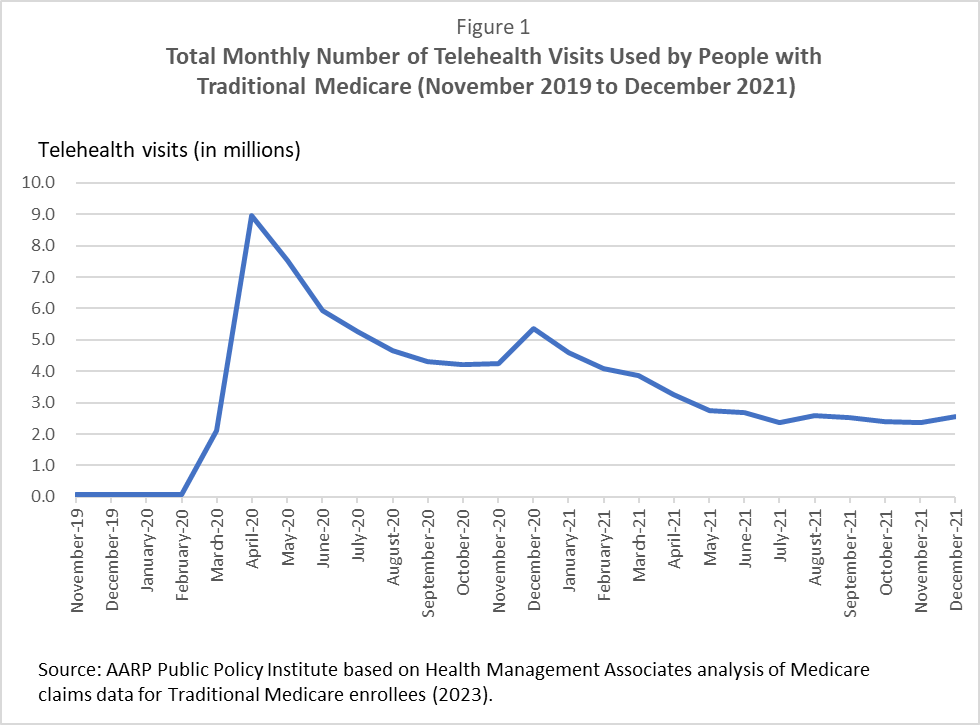 In the first year of the pandemic, many people substituted telehealth visits for in-person visits due to concern that in-person visits might lead to infection with the COVID-19 virus. More recently, more people may be using a mixture of telehealth visits and in-person visits. As reported by the Medicare Payment Advisory Commission (MedPAC), in 2020, about 40% of people with Traditional Medicare coverage used telehealth. That proportion declined to 29% in 2021.

Benefits and limitations of telehealth

Overall, telehealth has helped improve access to care for people with Medicare. Many were able to get health care despite their reluctance to expose themselves to potential infection through an in-person visit to an office, clinic, or hospital. The convenience also may have encouraged patients to seek clinical attention—which they otherwise might not have sought—for follow-up care, chronic care management, or to address other health concerns.

While more research is needed, so far studies of clinical effectiveness have revealed that in some instances telehealth can be as effective as in-person visits. Studies have found that for some conditions, such as post-operative follow-up and mental health care, telehealth produced similar clinical outcomes as compared with in-person care. Differences in clinical outcomes, when seen, were generally small and not clinically meaningful when comparing in-person with telehealth care.

However, telehealth has some limitations. For example, studies have raised concerns about barriers to telehealth care for older patients, particularly people with vision or hearing impairments and those who lack access to video technology or high-speed internet. It also remains to be seen whether telehealth visits can help reduce disparities in access and outcomes for underserved and lower-income communities.

In addition, telehealth may not be suitable for all conditions and situations. For instance, serious new or worsening symptoms or a significant physical injury may require a trip to an urgent care clinic or the emergency room for prompt critical care. And, for various reasons, some people may prefer an in-person appointment with a clinician rather than a virtual one.

Medicare coverage decisions are still pending

The explosion of telehealth use in Medicare has raised questions among policymakers about whether Medicare should continue its expanded coverage of these services. The Government Accountability Office has cautioned that the quality of telehealth services has not been fully evaluated and that patients were not being fully advised of potential privacy and security risks for telehealth. The agency has also warned that telehealth may potentially increase Medicare spending due to overuse and fraud. However, others argue that telehealth has the potential to be a cost-saver.

A recent report from MedPAC found that, during the pandemic, greater telehealth use by people with Medicare was associated with little change in measured quality, slightly improved access to care for some individuals, and slightly increased costs to the Medicare program. However, the same report also cautioned that the evidence on telehealth is limited because the data, so far, were derived during the pandemic, and thus are not necessarily representative and should not be relied on to draw conclusions about the potential usefulness or effects of telehealth going forward. MedPAC concluded that more research on telehealth is needed.

For now, many vital questions remain about the future of Medicare-covered telehealth, such as:

How can telehealth services be used so they deliver cost-effective, person-centered care?
How can the privacy and security of people using telehealth services best be protected?
How can equitable access to telehealth services be assured?
How can Medicare guard against potential overuse and fraud?

The future of Medicare coverage for telehealth services is uncertain. Ultimately, Congress could decide to again limit the locations where people can receive Medicare-covered telehealth. For example, if Congress let the temporary coverage expansion expire, it would return Medicare telehealth coverage to the limited pre-pandemic rules. As another option, Congress could decide to continue Medicare's currently expanded coverage of telehealth services.

These decisions have the potential to impact millions of Medicare enrollees. Policymakers should take steps to ensure that any future coverage and payment policies ensure individuals' access to high quality health care services.