'Changing Season': A Look at Transition on a Family Farm
By Gil Asakawa , May 26, 2016 12:32 PM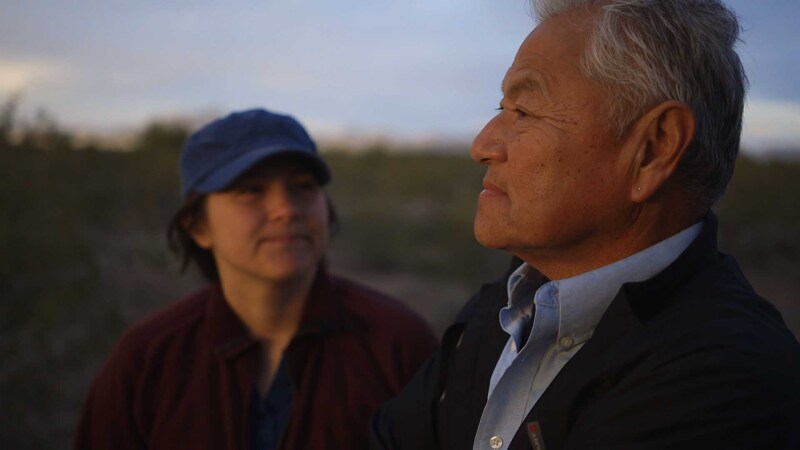 You'd think after a lifetime of growing and harvesting peaches, you'd get sick of eating them. But the Masumoto family still loves peaches and serves them up every way imaginable. "I love peaches, almost literally [they're] in my blood," says David "Mas" Masumoto, 62, the farmer who has nurtured his parents' peach groves.
"We have 10 varieties and each has a window of ripeness for two weeks," adds his daughter, Nikiko Masumoto. "So it's like getting to see your best friends for two weeks out of the year."
The father-and-daughter interaction is central to the delightful dynamics of Changing Season: On the Masumoto Family Farm, a documentary by director Jim Choi. The film follows the two — as well as Mas' wife and farm matriarch, Marcy, and their son Korio — through a transitional year not only for the farm but in the family's life.
Visit AARP's Asian Community »
The Masumoto Family Farm, which also produces nectarines and raisins, was purchased and first tilled by Mas' father, Takashi "Joe" Masumoto, in 1948. The family had returned to California's Central Valley after spending World War II in an Arizona concentration camp along with thousands of other Japanese American.
Mas Masumoto wasn't planning on following in his father's footsteps. He attended the University of California at Berkeley in the early 1970s, thinking he'd escaped the sweat and labor. "I studied something that I thought would never bring me back to the farm: sociology," he says. "But it got me to study how a plant grows and everything around the peach" — the whole community of people and processes that produce the fruit.
He ended up embracing the sociology of farming as part of the ecosystem that connected humans to the earth. And maybe Cal-Berkeley helped lead him to be an early adopter of organic farming.
"When I was growing up, [farming] was somewhat conventional. At the time fertilizers and pesticides were expensive," he says. "When we were transitioning to organics, I relied on my father's experience of farming. It was much simpler."
The Masumoto farm was certified organic in the late 1980s. "There were few organic markets at the time, so we were in the right place at the right time," Mas says. He has also been a prolific author of seven books, and with Marcy and Nikiko, the Masumotos have published a cookbook called The Perfect Peach: Recipes and Stories from the Masumoto Family Farm.
Ironically, Nikiko also attended Berkeley with the intention of leaving the seasonal labor of the Central Valley. She enrolled for gender and women's studies. "It was the area that set my soul on fire," she says.
But like her dad, Nikiko took a detour that led her back home. "In studying power and thinking about what I would do in my life, I also took an environmental studies class, and there was a speaker who talked about not using pesticides." She realized that the Masumoto Family Farm was doing important work, and that peaches fit into her social justice/activist worldview.
The documentary is about Nikiko coming home to help Mas with the farm, with the intention of taking over someday. That process is hastened when Mas needs heart surgery, and Nikiko steps up to run the farm earlier than she had planned.
Get entertainment and dining discounts with your AARP Member Advantages »
That family heritage of resilience also resonates with Nikiko because she's lesbian, which adds another layer of "other" on top of being a mixed-race Asian living in the state's conservative rural heartland. "The point is claiming a space as home and knowing we belong there against hatred, racism, homophobia, has been instructive," she says. "Radical love is not rosy all the time. Love in a public sense is work to build bridges where there appears to be none."
Nikiko says the film resonates on so many levels — including stories about fathers and daughters, family farmers and being queer and mixed race. "It really makes me have faith in humanity that a piece of art can open people," she says.
Changing Season premiered on PBS in May and is making its rounds at film festivals. Click here for the latest screenings and events.
Photo: Courtesy of CAAMedia
Also of Interest

See the AARP home page for deals, savings tips, trivia and more.