Midlife Diabetes Tied to Memory Problems Later in Life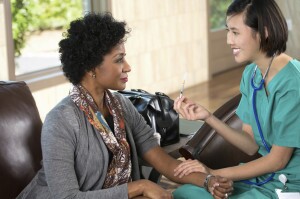 Having diabetes or prediabetes in midlife is linked to memory problems later in life, according to new research published in Annals of Internal Medicine. In fact, diabetes appears to age the brain about five years faster than normal aging.
Johns Hopkins researchers in Baltimore tracked the blood sugar levels and brain health of more than 15,000 adults ages 48 to 67 with regular exams for 20 years and found there was nearly 20 percent greater decline in memory and cognitive function in those with poorly controlled diabetes than in those with normal blood sugar levels.
>> 12 Fabulous Foods to Beat Diabetes
"To have a healthy brain when you're 70, you need to eat right and exercise when you're 50," says lead author Elizabeth Selvin, associate professor of epidemiology at the Johns Hopkins Bloomberg School of Public Health.
Although the mental decline was worse in those with uncontrolled high blood sugars, Selvin says people who controlled their diabetes with medication and diet were also more likely to have problems decades later with memory, word recall and executive function—all of which are linked to early stages of dementia. About 10 percent of American adults—21 million people—have diabetes, according to the Centers for Disease Control and Prevention.
Selvin adds that this study boosts the theory that heart and blood vessel health are strongly tied to brain health. Diabetes causes problems with blood circulation and can damage small blood vessels in the brain. Previous studies have linked diabetes with Alzheimer's disease, but this study was the largest yet to link it to brain health.
>> Get discounts on health services with your AARP Member Advantages.
"The good news here is that if we address heart risk factors, then we can address risk factors of cognitive decline and dementia and improve cognitive health in old age," Selvin says.
Photo: iStock/digitalskillet

Also of Interest

See the AARP home page for deals, savings tips, trivia and more.