Economy Adds 128,000 Jobs, Number of Unemployed Ages 55+ Increases Slightly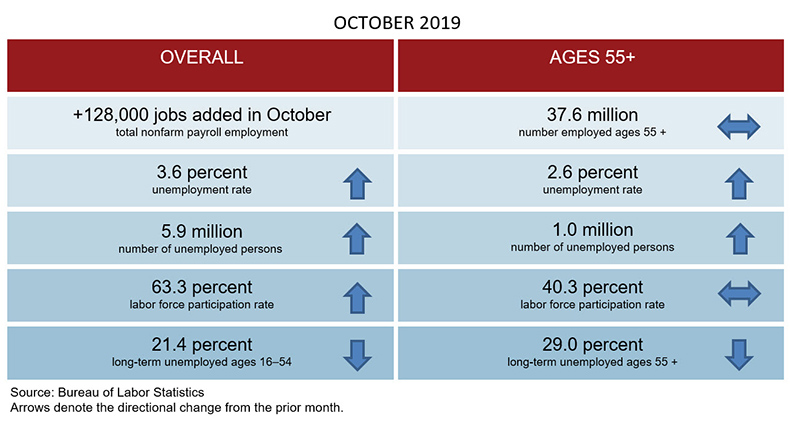 Employment Overview

Despite an autoworkers strike, the economy added 128,000 jobs in October. This was down from the 180,000 jobs added in September (revised up from +136,000), according to the Bureau of Labor Statistics (BLS) monthly Employment Situation Summary. The overall unemployment rate edged up to 3.6 percent and rose from 2.4 percent to 2.6 percent for those ages 55 and older. The number of people ages 55+ who were unemployed increased slightly to 1.0 million, while the number employed in this age group was unchanged at 37.6 million. The overall labor force participation rate increased slightly to 63.3 percent and remained at 40.3 for those ages 55+ for the third month. In October, 29.0 percent of jobseekers ages 55+ were long-term unemployed (looking for work for 27 weeks or longer) compared with 21.4 percent of those ages 16 to 54.

Spotlight on Employment Projections to 2028

The BLS has released its employment projections for the coming decade and predicts that while employment growth is projected to slow, labor force participation rates of 65+ workers will continue to climb. Slowing population growth and an aging population in the 2018 to 2028 decade will decrease overall labor force participation rates. The aging population will also influence which industries and occupations will grow the most in the years ahead.

The forecast projects that overall employment growth will be slower (5.2 percent) than the 7.4 percent previously projected for the slightly earlier decade of 2016 to 2026. The forecast attributes this slowdown to a combination of slower population growth and a large number of baby boomers exiting the labor market. Another factor is the strong economic conditions in 2018, the base year of the projections. Overall, the labor force is projected to increase by 8.9 million people to 171.0 million in 2028, while the labor force participation rate is projected to decline from 62.9 percent in 2018 to 61.2 percent in 2028.

Although women's participation rates are no longer contributing as much to growth as they did in the last decades of the twentieth century when women were entering the workforce in high numbers, older women's labor force participation rates will continue to be among the fastest-growing in the coming years.
Along with changing the demographics of the labor force to include more generations than ever, the aging population will also influence both industry-specific growth and the types of occupations that will be most in-demand. The biggest example of this impact is the continued rapid growth of the health care industry. The BLS forecasts that many occupations that provide health care or services related to health care will grow fastest, reflecting the increasing demand for such services from an aging population. These types of jobs account for 18 of the 30 fastest-growing occupations. Meanwhile, over 90 percent of employment growth in the coming decade will be in the service-providing sectors, and here also, the health care and social assistance sector will account for more than 40 percent of job growth.

Older workers with high levels of education, skills, and credentials will be in the best position to continue to work the longest, especially those in occupations in high-demand, or in industries such as health care that are adding many new jobs.



Find more details on the latest employment data in the October Employment Data Digest, the AARP Public Policy Institute's (PPI) monthly review of job trends for those ages 55 and over. For more data to drive policy solutions, go to PPI's Data Explorer, and for information on skills, jobs, and occupations for the 50+, visit AARP's skills shortage data tool.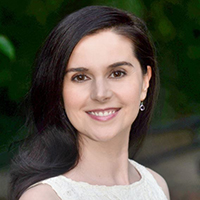 Jen Schramm is a senior strategic policy advisor at the AARP Public Policy Institute. Her areas of expertise include employment trends, policy challenges, and opportunities related to workers and fastest-growing ages 50 and above, and skills and credentialing for mid- and late-career workers.