Economy Adds Jobs in January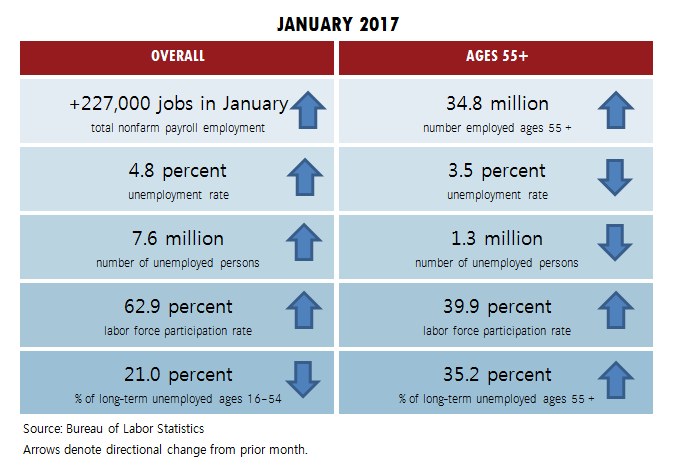 Employment Overview

January 2017 saw job gains of 227,000, up from 157,000 in December. Leading industries for job growth were retail trade, construction and financial. In addition, average hourly earnings by employees on private payrolls increased by 3 cents an hour to $26. The monthly Employment Situation Report from the Bureau of Labor Statistics gives a broad picture of the current state of the job market. Despite job gains, the unemployment rate ticked up to 4.8 percent. The number of unemployed persons (7.6 million) was little changed in January from December.

Spotlight on Workers Ages 55+

The labor force participation rate for those ages 55 and older was 39.9 percent in January compared with 39.7 percent in December. Over the course of 2016 the labor force participation rate for this age group held steady at around 40 percent. Almost 35 million people were employed in this age group in January. The employment rate (employment-to-population ratio) for the 55-and-older demographic was 38.5 percent, unchanged in January 2017 compared with January 2016.

For the population ages 20 years and older, 62 percent were employed in January 2017. A year-over-year comparison shows that the percentage of individuals ages 20 and over employed has trended down since the beginning of the Great Recession (December 2007) from 65 percent to 62 percent in January 2017. Meanwhile, the percentage of people ages 55 and older employed has gone up slightly from 37.7 percent to 38.5 percent over the same period.

The unemployment rate for those ages 55 and above fell slightly to 3.5 percent, with approximately 1.27 million unemployed persons in this age group.

While workers in the 55-and-older age group tend to have lower unemployment rates than their younger counterparts, their duration of unemployment continues to be higher than that of other age groups. The average duration of unemployment for job seekers ages 20 and over was 25 weeks. By comparison, job seekers ages 55 to 64 had an average duration of unemployment of 34 weeks. In addition, in January 35.2 percent of job seekers ages 55 and over were long-term unemployed, i.e., looking for work for 27 weeks or more, compared with 21 percent in the 16-to-54 age group.

For more employment data on Americans ages 55 and over, check out PPI's Employment Data Digest.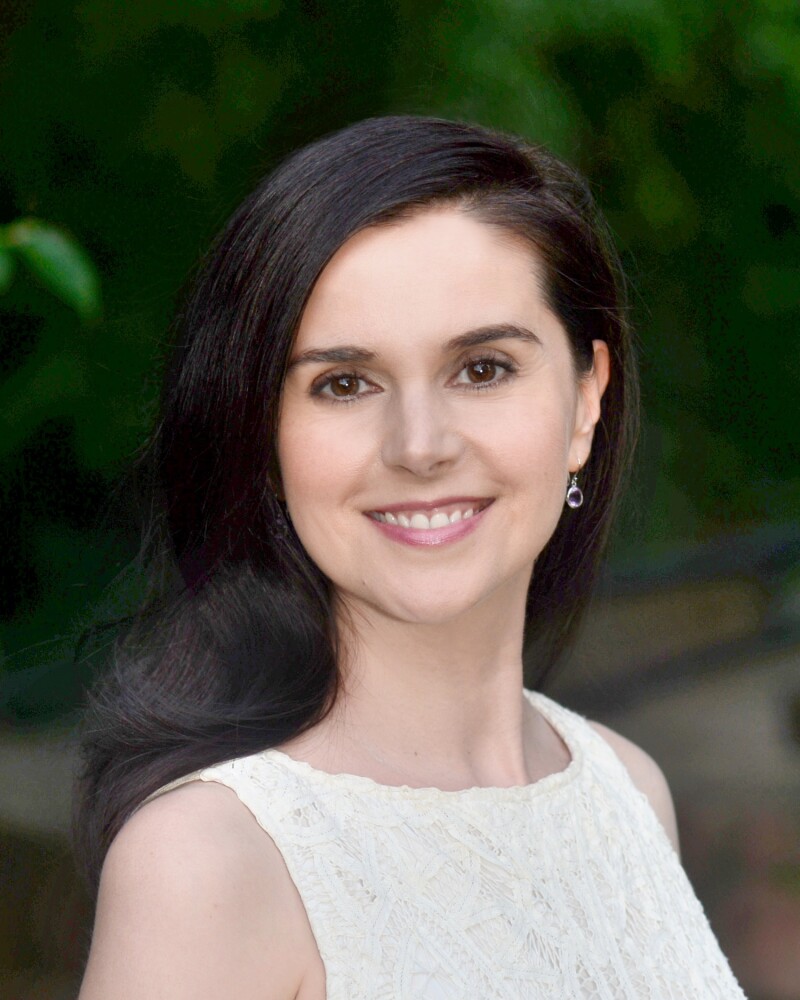 Jen Schramm is a senior strategic policy adviser at the AARP Public Policy Institute. As part of the Financial Security Team, she identifies policy challenges and opportunities related to workers ages 50 and above. Through research and analyses of emerging employment trends, she develops policy options to inform AARP's strategy on work and jobs, including helping older workers find and retain jobs.