Fewer Jobs Added in February, But Unemployment Rate Declines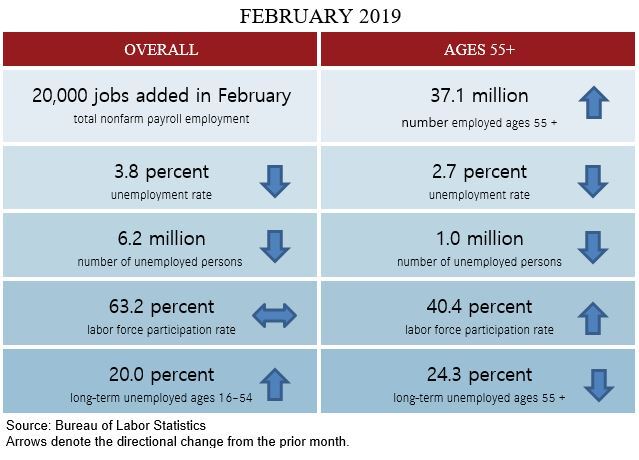 Employment Overview

Overall, the economy added only 20,000 jobs in February, a sharp decrease from the 311,000 jobs added in January (revised up from +304,000) according to the Bureau of Labor Statistics (BLS) monthly Employment Situation data. Meanwhile, the unemployment rate decreased to 3.8 percent overall and to 2.7 percent for those ages 55 and older. The labor force participation rate held steady at 63.2 percent and edged up slightly for the 55+ to 40.4 percent. Employment among the 55+ rose to 37.1 million while 1.0 million were unemployed among this age group.

Spotlight: Flexible Work Options and an Aging Workforce

According to BLS data, between 2014 and 2024 the labor force growth rate is projected to be highest for workers ages 65 and older: 55 percent growth in the 65 to 74 age group and about 86 percent for the 75+ age group, compared with only a 5 percent increase for the labor force as a whole. These increases represent both the ability and the desire to work longer among older Americans, as well as demographic changes in the US population.

As more employees stay on the job past traditional retirement age, many are looking for new ways of working and are seeking flexible work options. AARP research has found that, along with more traditional job factors such as competitive pay and benefits, older jobseekers also want more flexible work options. When deciding where to work, many are considering lifestyle factors such as commuting time, flexible work schedules, the ability to phase into retirement, and the option to work from home.

Employers that are looking for ways to retain valued employees may increasingly consider offering flexible work options. While data from the Society for Human Resource Management (SHRM) indicate that few organizations offer formal phased retirement programs (5 percent), informal work flex arrangements are increasingly common. The percentage offering informal phased retirement programs increased from 9 to 14 percent from 2014 to 2018, while those offering telecommuting increased from 59 to 70 percent. Allowing employees to choose their work hours within limits established by the employer also increased slightly to 57 percent. Meanwhile, some older workers are attempting to design their own flexible path to retirement by shifting to part-time work or self-employment.

Find more details on the latest employment data in the February Employment Data Digest, PPI's monthly review of job trends for those ages 55 and over. For more data to drive policy solutions, go to PPI's Data Explorer, and for information on skills, jobs, and occupations for the 50+, visit AARP's skills shortage data tool.
Jen Schramm is a senior strategic policy advisor at the AARP Public Policy Institute. Her areas of expertise include employment trends, policy challenges and opportunities related to workers and jobseekers ages 50 and above, and skills and credentialing for mid- and late-career workers.