Hanging in the Balance: The High Cost of Long-Term Services and Supports
By Jean Accius, October 8, 2017 10:00 PM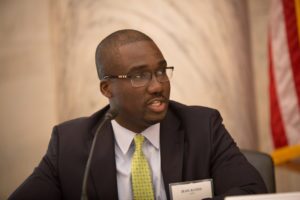 I recently had the opportunity to participate on a panel sponsored by Genworth that turned out to be a truly candid and oftentimes personal discussion on an emerging crisis. The topic: " Solving America's Long-Term Care Crisis: What We Can Do Now to Fix the $750 Billion Program."

In what way was the panel candid and personal? Much of it had to do with cost. Every day across the United States, millions of families sit at kitchen tables grappling with the uncertainty of how they will pay for the long-term care needs of aging parents or loved ones with disabilities. Such care includes help with basic life functions like eating, toileting, bathing and dressing.

For many of these families, anxiety levels, confusion and frustration all skyrocket when they learn of a certain reality: Neither their health insurance nor Medicare pays for these vitally important supportive services. Ultimately, many people deplete their life savings and turn to Medicaid for assistance as their ability to care for themselves declines.

However, this issue does not only affect individuals with limited to no income. The latest edition of the AARP Scorecard, which examines the performance of long-term services and supports (LTSS) by state, found that the cost of LTSS is much higher than what even middle-income families can afford. In fact, the typical price of a year of nursing home care was twice as much as the typical household income among people 65 and older in every state. It's time to face and understand these trends—and tackle them head-on.
Costs Trending Upward

Unfortunately, LTSS cost increases are not slowing down. A just-released Genworth report finds that the typical annual cost for a private room in a nursing facility is about $100,000, or $8,121 a month. That's right —nearly $100,000 for one year only.

The numbers don't get better from there. The base price (national median) for assisted living comes to $3,750 per month or roughly $45,000 a year. However, for any additional care needed, the cost could be much higher. And while home care is generally less expensive than nursing home care, it can still take a big toll on household finances. For 44 hours a week of support from a home care aide—which has the added benefit of helping people remain in their homes and communities—the annual cost is $49,192.

When you dig deeper into these national median figures (a midpoint, meaning half are above and half below, which can blur the picture), it becomes all the more eye-opening. The data underscore that where you live really does matter; that is, there is great variation across the states. In some states, the cost may be much higher than the national median.

Here's a look at some of the states where the cost of LTSS hits residents the hardest: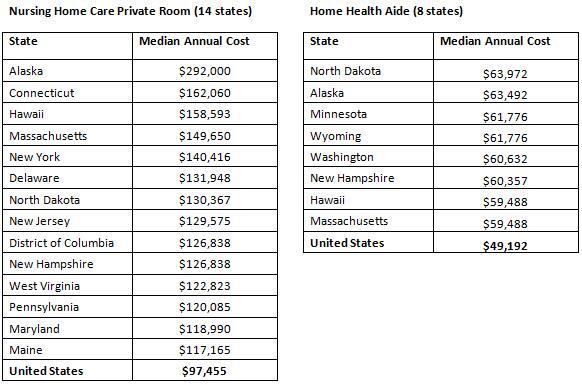 Confluence of Factors Forms Crisis

We are facing a growing crisis on multiple fronts. As the population ages, the demand for and cost of LTSS will rise rapidly. Few people can accumulate sufficient savings, even over a lifetime, to cover the cost of LTSS. Moreover, according to the Federal Reserve, nearly half (48 percent) of all families have no retirement savings. Among people 75 and older who had retirement accounts in 2016, the typical amount was $120,000. A mere year's worth of nursing home care could consume all of that.

And we've not even begun to talk about family caregivers' costs. They spend nearly $7,000 on average on out-of-pocket expenses such as personal care services, transportation and home modifications. However, family caregivers who are caring for someone long-distance can incur even higher costs—roughly $12,000 out of pocket.

If these issues go unaddressed, the number of people facing dire financial and long-term care situations will only multiply in the coming years, as costs rise and the population ages. So going forward, we must take a hint from the Genworth panel: We must speak candidly about the challenges because this is personal, and we must move fast. We must pick up the pace in sparking innovative solutions that allow individuals to live independently and to exercise control over their own care arrangements while protecting them and their families from financial catastrophe.

To achieve this vision, we will need a multifaceted approach that blends individual and social responsibility as well as greater collaboration between the public and private sectors to stimulate a range of affordable, suitable and practical financing options.