Job market rebounds in October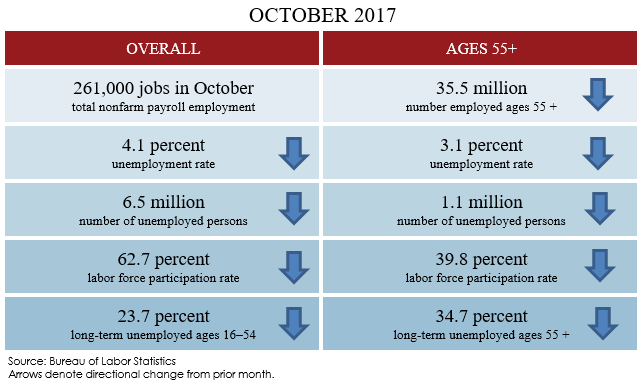 Employment overview

After the strong impact of hurricanes Harvey and Irma in September, the job market rebounded in October, adding 261,000 jobs. Meanwhile, the labor force participation rate for those ages 55 and older decreased slightly to 39.8 percent. While the Bureau of Labor Statistics (BLS) October Employment Situation report showed the overall unemployment rate was down to 4.1 percent, it also showed a decline in the overall labor force participation rate (62.7 percent). The employment rate (employment-population ratio) also declined by 0.2 percentage points to 60.2 percent. Jobs were added in professional and business services, manufacturing, and health care. The unemployment rate for those ages 55+ was down slightly to 3.1 percent. The percentage of jobseekers ages 55+ who are long-term unemployed (i.e., looking for 27 or more weeks) declined from 35.3 percent to 34.7 percent.

Spotlight on Individuals with Disabilities in the Labor Market

Because the risk of disability increases with age, the labor market experiences of individuals with disabilities can sometimes mirror the experience of older workers overall. The BLS collects data on the labor force characteristics of persons with a disability. Its overview of the 2016 data revealed that those ages 65 and over represented a large proportion of individuals with disabilities—47 percent. Women were more likely to have a disability than were men.

There are large differences between the employment levels of those with and without disabilities. For example, the employment rate for those without a disability was 65.3 percent, while only 17.9 percent of those with a disability were working. The unemployment rate for individuals with a disability was more than double that of those without a disability (10.5 percent compared 4.6 percent). These higher rates of unemployment for individuals with a disability were seen across all levels of educational attainment.

Thirty-four percent of workers with a disability were employed part-time in 2016 compared with 18 percent of workers without a disability. Those with a disability were slightly more likely to report that they were working only part-time for economic reasons, such as reduced hours or not being able to find a full-time job (6 percent versus 4 percent of those without a disability).

Factors that may increase the labor market participation rates of individuals with a disability in the years ahead include increased overall labor demand, technological advances, and employment policies that facilitate fuller inclusion of individuals with disabilities into the workforce.

For more details on this month's employment numbers, check out the October Employment Data Digest, PPI's monthly review of job trends for those ages 55 and over.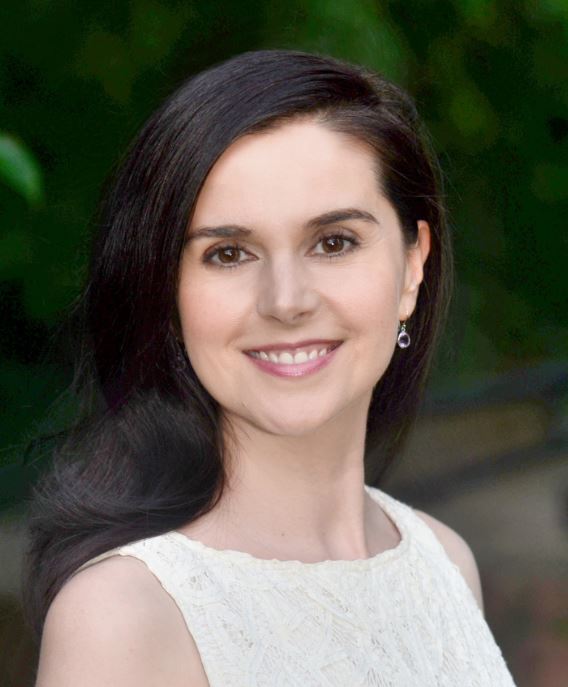 Jen Schramm is a senior strategic policy adviser at the AARP Public Policy Institute. As part of the Financial Security Team, she identifies policy challenges and opportunities related to workers age 50 and above. Through research and analyses of emerging employment trends, she develops policy options to inform AARP's strategy on work and jobs, including helping older workers f ind and retain jobs.