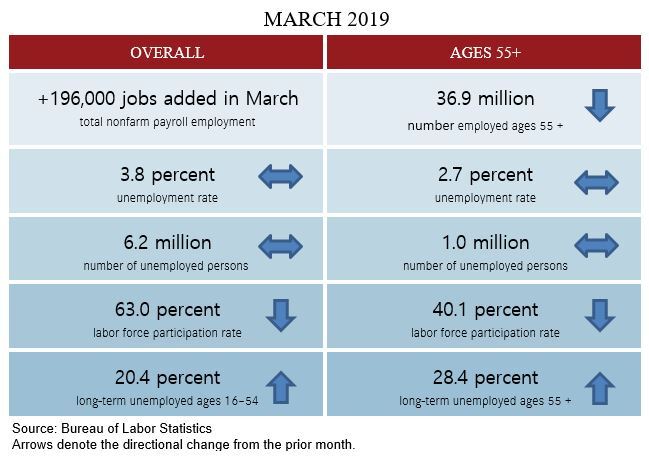 Employment Overview

Employment rebounded in March with the economy adding 196,000 jobs, up sharply from only 33,000 jobs added in February (revised up from +20,000 jobs), according to the Bureau of Labor Statistics (BLS) monthly Employment Situation data. The unemployment rate held steady at 3.8 percent overall and at 2.7 percent for those ages 55 and older.

The overall labor force participation rate was down slightly from 63.2 percent to 63 percent and also edged down for the 55+ from 40.4 percent to 40.1 percent. Employment among the 55+ age group declined to 36.9 million in March, but at 1 million, the number of 55+ who were unemployed was virtually unchanged from the previous month. Meanwhile, long-term unemployment rose for both those ages 16 to 54 and those ages 55+.

Spotlight: Older Workers and Long-term Unemployment

Jobseekers ages 55 and older are more likely to experience long-term unemployment compared with younger job seekers, and the consequences can be life altering. The BLS defines the long-term unemployed as individuals who have been looking for work about seven months or more. In March, 28.4 percent of job seekers ages 55+ were long-term unemployed compared with 20.4 percent of those ages 16 to 54.

Following the Great Recession of 2007–2009, levels of long-term unemployment climbed to a record high of 45.1 percent in the second quarter of 2010. Older workers were among the hardest hit during and after the recession, with many experiencing extreme long-term unemployment. Long-term unemployment increases the risk that a jobseeker will drop out of the labor market altogether. Older displaced workers are less likely to be reemployed compared with their younger counterparts and are more likely to exit the workforce entirely.

Research also shows that people in their late fifties to early sixties who experience unemployment during a recession confront a range of related long-term negative effects. They are less likely to have health insurance coverage and use health care services. Even more disturbing, this same population showed an increase in mortality rates over the longer term.

Even among those who eventually find work, long-term unemployment often has a significant and lasting financial impact. An AARP study of people ages 45 to 70, conducted after the Great Recession, found that about 59 percent of the reemployed who had previously been jobless six months or more were earning less in their current jobs compared with 41 percent of those who had been unemployed for a shorter period. For individuals and their families, this loss of income can reverberate across the subsequent years in the form of lower overall savings, delayed or abandoned education plans, and decreased retirement investments.

Find more details on the latest employment data in the March Employment Data Digest, PPI's monthly review of job trends for those ages 55 and over. For more data to drive policy solutions, go to data explorer page, and for information on skills, jobs, and occupations for the 50+, visit the labor shortages page.
Jen Schramm is a senior strategic policy advisor at the AARP Public Policy Institute. Her areas of expertise include employment trends, policy challenges and opportunities related to workers and jobseekers ages 50 and above, and skills and credentialing for mid- and late-career workers.