The Coronavirus Pandemic: Making Sure Older Adults Continue to Get Their Meals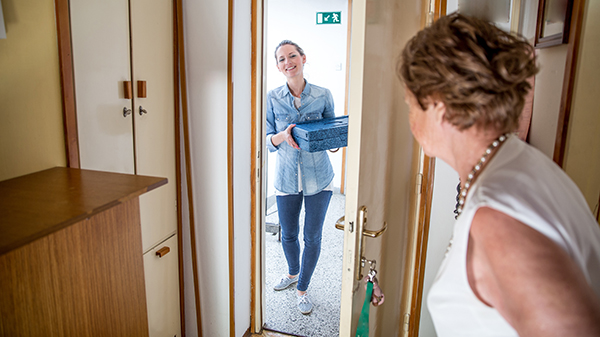 In the face of the outbreak, AARP is providing information and resources to help older people and those caring for them protect themselves from the virus and prevent it from spreading to others. You can find AARP's coronavirus resources at www.aarp.org/coronavirus.

Well before the COVID-19 (coronavirus) pandemic became a national emergency, millions of older Americans were already food insecure—meaning they skipped meals, did not eat balanced diets, cut food portions, or sometimes even went hungry because they could not afford food. Given mounting evidence that older adults might be most vulnerable to severe, life-threatening complications from COVID-19, ensuring they have access to adequate nutrition is now more important than ever.

Not having sufficient calories and balanced nutrition can mean a weaker immune system and a compromised ability to fight illnesses. Compounding matters, food insecurity has been linked to a number of chronic conditions (e.g., diabetes, lung disease, and heart disease) that significantly increase the coronavirus' risk to older adults. Unfortunately, COVID-19 is making food even harder to access for many older adults who already struggle to properly feed themselves.

Access to Meals Threatened

In an effort to slow the spread of the virus and mitigate its adverse health outcomes, the federal government is encouraging all Americans—including older adults—to practice social distancing by avoiding congregate settings and large groups. Social distancing, of course, is critical to protect the public's health, yet it also creates new challenges. The practice increases the likelihood that many of the food programs that provide meals to older adults in group settings—such as senior centers, schools, and churches—will temporarily close their doors.

Every year, these programs provide millions of meals to vulnerable older adults across the country—and in some cases to their caregiver or spouse. It's important that meals don't vanish when older adults need them most.

Shoring Up Home Meal Delivery

In light of these challenges, we must put in place plans and policies to ensure that older adults who were receiving meals in group settings have safe, alternative ways of getting food—ways that minimize the possibility of exposure to the coronavirus. This must be a priority for federal and state policy makers, working in collaboration with the private sector and community-based organizations.

Congress has already taken an important step toward this goal by significantly increasing funding for programs like Meals on Wheels that deliver food directly to older adults in their homes. Federal lawmakers recently provided two installments of emergency funding for home-delivered meals to low-income older adults—including $240 million in the Families First Coronavirus Response Act and $480 million in the Coronavirus Aid, Relief, and Economic Security Act. They have broadened the definition of homebound—for purposes of home-delivered meals—to include older adults who are practicing social distancing. AARP has also stepped up by donating $250,000 to Meals on Wheels, the nation's largest home-delivered meal program.

These emergency funds will allow food programs to ramp up home meal delivery as well as respond to other critical needs they are facing. In addition to meals, bolstered funding may go toward transportation, additional personnel as the program loses drivers to social distancing or illness, and protective gear (e.g. masks, gloves, and hand sanitizer) to mitigate the disease's spread through food deliveries.

As we navigate the coronavirus crisis, we must ensure that all older adults have access to the food they need. The pandemic is taking a significant social and economic toll on the country. Ramping up nutrition services for older adults during public health crises like COVID-19 will help mitigate hunger, improve health, and, ultimately, save lives.

For more data on nutrition programs serving older adults, check out AARP DataExplorer. This interactive tool developed by the AARP Public Policy Institute provides easy access to data on a wide array of issues relevant to the 50+ population, such as health, demographics, financial security, long-term services and supports, housing, and transportation.