Number of Employed Ages 55+ Edges Up as Economy Adds 136,000 Jobs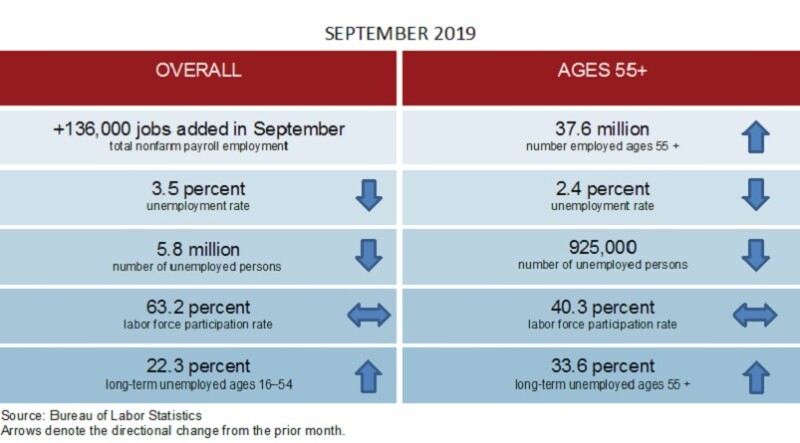 Employment Overview

While the unemployment rate declined to 3.5 percent, a 50-year low, hiring slowed in September. The economy added 136,000 jobs compared with +168,000 jobs added in August (revised up from +130,000), according to the Bureau of Labor Statistics (BLS) monthly Employment Situation Summary. The unemployment rate edged down for those ages 55+, from 2.6 percent to 2.4 percent. The number of people ages 55+ who were unemployed declined to 925,000, while the number employed increased slightly to 37.6 million. The overall labor force participation rate remained unchanged at 63.2 percent and was also unchanged for those ages 55 and older at 40.3 percent. In September, 33.6 percent of jobseekers ages 55+ were long-term unemployed (looking for work for 27 weeks or longer) compared with 22.3 percent of those ages 16 to 54.

Spotlight on International Efforts to Promote Longer Careers

In the last few decades the industrialized nations in the Organisation for Economic Co-operation and Development (OECD) have seen their average life expectancies increase, yet the age at which older people leave the workforce is lower today than it was 30 years ago. A new OECD report urges policymakers around the world to reverse this trend by stepping up their efforts to combat age discrimination and support older workers. Without such efforts, it warns, public finances and social insurance systems will be under increasing strain.

Countries like Italy, Greece, and Poland are on a trajectory to see their populations of older adults not in the workforce meet or exceed their numbers of workers by 2050. Such trends, however, can be averted if policymakers learn from the strategies taking shape in countries already making progress in extending working lifespans.

The study finds that OECD countries that are successfully increasing working lifespans are shifting their policies in three key ways:

1. Rewarding work at older ages. Pension systems can encourage retirement to be more in line with increased life expectancy and help ease transitions into retirement by supporting phased approaches, such as allowing for reduced work schedules. Many OECD countries still allow employers to have mandatory retirement policies, which create a disincentive to work longer and runs counter to policy aims to delay retirement. By contrast, countries that are successfully increasing career lifespans are shifting away from such disincentives.

2. Encouraging employers to retain and hire older workers. Countries that want to extend working years must address age discrimination in all its aspects and encourage employers to build age-diverse organizations.

3. Promoting the employability of workers throughout their working lives. Skills and education requirements for new and existing jobs are rising. Countries that are building up their systems of education to provide lifelong learning and skills development will be most likely to create the quality jobs with good working conditions that will encourage people to stay on the job longer. As automation displaces more workers in the years ahead, it will be even more critical to build effective systems to help people reskill during mid- and late-career years and rejoin the labor market as quickly as possible.

As the issues of longevity and the importance of a multigenerational workforce rise to the forefront among business leaders and policymakers, OECD research and efforts around "Living, Learning and Earning Longer" will continue. But policymakers can learn from the strategies countries are already successfully using today.

Find more details on the latest employment data in the September Employment Data Digest, the AARP Public Policy Institute's (PPI) monthly review of job trends for those ages 55 and over. For more data to drive policy solutions, go to PPI's Data Explorer, and for information on skills, jobs, and occupations for the 50+, visit AARP's skills shortage data tool.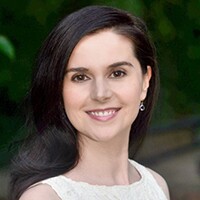 Jen Schramm is a senior strategic policy advisor at the AARP Public Policy Institute. Her areas of expertise include employment trends, policy challenges and opportunities related to workers and jobseekers ages 50 and above, and skills and credentialing for mid- and late-career workers.