Strong Hiring in October as Unemployment Rate Holds Steady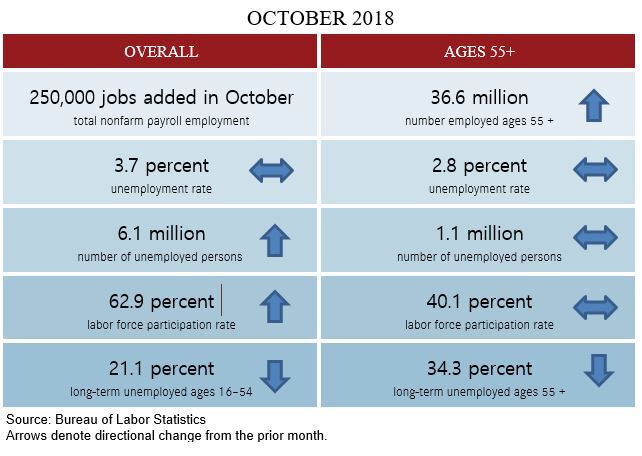 Employment Overview

The unemployment rate remained unchanged for both the overall workforce and those ages 55 and older, according to the Bureau of Labor Statistics' (BLS) October Employment Situation Summary. The overall unemployment rate was 3.7 percent and 2.8 percent for those ages 55 and older. The overall labor force participation rate edged up to 62.9 percent while the rate for the 55+ remained unchanged at 40.1 percent. Employment among this age group increased to 36.6 million while 1.1 million were unemployed. The long-term unemployment rate was 34.3 percent for those ages 55 and older compared with 21.1 percent for those ages 16 to 54.

Spotlight: Labor Market Reentry

Layoffs, quitting, or the ending of a temporary job are all reasons for unemployment. However, data from the BLS Current Population Survey shows one of the most common reasons for unemployment is when someone who has been out of the workforce begins to actively seek work, known as "labor market reentry."

Women are more likely than men to be unemployed due to labor market reentry, and jobseekers ages 65 and older are more likely than workers in other age groups to be labor market re-entrants – 36 percent compared with 28 percent of jobseekers ages 25 to 49 and 24 percent of jobseekers ages 50 to 64.

Reentering the workforce after an absence can be difficult. An individual's career network may no longer be as strong and their skills may no longer be up-to-date. Earnings tend to be less for workers who have taken time out of the labor market compared with those who have worked continuously without breaks. Nevertheless, demographic shifts suggest that despite these challenges, more people may find themselves to be labor market reentrants in the years ahead. The BLS projects that by 2026 the share of the 55+ in the workforce will increase. The labor force participation rate of the 65+ population – the age group most likely to be reentrants – is expected to grow the fastest.

While many individuals who want to retire must return to work for financial reasons, some researchers view reentry as a form of transitional retirement. An aging population influences other reasons for taking time out of work such as illness and family caregiving responsibilities. These dynamics will reinforce the importance of employment policies that support the successful reintegration of workers back into the labor force.

Find more details on the latest employment data in the October Employment Data Digest, PPI's monthly review of job trends for those ages 55 and over. For more data to drive policy solutions, go to PPI's Data Explorer, and for information on skills, jobs, and occupations for the 50+, visit AARP's skills shortage data tool.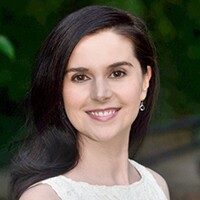 Jen Schramm is a senior strategic policy advisor at the AARP Public Policy Institute. Her areas of expertise include employment trends, policy challenges and opportunities related to workers and jobseekers ages 50 and above, and skills and credentialing for mid- and late-career workers.