Tackling Prescription Drug Abuse among Older Adults
By Olivia Dean, August 1, 2017 03:41 PM
Prescription drug abuse is a serious and growing public health issue in the United States. While media attention and policy efforts often focus on younger populations, older adults are not immune to the problem. A new AARP Public Policy Institute report finds that while the prevalence of prescription drug misuse is higher among younger ages, it would be a mistake to overlook such behavior among older adults. Here's why.

First, a number of factors make older adults more susceptible to prescription drug misuse. Older adults typically take more prescription medications than younger adults (figure 1)—often multiple drugs at the same time—increasing the likelihood of problems arising. Age-related physical, emotional, cognitive, and functional changes can also increase the potential for misuse, either unintentional or intentional.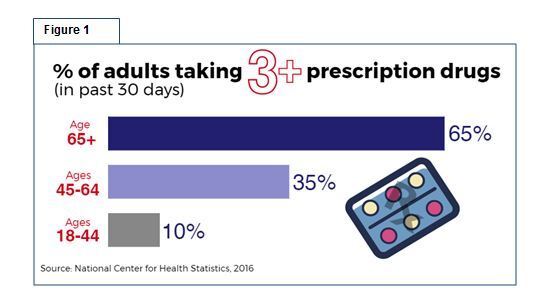 Further, prescription drug abuse often goes unrecognized or misdiagnosed in older adults. There are several possible explanations, including coexisting health conditions that can make it hard to identify abuse. Meanwhile, providers often lack the training and diagnostic criteria needed to properly detect the problem.

The result? Many older adults who abuse prescription drugs never receive a proper diagnosis or treatment.

This is a complex issue that policymakers and health professionals should tackle accordingly. As our aging population grows, the number of older adults at risk for abusing prescription drugs will likely grow as well. We need age-appropriate diagnostic and treatment practices that focus on changing prescriber behavior (like limiting overprescribing) and improving access to effective treatments for prescription drug abuse. At the same time, it's also important to ensure that policymakers don't implement overly broad policies that could limit access to prescription drugs for older adults with legitimate health needs.

Finally, everyone, not just providers, must become aware of this issue. It's critical that family caregivers and the general public understand the potential for and consequences of prescription drug abuse among older adults. Among older adults ages 50-64 who abuse painkillers, 42 percent get them from friends or family (figure 2). Addressing prescription drug abuse among older adults will require everyone working together.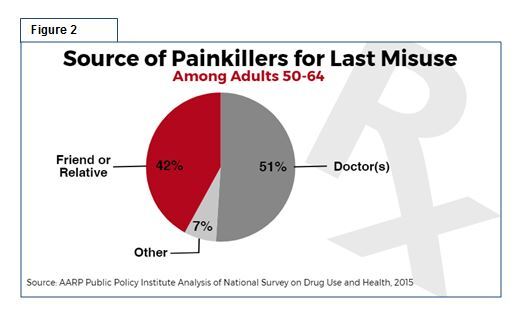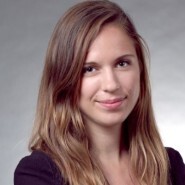 Olivia Dean is a policy analyst with the AARP Public Policy Institute. Her work focuses on public health, mental health, health disparities and healthy behavior.