The Ins and Outs of the Newly Approved RSV Vaccine for Older Adults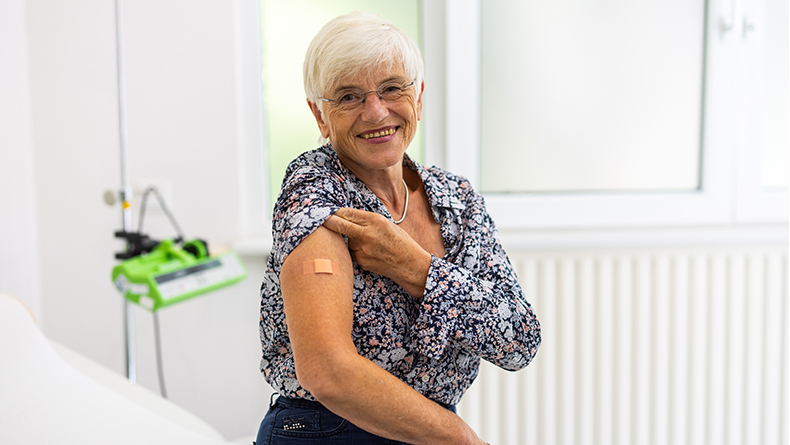 Today the Centers for Disease Control and Prevention (CDC) endorsed the use of new vaccines for respiratory syncytial virus (RSV) for adults 60 and older who have discussed it with their health care provider. The vaccines, which will be available this fall, could save thousands of older-adult lives each year.

Yet, important questions remain. Will older adults be receptive to getting vaccinated against RSV? And what to make of more vaccine recommendations? Lessons learned from the COVID-19 pandemic and the lack of out-of-pocket costs for many older adults may help ensure that the RSV vaccines are accessible by and acceptable to this high-risk population.

About RSV

Like the flu (influenza), RSV is a seasonal virus peaking in the winter months in the US. Both flu and RSV cause mild symptoms in most healthy adults but can be life-threating for some older adults, especially those with chronic heart or lung disease or those with weakened immune systems.

Annually, between 60,000 and 160,000 older adults are hospitalized and 6,000 to 10,000 die from RSV infection in the US. In comparison, flu mortality among adults 65 and older over the past decade ranged from a low of 3,800 deaths in 2021-22 to a high of 43,000 deaths in 2017-18. Officials attributed the low rate in the 2021-22 flu season, in part, to many non-pharmaceutical interventions adopted during the COVID-19 pandemic, such as wearing face masks and frequently washing hands—interventions that are also effective against RSV.

RSV vaccine arrival

In May, the Food & Drug Administration (FDA) approved two RSV vaccines, stating that both GSK's Arexvy and Pfizer's Abrysvo were safe and effective at preventing moderate to severe disease among older adults. On June 21, the CDC's panel of vaccine experts, the Advisory Council on Immunization Practices (ACIP), recommended that adults 60 and older have the opportunity to get the vaccine as protection against RSV after they discuss it with their health care provider.

The RSV vaccines will be available this fall—a busy time for recommended vaccines for older adults. In addition to the annual flu vaccine, older adults who haven't yet received the latest COVID-19 vaccine booster will likely be encouraged to get one, and to be up to date on their shingles and pneumonia vaccinations, among others. It remains to be seen how willing older adults will be to add a new RSV vaccine to their annual regimen. Some may also raise questions about the concurrent administration of vaccines. In addition, several ACIP members expressed concern at the limited evidence around how concurrent administration of RSV and other vaccines could affect efficacy. Consumers will need more information on when and how to receive multiple vaccines to make sound decisions.

Access to RSV vaccines

When the COVID-19 vaccines became available, older adults overwhelmingly welcomed them. As of May 2023, 94 percent of adults 65 and older were fully vaccinated against COVID. However, only 43 percent of that same group received the updated, bivalent COVID booster to fully protect them against evolving strains of the virus. This vaccination rate drop off is significant and may be due to a host of factors including vaccine hesitancy, confusion over evolving recommendations, intolerance of side effects, and vaccine fatigue.

Two recent developments could help encourage uptake of the RSV vaccine. First, the recently enacted Inflation Reduction Act made ACIP-recommended vaccines free for most older adults. As of 2023, Medicare beneficiaries no longer pay cost sharing (e.g., copays) for recommended vaccines covered by their prescription drug plans. The elimination of cost sharing may help improve access for those who may have otherwise avoided getting the vaccine because of cost.

Second, the health care system has shown a willingness to approach vaccine access in new ways. Innovations in vaccine delivery that emerged during the COVID-19 pandemic could help with uptake of other CDC-recommended vaccines such as the one for RSV. For example, mobile clinics that started crisscrossing states during the pandemic can continue to improve vaccine access in rural areas, while new authorities for pharmacists to administer a broader range of vaccines can expand the number and types of locations where older adults can get RSV vaccines.

The need for a well-planned rollout

With the approval of RSV vaccines, officials must now work to create a smooth rollout. At a time when older adults may not be particularly enthusiastic about a new vaccine recommendation, improved community-based outreach efforts around the RSV vaccines can help increase vaccine confidence and reduce potential barriers to access. Further, detailed guidance on when and in what combination multiple recommended vaccines can be safely given can help older adults manage, and possibly reduce, their interactions with the health care system.