Unemployment Drops Below 4 Percent in April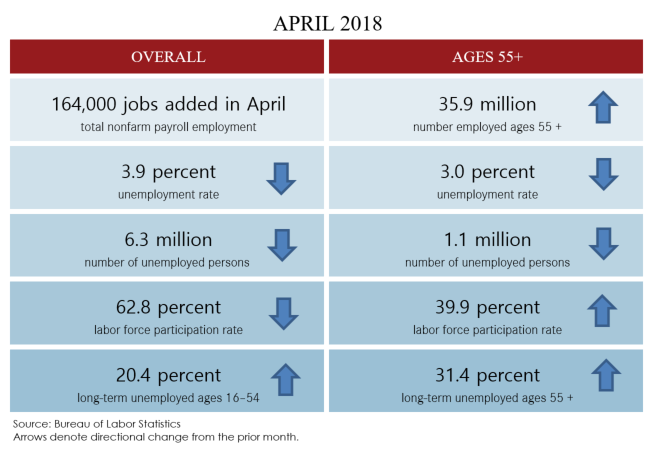 Employment Overview

Job growth increased in April as the unemployment rate dropped below 4 percent for the first time since 2000, according to the Bureau of Labor Statistics' (BLS) April Employment Situation Summary. The economy has added jobs every month for a record-breaking seven and a half years. Total nonfarm payroll grew by 164,000 jobs in April up from 135,000 jobs (revised up from 103,000) in March. The labor force participation rate was down slightly at 62.8 percent and the number of unemployed decreased to 6.3 million in April from 6.6 million in March.

The unemployment rate for people ages 55 and older declined from 3.2 percent in March to 3.0 percent in April. The number of people ages 55+ who were employed increased from 35.7 million to 35.9 million and the number of unemployed people in this age group declined slightly to 1.1 million. The labor force participation rate for those ages 55+ increased slightly to 39.9 percent. However, the percentage of 55+ jobseekers considered long-term unemployed (those job searching for 27 weeks or more) increased from 29 percent in March to 31.4 percent in April.

This month's Jobs Spotlight: self-employment among older workers

Job class data from the BLS Current Population Survey show that workers ages 65 and older are more likely to report that they are self-employed compared with workers age 25-49. Workers ages 75 and older are the most likely to report that they are self-employed.

While there may be many reasons for choosing self-employment, a recent working paper from the National Bureau of Economic Research identified retirement transitions as a factor in that choice. By using tax data, the authors were able to show increases in self-employment at popular retirement ages associated with Social Security eligibility, especially for individuals with more retirement savings. They also examined data from the Health and Retirement Study that found that individuals worked fewer hours after they switched to self-employment. These findings suggest that some workers may be using self-employment as a kind of transition bridge to full retirement.

Use of self-employment as bridge employment may partially reflect limited access to the more flexible work options or phased retirement plans that many workers at or nearing retirement age want. 2017 benefits research from the Society for Human Research Management shows that few employers offer either formal (6%) or informal (13%) phased retirement programs. The BLS predicts that workers ages 65 to 74 and 75+, though making up a smaller number of workers overall, will have faster rates of labor force growth annually than any other age groups. If current trends continue, many of these workers may decide to work for themselves.

Find more details on the latest employment data in the April Employment Data Digest, PPI's monthly review of job trends for those ages 55 and over.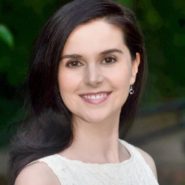 Jen Schramm is a senior strategic policy advisor at the AARP Public Policy Institute. As part of the Financial Security Team, she identifies policy challenges and opportunities related to workers age 50 and above. Through research and analyses of emerging employment trends, she develops policy options to inform AARP's strategy on work and jobs, including helping older workers find and retain jobs.