Unemployment Rate Falls to an 18-Year Low in May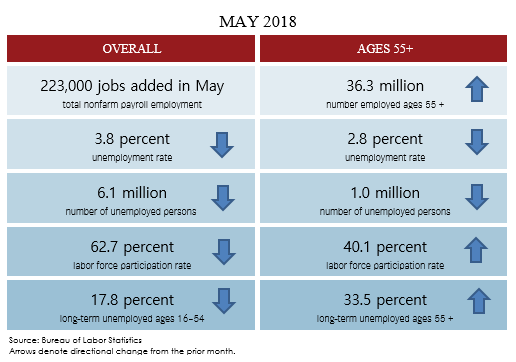 Employment Overview

The unemployment rate reached an 18-year low of 3.8 percent in May according to the Bureau of Labor Statistics' (BLS) May Employment Situation Summary. Total nonfarm payroll grew by 223,000 jobs, up from 159,000 jobs (revised down from 164,000) in April. The labor force participation rate decreased slightly to 62.7 percent and the number of unemployed persons decreased from 6.3 million in April to 6.1 million in May.

The unemployment rate for people ages 55 and older declined from 3.0 percent in April to 2.8 percent in May. The number of people ages 55+ who were employed increased to 36.3 million from 35.9 million in April, and the number of unemployed people in this age group declined slightly to 1.0 million. The labor force participation rate for those ages 55+ increased to 40.1 percent.



Spotlight: Projecting Workforce Needs as the Population Ages

For its 2016–26 employment projections, the BLS used a new methodology for forecasting future workforce needs by tracking workers who exit the labor force and workers who transfer to different occupations. According to the BLS, the annual average occupational separation rate is 10.9 percent, with the average worker spending a little over 9 years in an occupation. Over the course of a 35–40-year career, this means the average worker works in about four different occupations. Occupational transfer rates tend to be lowest in skilled professional occupations that have high entrance requirements. They are highest in transient or seasonal jobs.

As career lifespans lengthen for many workers, more people may seek to change occupations as they work beyond traditional retirement age. The aging workforce is also encouraging some employers to reassess common assumptions used in workforce planning methods to predict labor supply needs in different occupational groups. For example, the initial planning stage of analyzing labor supply and turnover to predict worker replacement needs often uses traditional retirement age as a basis. Yet this may be changing as more individuals work beyond the age of 65. The BLS forecasts that workers ages 65 to 74 and 75+ will have faster rates of labor force growth annually than any other age groups over the coming decades.

Forward-looking organizations, especially those in industries where much of their workforce is ages 50 and over, are therefore revising their workforce planning strategies to develop more accurate retirement forecasts. They are also building recruitment and retention strategies into their workforce plan that are aimed at hiring older workers and keeping them on the job longer.

For more on the latest employment trends check out the May Employment Data Digest, PPI's monthly review of jobs data for those ages 55 and over.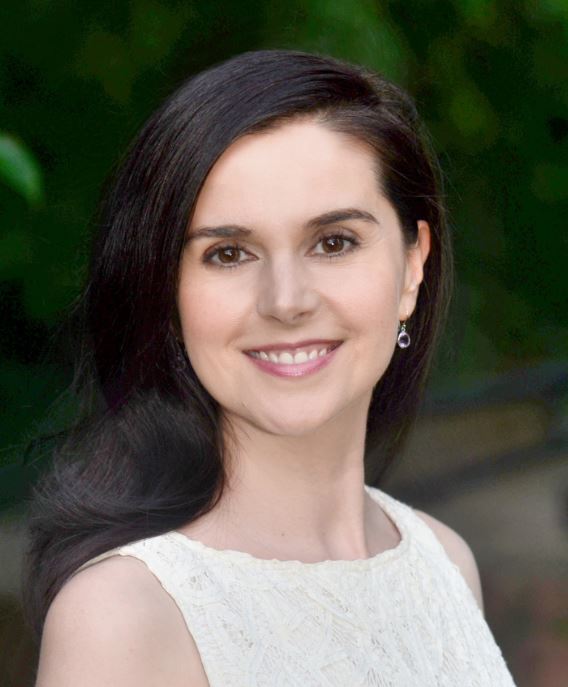 Jen Schramm is a senior strategic policy advisor at the AARP Public Policy Institute. As part of the Financial Security Team, she identifies policy challenges and opportunities related to workers age 50 and above. Through research and analyses of emerging employment trends, she develops policy options to inform AARP's strategy on work and jobs, including helping older workers find and retain jobs.