Unemployment rate for those ages 55+ increases in December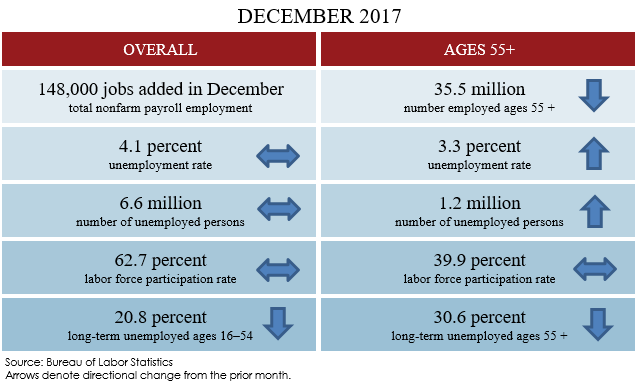 Employment Overview

The Bureau of Labor Statistics (BLS) December Employment Situation Summary showed the economy added 148,000 jobs in December 2017—a decrease from the 252,000 jobs (revised up from 228,000) added in November. Jobs were added in the health care, construction, and manufacturing industries, and average hourly earnings rose by 0.3 percent, or 9 cents, in December. This compared with a 0.1 percent increase in average hourly earnings in November.

Though the overall unemployment rate remained unchanged at 4.1 percent, the unemployment rate for persons 55 and older rose from 3.1 percent in November to 3.3 percent in December. The number of unemployed persons ages 55+ also increased to 1.2 million, up from 1.1 million in November. The labor force participation rate for those ages 55 and older was unchanged at 39.9 percent. The percentage of jobseekers ages 55+ who are long-term unemployed, defined as looking for work for 27 or more weeks, decreased from 37 percent in November to 30.6 percent in December.



Spotlight on the Work Experience of the US Population

In December 2017, the BLS released an overview of the 2016 data on the work experience of the US population with several indicators suggesting slight improvements in the job market from the previous year. The findings showed that 163.6 million people ages 16 and older worked at some point during 2016. While the proportion of the population who worked during the year (64.3 percent) changed little from the previous year, the number who experienced unemployment at some point during 2016 declined by 1.4 million, to 15.6 million. Most of the people (79.4 percent) who were employed worked year-round, a slight increase from 2015 (78.6). This held true for both men (81.8 percent) and women (76.8 percent).

Turning to unemployment trends, the number of unemployed who looked for a job but did not work at all in 2016 declined by 584,000 to 2.6 million. The median number of weeks spent looking for work was 14.5. The BLS defines the work-experience unemployment rate as those looking for work during the year as a percent of those who worked or looked for work during the year. This number was 9.4 percent, 0.8 percentage points lower than in 2015. The work-experience unemployment rate was higher for men than women (9.5 percent versus 9.2 percent).

For more details, check out the December Employment Data Digest, PPI's monthly review of job trends for those ages 55 and over.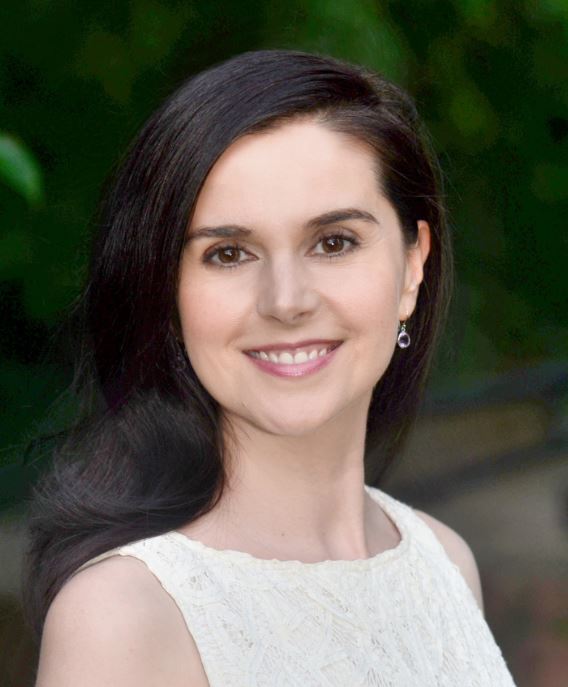 Jen Schramm is a senior strategic policy advisor at the AARP Public Policy Institute. As part of the Financial Security Team, she identifies policy challenges and opportunities related to workers age 50 and above. Through research and analyses of emerging employment trends, she develops policy options to inform AARP's strategy on work and jobs, including helping older workers find and retain jobs.