We Can Learn from Nurse Leaders and Top Performing Nursing Homes to Combat COVID 19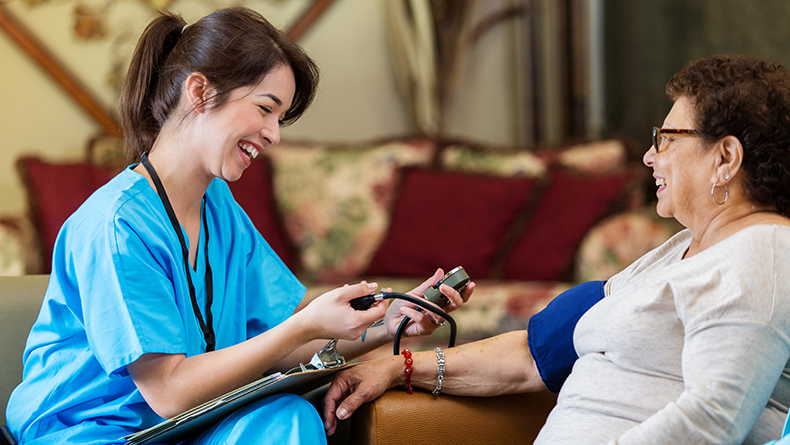 From the earliest days of the COVID-19 pandemic, older adults and particularly those living in nursing homes have been the most vulnerable to the virus. With widespread availability of vaccines and boosters and advancements in treatment, the harshest days of the pandemic are behind us. Importantly, however, COVID-19 remains a threat and making sure every single nursing home resident and staff member is vaccinated and boosted remains paramount.

The AARP Public Policy Institute's Nursing Home COVID-19 Dashboard has tracked and analyzed COVID-19 case, death, and vaccination data since 2020. The Dashboard's findings reveal a distressing trend among both nursing home residents and staff: not everyone is vaccinated and not everyone is "up to date" with boosters (i.e., received the boosters for which they are eligible on time).

Our team looked closer at the data, however, and found a more nuanced story with lessons for all to learn. While national and state level rates remain lower than they need to be, some nursing homes have very high vaccination and booster rates. At the same time, some facilities have very low rates. What drives these differences? And what can we learn from the best performing nursing homes?

Most nursing home staff are nurses at various levels of the profession. They are the day-to-day leaders and influencers within a facility, and we focus on learning from and empowering this field in our research. We have similar concerns about assisted living facilities, for which less data exists, and included those facilities and their nurse leaders in our work.

Wide Variances within Communities

While some suggest that nursing home COVID-19 rates are driven more by community spread than vaccine rates, that does not explain differences in facility vaccine rates within communities. In our team's analysis of the data, we found that almost invariably, nursing home vaccine and booster rates within a county range from very low to relatively much higher.

Consider Hamilton County, Indiana. Hamilton County is just north of Indianapolis and includes a mix of suburban and rural areas, and is home to about 350,000 people. There are 17 nursing homes in the county, nine of whom reported data in January 2023, which show a broad range of vaccination rates for residents and staff.

As of January 2023, among residents in Hamilton County nursing homes, facilities report a range of 71% to 100% as being vaccinated, with eight facilities reporting rates under 90%. No facility reports everyone being "up to date" with their boosters. The highest rate is 95%. The lowest is 3%. Eight facilities report up to date ranges as being under 50%.

Among staff in the same facilities, nursing homes report a range of 64% to 95% as being vaccinated, with 12 facilities reporting rates under 90%. No facility reports all staff being "up to date" with their boosters. The highest rate is 87%. The lowest is 1%. Most (11) facilities report up to date ranges as being under 50%.

In the table below, we further illustrate this range within six sample counties across the United States, including a mix of urban and rural areas, different regions of the country, and majority-Black (Bibb County) and majority-Hispanic (Tulare County) communities.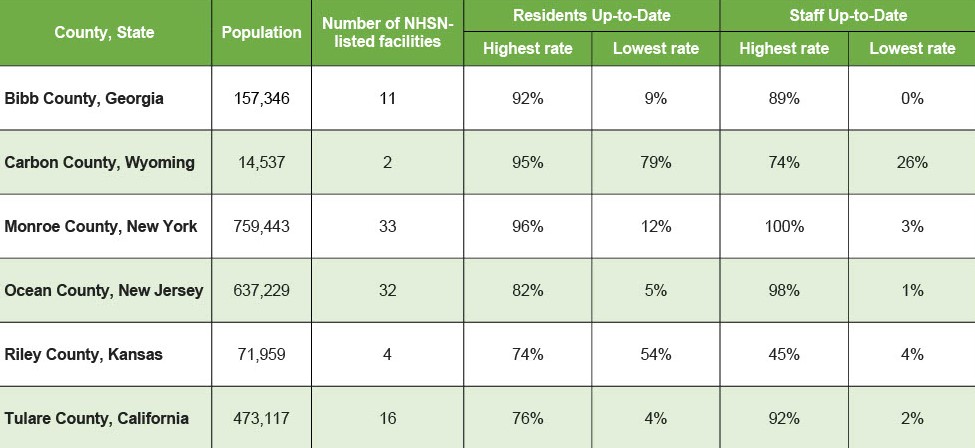 Nursing home residents should expect equal protection from COVID-19 regardless of what facility they call home. Learning more from those facilities with the best vaccine rates is an important next step to drive policy and improve national practice.

Top Performers are Publicly Identifiable and Should be Uplifted

We can learn from these top performers and work across facilities to scale their successful practices and strategies. Our team compiled a list of those nursing homes with the best vaccine rates nationally, specifically those that have achieved a 95% vaccination rate among residents and staff, as well as having 75% of residents and staff being up-to-date with their boosters. Only 150 nursing of the more than 15,000 in the United States met these criteria. You can review the list of top-performing nursing homes here.

Knowing who is performing the best in the area of vaccines is crucial to scaling good practices. We intend to open dialogue with these and other top performers to learn from them and see how we can help diffuse knowledge.

Nurses are Positioned to Lead

We have already begun the process of talking to top performing facilities. We have built relationships with key nurse leaders in the field including the Gerontological Advanced Practice Nurses Association and the American Assisted Living Nurses Association, among others. Through this network, we convened listening sessions with nursing home and assisted living nurse leaders. Those conversations unveiled important initial insights.

For example, an advanced practice registered nurse (APRN)
from Tennessee that we spoke with shared a practice of one nursing home to escalate those who declined vaccines to her attention so that those residents could receive personal and more in-depth counseling on the vaccine from someone with the credibility of an ARPN.

We also heard that family counseling is important, particularly having nurses provide counseling to families of nursing home residents for whom the family has medical proxy. Some facilities may have a non-clinician, like a social worker, handle these discussions, but the nurse profession is really the best entity to provide this information and the appropriate counseling to families.

Nurses also raised logistical concerns for vaccine access. Current practice often involves nursing homes scheduling a pharmacy to come in-house to the facility and provide vaccinations. There needs to be more direct access routes for facilities to be able to receive and provide vaccine themselves, rather than relying on third parties like pharmacies that may not put nursing home residents and staff at top priority.

Treatment Considerations

In our discussions with the nursing home field and with nurse leaders, we identified COVID-19 treatment in nursing homes an area needing further attention.

While Paxlovid is available on paper for nursing home residents and other vulnerable populations, practical barriers exist that prevent access. For one, we heard from nurses we spoke with that because the Paxlovid pill is very large, it is difficult or even impossible for many residents to swallow. The literature suggests that about half of nursing home residents experience dysphagia, or difficulty swallowing. Instructions on the Paxlovid box do not allow for crushing or splitting the pills, and because the treatment is available via an emergency use authorization, clinicians don't have to authority to override those instructions.

Paxlovid is available via infusion in addition to pill form. While a viable alternative for some, infusion-based treatment is not feasible for most nursing homes. Facilities generally do not have the equipment or staff time and expertise to administer infusion drugs.

Nurses also reported logistical problems, such as weekly shipments of medications including Paxlovid arriving too late to be used for a resident in need. If a nursing home resident contracts the virus on Monday, for instance, and Paxlovid does not arrive until Friday, the resident can't access the treatment on time. Similarly, nurse leaders told us that facilities are not able to proactively store the treatment onsite and have to order it for each individual resident case.

Next Steps

We anticipate that nursing home residents and staff will continue to be vulnerable to COVID-19 even as the winter peak comes to an end and spread of the virus subsides. With three years of experience combatting the virus, it is time to learn from those nurse leaders and nursing facilities that have shown great progress in this area, particularly as it relates to vaccination and booster rates. AARP, with partners in the nurse leadership community, will continue to study and uplift best practices and report our findings.