For Many Veterans, the Battles Don't End With the War
It seems so easy. We pass a veteran in uniform in an airport or on the street and we nod and say, "Thank you for your service."

It is a gracious greeting that is much appreciated by these men and women who have fought or stood bravely for the ideals of freedom for which America stands. But the fact is that, though veterans respond in kind to appreciation, many have brought the battlefield home with them in various ways.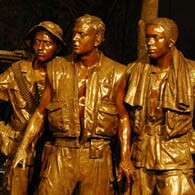 >> Tribute to Veterans: Readers Share War Letters

"Oftentimes, coming home is only the beginning of the battle. The new battle is facing life with another whole perspective that you never had before seeing the travesties of war."

That's the way it was described by U.S. Marine veteran Chuck Richardson, who served as a machine gunner in the Vietnam War: "You're never the same."

Richardson, who was awarded two Purple Hearts and a Vietnamese Cross of Gallantry, is one of thousands of American veterans being treated for post-traumatic stress disorder (PTSD) years — even decades — after their terms of service. Even as we celebrate their contributions and bravery on Nov. 11, Veterans Day 2014, millions are suffering with PTSD, homelessness, drug addictions, alcoholism and war-related disabilities — more battles — here on the home front.

>> Sign up for the AARP Advocacy Newsletter

Our veterans are both young and aging. In fact, there are more than 21 million veterans in the United States, and more than 15 million are over the age of 50. From the wars in Iraq and Afghanistan to the Vietnam, Gulf and Korean Wars to the veterans of World War II, the sacrifices are equally valiant.

AARP is dedicated to the support of our veterans. In honor of Veterans Day, we're offering a special discounted membership rate; plus we're using a portion of these membership dues to provide AARP RealPad® tablets to veterans. Other services to veterans can be found at VeteransCrisisLine.net, the U.S. Department of Veterans Affairs and the National Coalition for Homeless Veterans, to name a few that offer both help and hope.

>> Get discounts on health services with your AARP Member Advantages.

Meanwhile, the one thing that may help ease some of the pain of the battles here at home is to remind our veterans that their sacrifices were not in vain. So, whether they served as combat veterans or in the multitude of other military support roles, let's remember to say thank you. Yes, thank you for your service.

Photo: National Park Service

















Also of Interest



See the AARP home page for deals, savings tips, trivia and more