55+ Labor Force Participation Rate Unchanged for Fifth Straight Month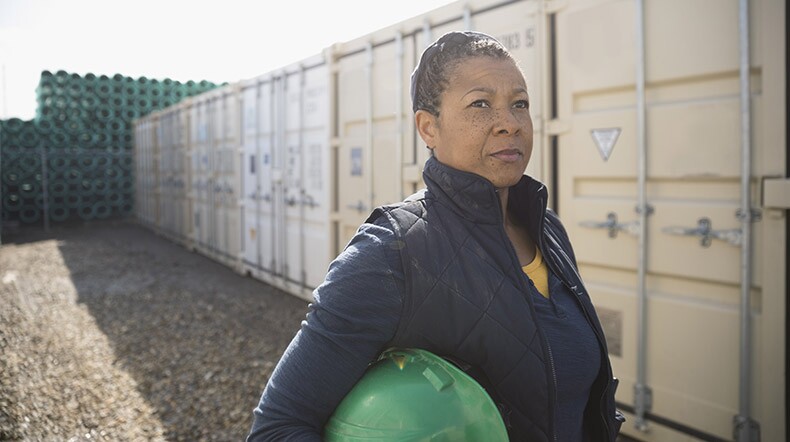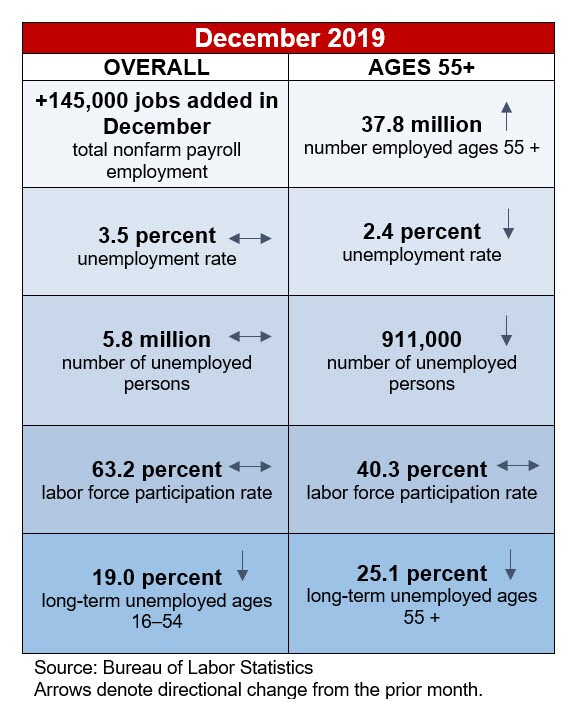 Employment Overview

Job growth weakened in the last month of 2019, with the economy adding 145,000 jobs, down from 256,000 jobs added in November (revised down from +266,000), according to the Bureau of Labor Statistics (BLS) monthly Employment Situation Summary. The overall unemployment rate was unchanged at 3.5 percent but edged down to 2.4 percent for those ages 55 and older. The number of people ages 55+ who were unemployed also declined to 911,000, while the number employed in this age group increased slightly to 37.8 million. The overall labor force participation rate held steady at 63.2 percent and, for the fifth consecutive month, remained at 40.3 percent for those ages 55+. In December, 25.1 percent of jobseekers ages 55+ were long-term unemployed (i.e., looking for work for 27 weeks or longer) compared with 19 percent of those ages 16 to 54.

Spotlight on older workers and the regional jobs divide

One of the most significant labor market changes in the 21st century thus far has been the shifting of jobs—and with them, much of the US population—away from many regions of the country to a handful of cities with highly concentrated job growth. Census data show that while the nation added 160,000 net new businesses between 2005 and 2015, in most counties the number of businesses actually fell—by a sizable 200,000 in 2,100 of 3,100 counties. Meanwhile, the demographics of many of these areas, especially the rural regions, have shifted toward becoming older populations. Therefore, while labor force participation rates among US workers ages 65 and older are growing and more people say they want to work beyond traditional retirement age, many such older workers and jobseekers have seen job opportunities in their communities diminish.

A 2019 Census report found that more than one in five Americans ages 65 and older lives in rural areas, and many of these older adults are concentrated in states where more than half of their older populations are in rural areas. The share of the population 65 years and older in completely rural counties was the highest in the middle of the United States. Most of these rural older Americans live in areas with fewer job prospects than were available during their "prime-age" working years (defined by the BLS as between the ages of 25 and 54); in two-thirds of US counties, there are fewer jobs than there were a decade ago.

Many economists and policy makers have concerns about the growing regional jobs divide, and are calling for greater investment into the areas of the country losing jobs. Investing in these regions would build upon a strong foundation of existing social capital and other assets. "Heartland communities consistently outperform other parts of the country on AARP's Livability Index, particularly with respect to civic and social engagement measures," says PPI's Jana Lynott. "These are places where people feel invested in the community." Addressing the regional jobs divide could help keep more older Americans in the workforce for longer, while also helping younger workers find opportunities in livable communities where housing and other living costs are more affordable.


Find more details on the latest employment data in the December Employment Data Digest, the AARP Public Policy Institute's (PPI) monthly review of job trends for those ages 55 and over. For more data to drive policy solutions, go to PPI's Data Explorer, and for information on skills, jobs, and occupations for the 50+, visit AARP's skills shortage data tool.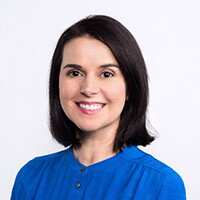 Jen Schramm is a senior strategic policy advisor at the AARP Public Policy Institute. Her areas of expertise include employment trends, policy challenges, and opportunities related to workers and jobseekers ages 50 and above, and skills and credentialing for mid- and late-career workers.