Hiring Slows as Economy Adds 130,000 Jobs in August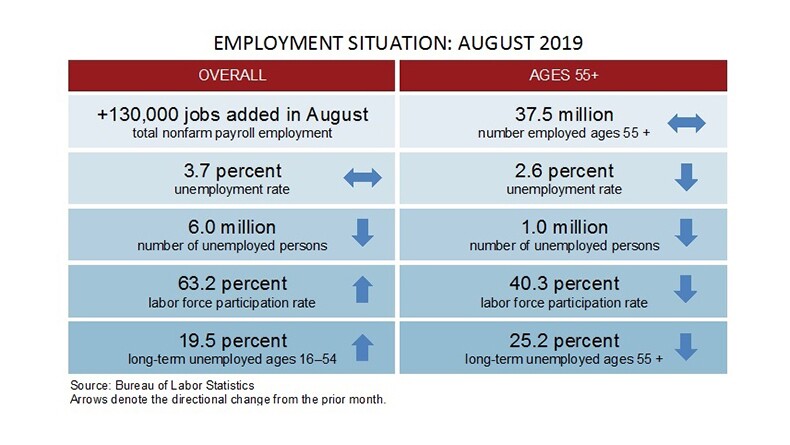 Employment Overview

Hiring slowed in August as the labor market added 130,000 jobs and payroll gains for June and July combined were revised down, according to the Bureau of Labor Statistics (BLS) monthly Employment Situation Summary. The overall unemployment rate was unchanged at 3.7 percent and edged down for those ages 55+, from 2.7 percent to 2.6 percent. The number of people ages 55+ who were unemployed declined slightly to 1.0 million, while the number employed remained at 37.5 million. The overall labor force participation rate was up slightly at 63.2 percent but down slightly for those ages 55+, to 40.3 percent. In August, 25.2 percent of jobseekers ages 55 and older were long-term unemployed (looking for work for 27 weeks or longer) compared with 19.5 percent of those ages 16 to 54.

Spotlight on older workers and the rising education requirements for fast-growing occupations

Education requirements are rising for many jobs, and most of the fastest-growing occupations typically need post-secondary education for entry, indicating that older workers who have the highest levels of education will continue to have better chances of working longer. The types of occupations that the BLS projects to grow fastest are high-earning jobs requiring a doctoral, professional, or master's degree for entry. Already, the BLS finds that about one-third of employment in 2016 was in occupations that typically require post-secondary education for entry, usually a bachelor's degree. While occupations that require a master's degree make up the smallest group in terms of employment as of 2016, they are projected to grow at more than twice the rate projected for all occupations by 2026. Occupations that generally require a doctoral or professional degree for entry are the second-fastest growing group.

The impact of these trends on older workers' ability to stay in the workforce longer is already evident. Analysis of employment rates by education level shows that people most likely to be working beyond the age of 65 tend to have the highest levels of education. The labor force participation rate for the 65+ is over 30 percent for those with a master's degree or higher compared with only 15 percent for those with a high school degree and 10 percent for those with less than a high school diploma.

In addition to rising education requirements, more jobs are requiring professional certifications and occupational licenses. Government data show that in 2018, 43.7 million people in the US held an active certification or license amounting to almost 17 percent of the population. The prevalence of occupational licenses and certifications has risen substantially in the past 50 years. Many jobs requiring occupational licenses or professional credentials are in industries such as health care that will grow significantly in the coming decades, suggesting that the increase in specialized credentials is likely to continue.

As occupational education and credentialing requirements rise, individuals who want to work longer may increasingly return to education to complete degrees or gain credentials. A key barrier for many older would-be students is the cost of education, which has increased substantially over the past several decades. An AARP Public Policy Institute report on student loan debt finds that it has become a significant burden for people of all ages; student loan balances have increased across all age groups, but growth has been greatest for older borrowers. Both the education sector and employers should build their capacity to support these older learners. For employers, this might involve targeting on-the-job training to lead to recognized credentials or expanding their education reimbursement benefit offerings.

Find more details on the latest employment data in the August Employment Data Digest, PPI's monthly review of job trends for those ages 55 and over. For more data to drive policy solutions, go to PPI's Data Explorer, and for information on skills, jobs, and occupations for the 50+, visit AARP's skills shortage data tool.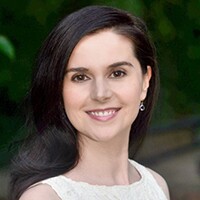 Jen Schramm is a senior strategic policy advisor at the AARP Public Policy Institute. Her areas of expertise include employment trends, policy challenges and opportunities related to workers and jobseekers ages 50 and above, and skills and credentialing for mid- and late-career workers.