A Look at Alternatives to Institutional Housing during COVID-19 and Beyond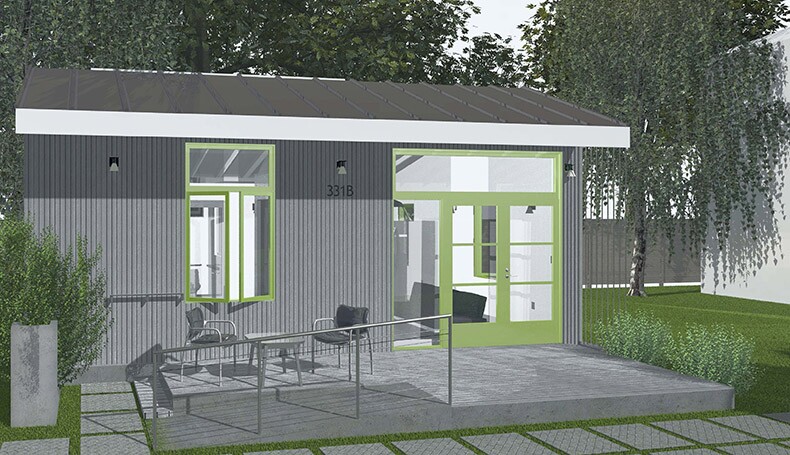 The news is sobering. By the end of June, more than 40 percent of all COVID-19 deaths in the US were people who had lived and worked in nursing homes and other long-term care facilities, according to the Kaiser Family Foundation database tracking COVID-19 cases. That's about 54,000 people.

Despite existing federal and state guidelines to contain the virus, the death toll in nursing homes and other long-term care facilities continues to rise. Families are worried about their relatives' safety and well-being, while advocates, public health officials, lawmakers, and others look for solutions to keep the rates of infection from growing among residents in these facilities.

Aside from actually reducing rates, decision makers can enable options for families. The pandemic underscores the need for policy makers to foster the development of housing alternatives for older adults outside of institutional settings. Depending on one's individual health, housing units known as accessory dwelling units (ADUs), in addition to home modifications, could be suitable approaches for older adults with long-term care needs.

In Need of New Housing Solutions

Many factors come into play when it comes to housing options. AARP consistently finds that older adults prefer to live in their homes and communities as they age. Even before the pandemic, older adults and their families were exploring housing alternatives for those in their later years. Most older adults, including those who need long-term services and supports, live in communities rather than in long-term care facilities. In 2018, 90 percent of older adults with long-term services and supports needs lived in the community, compared to 10 percent who lived in nursing homes. Moreover, aside from preference, for many the choice is heavily influenced by finances. The out of pocket costs of nursing homes and assisted living facilities are out of the reach of many households. Annual costs for nursing homes are over $100,000 and monthly costs for assisted living facilities are on average about $4,000—prices that are a stretch for most families. And as the nation contends with the negative socioeconomic fallout from the pandemic and the resulting job losses, lower-cost housing solutions become all the more necessary.

Finally, there are practical factors. Individuals and their families must choose the best fit, balancing long-term care needs with identifying the right environment for receiving a higher level of care. For those who have complex health care needs, or who don't have support from a family caregiver, nursing homes are often the only option.

Thus, many jurisdictions recognize the benefits of expanding housing options. Alternatives, like ADUs, can be viable options for those who want to avoid institutional settings.

Short- and Long-Term Housing Solutions

Alternative housing options range from making minor home modifications to constructing permanent structures on existing residential property.

For someone who still is active and needs a lower level of care, home modifications that remove physical barriers within a house can make moving from room to room safer and easier to navigate. Installing grab bars in bathrooms is one example of such modifications. These can be DIY projects, but some may require hiring a contractor. Some jurisdictions offer grants or loans to cover the cost of modifications needed for older adults or people with disabilities.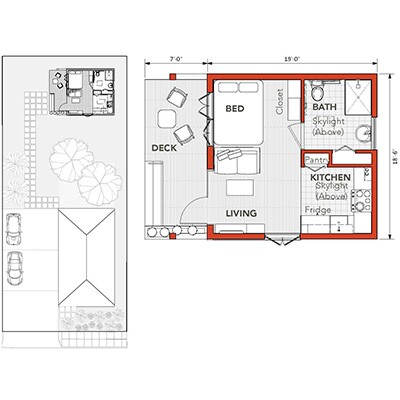 Another option is to add an accessory dwelling unit—a temporary or permanent structure on an existing residential property. ADUs, also called garage apartments, in-law suites, guest cottages and other terms, are separate housing units that include a living/bedroom space, a kitchen and a bathroom. They allow for ongoing care from a nearby family caregiver, while still providing a level of privacy and independence.

There are a wide range of ADUs, from temporary models that are used for someone who has immediate medical needs (e.g., after a hospital stay), to permanent structures. Pre-fabricated models arrive in parts to be assembled on a property. Others can be customized and built to meet individual needs.

ADUs provide additional benefits. A homeowner can construct an ADU with accessible features making it suitable for future use as they age in place. Besides housing an aging family member, ADUs can provide space for a caregiver, provide additional income as a rental, and offer a lower-cost housing option for a community member. Another benefit is that in some markets, ADUs add value to a residential property.

Government Beginning to Support ADUs

Historically, ADUs played a significant role in increasing housing options, but in more recent decades zoning laws and other property regulations restricted their development. Now, with a nation searching for more affordable housing options, the state and local policy trend has reversed again. To give just two examples, California has encouraged ADU construction as a way to increase more affordable housing options, and Chicago has reversed course from largely banning ADUs to exploring ways to enable their growth.

Other jurisdictions, such as Virginia, have laws that only allow for temporary structures for health care needs. Temporary structures are often cheaper than traditional construction and contain features and technology to aid residents with specific health needs. In some cases, temporary ADUs could be considered suitable for short-term housing for vulnerable populations like those experiencing homelessness or others who have been impacted by COVID-19.

For states and localities seeking to expand housing options, policy makers can shape and implement ADU policies and offer resources to make building them easier. This not only provides lower-cost housing options but also helps those looking for effective alternatives to institutional care, ultimately allowing people to stay in their own homes and communities.

For further reading:

AARP Future of Housing
AARP Fact Sheet: Long-Term Services and Supports
AARP Blog: With Pandemic, Low-Wage Workers Face Both Greater Economic and Health Risks
AARP 2018 Home and Community Preferences: A National Survey of Adults Ages 18-Plus
KFF State Reports of Long-Term Care Facility Cases and Deaths Related to COVID-19
Urban Land Institute Unlocking Accessory Dwelling Units in Chicago
CDC Coronavirus Disease 2019 (COVID-19) Preparing for COVID-19 in Nursing Homes