Join Us For Our Live Event: A Conversation About Prediabetes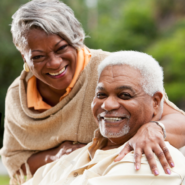 You've probably heard of diabetes—but what about prediabetes? Prediabetes is a condition where blood sugar levels are high, but not high enough to qualify as diabetes. While almost half of older adults have prediabetes, nearly nine out of ten don't know they have it. That's why having this conversation is so important.

On Wednesday, November 7th from 7-8pm ET, join AARP and 100 Black Men of America for a free, interactive telephone town hall about prediabetes among the African American/Black community, a population that is at high risk for prediabetes.

On the call, you'll hear from Dr. Sherita Golden from Johns Hopkins University and Dr. Lashawn McIver from the American Diabetes Association, who will discuss prediabetes and risk factors for the condition, how to tell if you're at risk, and what YOU can do to reverse the condition. The Moderator for the conversation will be Dr. Eric Griggs—a physician, health and wellness expert, and member of 100 Black Men of America. The event will be interactive, giving you the chance to participate in polls and ask questions throughout the call and during the Q&A period at the end.

Interested in in joining? All you have to do is REGISTER HERE in advance of the event and you'll receive a call when the event begins to join the event by phone. While registration will close the day of the event, a live audio stream of the call (not interactive) will play on the registration page if you miss the cut-off.

If you're on Twitter, we encourage you to join the conversation using our event hashtag #AARPprediabetes. Follow the AARP Policy, AARP Black Community, and 100 Black Men Twitter accounts for tweets about the event and more.