Medicaid: Program of Last Resort
By Don Redfoot , May 30, 2013 11:56 AM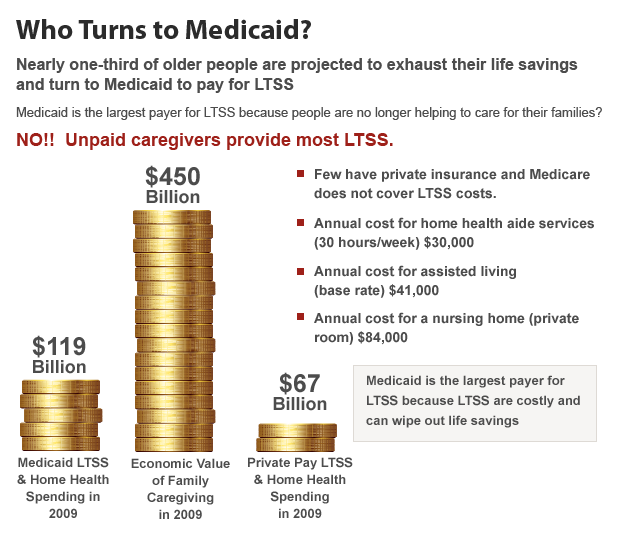 Most people don't think of themselves as potential welfare recipients. But seven out of ten people who reach the age of 65 will need long-term services and supports (LTSS) during their lives, and three in ten will eventually rely on Medicaid to pay a significant share of the costs of their care.
Do these numbers reflect declining willingness of Americans to help their own families in a time of need? Are we becoming a nation of people unwilling to take personal responsibility, who are looking for ways to get government benefits?
A newly released paper from the AARP Public Policy Institute examines the pathway to Medicaid for those who need LTSS in their retirement years. It shows that families continue to provide most of the caregiving support to people with disabilities, and it notes that the value of family caregiving dwarfs the costs of Medicaid or out-of-pocket expenditures.
Medicaid provides an indispensable backstop of coverage for middle-income people not because people are trying to get on welfare, but because the costs of LTSS often occur late in life when people have exhausted many of their resources and because the costs of care are so high.
The average duration of need for LTSS is three years. A year in a nursing home costs $84,000 on average, and even assisted living costs an average of over $41,000 a year. So, many middle income people simply do not have the savings to pay the costs of extended periods of care.
For the care that families cannot provide, most people must rely on their own resources - until those resources are exhausted and Medicaid becomes the payer of last resort. Evidence on those who spend down their resources until they must accept Medicaid indicates that nearly nine in ten older persons who spent down between 1998 and 2008 had incomes below the median of $32,000 and over half (56 percent) had assets in the lowest quartile (<$38,000).
Despite popular misperceptions, Medicare does not pay for LTSS and only a small percentage of people are covered by private long-term care insurance. Analysis from AARP's Middle Class Security Project shows that stagnant incomes, declining savings, and rising debts will make the costs of LTSS an increasing threat to the security of current and future middle-class retirees.
Congress recently authorized a Long-Term Care Commission to examine issues related to the future of financing LTSS and to make recommendations for legislative action. The commission must address not only the budget issues related to Medicaid but also the human costs of disability experienced by increasing numbers of people who live to late old age and the families that are making heroic efforts to support them. Requiring impoverishment and overtaxing families should no longer be the cornerstones of our nation's LTSS policies.
Donald Redfoot, Ph.D. is a senior strategic policy adviser for the AARP Public Policy Institute. He has conducted and supervised policy analysis on the financing of long-term services and supports for more than 25 years.