After Recent Gains, Older Women's Labor Force Participation Still Stuck Below Pre-Pandemic Levels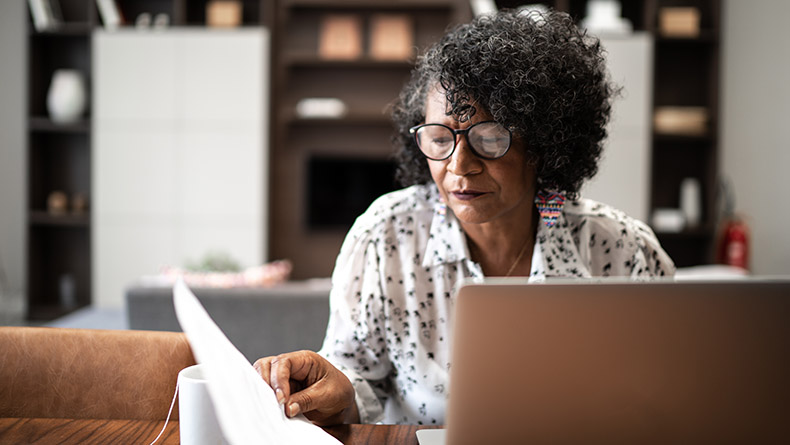 Up until the beginning of the COVID-19 pandemic, older women were among the fastest-growing demographic groups in the US workforce. The US Bureau of Labor Statistics (BLS) had forecast that no other group of workers would see such fast-growing increases in labor force participation rates in the decade ahead. But in the early months of the pandemic, older women experienced some of the highest unemployment rates. Two years later, labor force participation rates for women ages 55 and older continue to lag their pre-pandemic rates.

Fewer Women in the Workforce

The numbers track clearly with the pandemic. Following a period of growth in older women's participation in the workforce and all indicators pointing toward that growth continuing, the pandemic put the trend to a halt. In February 2022, the seasonally adjusted labor force participation rate (LFPR) for women ages 55 and older, was 33.7 percent compared with 35 percent in February 2020. The BLS seasonally adjusted data indicate that there were about 450,000 fewer women ages 55 and older in the US labor force in February 2022 than in February 2020. In fact, participation for women ages 25 to 54 also has not returned to pre-pandemic levels: 75.8 percent in February 2022 compared with 76.9 percent in February 2020.

Pandemic Drove a Decline in the Fastest-Growing Workforce Demographic

Between 2000 and 2010, older women had among the greatest increases in their labor force participation rates. In particular, women ages 65+, though representing a small part of the labor force overall, showed particularly strong increases in LFPR in the first decades of this century. And in the 2010–2020 time period, older women were among the only worker demographic that continued to show an increased percentage rate change in LFPR.

Then in April 2020, when unemployment rates suddenly reached the highest level since the Great Depression, older women experienced the highest level of unemployment compared with other demographic groups. These drastically elevated levels of unemployment meant older women had the most ground to make up in the subsequent recovery. High rates of job loss, meanwhile, likely played a role in many older women's decision to retire, often earlier than planned. Analysis of government data from the Federal Reserve Bank of St. Louis' Institute for Economic Equity (IEE) showed that women were more likely to retire than men during the pandemic, especially among workers ages 65 to 74. Retirements among those ages 65 and older accounted for a large proportion of older women's overall decline in LFPRs. Many of these older workers would probably have stayed in the workforce had the pandemic not occurred. AARP research found that about one in five workers ages 50 and older retired earlier than planned because of the pandemic.

Longer-Term Trend Still Points to More Older Women in Workforce

Despite the decline in older women's LFPR between February 2020 and February 2022, the BLS continues to project labor force participation rates for older workers, and especially older women, will rise. For the past two decades, participation rates of older age groups have been trending upward. The BLS attributes this, in part, to substantial changes to Social Security and private pensions while also contrasting this upward trend with that for the rest of the population, whose participation rate has been declining. The latest BLS employment outlook projects that these declines among younger workers' LFPR will continue through 2030. In contrast, one of the few groups that will show an increase in labor force participation will be women ages 55 and older.

For more jobs data: Find the latest employment data in the AARP Public Policy Institute's (PPI) Employment Data Digest, PPI's monthly review of job trends for those ages 55 and over. Visit the AARP website's work and jobs section for articles on work and unemployment and job search resources.