Overcoming Access Barriers to Connect Older Adults to COVID-19 Vaccines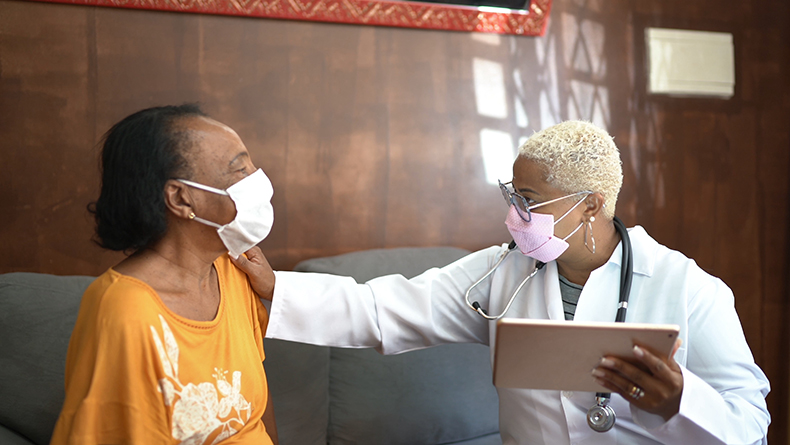 In the face of the outbreak, AARP is providing information and resources to help older people and those caring for them protect themselves from the virus and prevent it from spreading to others. You can find AARP's coronavirus resources at https://www.aarp.org/coronavirus/.

Due to the tragic impact of COVID-19 on older adults – 95 percent of COVID-19-related deaths are among adults ages 50 and older – the initial rollout of vaccines prioritized adults ages 65 and older for vaccination. Not surprisingly, older adults have quickly become the most vaccinated group in the US. The Centers for Disease Control and Prevention reports, as of May 13, 2021, that adults ages 65 to 74 rank the highest (86 percent) among all adults ages 16 and older who have received at least one dose of any COVID-19 vaccine, followed by adults ages 75 and older (83 percent) and adults ages 50 to 64 (66 percent).

To achieve these high vaccination rates, officials have utilized non-traditional methods and settings. For example, hundreds of Federal Emergency Management Agency (FEMA) and state-run mass vaccination centers provided quick and efficient vaccinations, and the Pharmacy Partnership for Long-Term Care Program allowed pharmacies to set up on-site clinics in nursing homes and other long-term care facilities and fully vaccinate 1.5 million residents.

Now that we are reaching a point where the U.S. has an adequate supply of COVID-19 vaccines, officials must consider how to identify and reach older adults who remain unvaccinated, particularly those who want but have been unable to access a vaccine.

Getting Older Adults to Vaccination Sites

A critical aspect of improving access to vaccines for older adults is offering them in trusted and convenient settings. A recent AARP report showed the value of supporting both traditional and non-traditional settings in order to reach underserved older adults. Adults ages 50 and older most frequently go directly to their health care provider or pharmacies to receive flu vaccinations. Thus, it is important that these traditional settings have adequate vaccine supply and personnel to administer vaccines, which officials are addressing. Once they have this supply, providers should be encouraged to check in with their patients to address any concerns about the vaccines and help them get appointments.

Vaccination sites also need to be accessible. This begins with the layout and navigability of the physical location. Older adults who have physical, cognitive, sensory, or technological challenges, as well as those with limited English proficiency, should be able to move easily through the vaccination process.

Site accessibility also includes being able to get to the site. Traveling to a vaccination site is a challenge for some older adults. While an estimated 90 percent of eligible adults live within five miles of a vaccination site, many older adults have limited access to a car, ride-sharing services, or public transportation. These older adults may need to depend on family, friends, neighbors, and local organizations to help them get to an appropriate site. AARP, for example, is working nationally and in states like Oklahoma to partner with organizations to provide rides for older adults without easy access to vaccination sites, including rural, tribal, and veteran residents.

Getting Vaccines to Older Adults

Many older adults, including the homebound, those with disabilities, people transitioning into nursing facilities, and others at high-risk of severe COVID complications, may be unwilling or unable to leave their homes to visit a public vaccination site. In addition, those living in rural areas may not have convenient vaccination options near them. Bringing vaccines directly to these populations will require targeted strategies and close coordination among public and private stakeholders, yet it is emerging as a promising next step to close the access gap.

Mobile COVID-19 vaccination sites, including pop-up sites and mobile vans run by FEMA and other organizations, are being used more frequently to reach the homebound and those in rural areas. The logistics around administering COVID-19 vaccines in this way, however, can be challenging due to vaccine storage and handling requirements. Identifying and communicating with those in need of mobile vaccination services is an additional hurdle, but local stakeholders are working to bridge the gap. For example, AARP Arkansas is collaborating with the state health department to identify homebound individuals interested in receiving a COVID-19 vaccine and connecting them, through live operator calls, to the Arkansas Department of Health for an appointment.

Charting an Accessible Path Forward

Despite the widespread availability of COVID-19 vaccines, some older adults remain unvaccinated. In order to create vaccination opportunities for older adults who want to get vaccinated but haven't yet, health officials and local partners need to utilize creative and targeted solutions that identify unvaccinated older adults, distribute vaccines through the appropriate and convenient settings, and ensure older adults' access to those settings.