Pay-for-Delay Agreements and Prescription Drug Costs
By Leigh Purvis , May 13, 2013 09:00 AM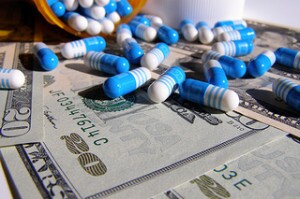 Brand-name pharmaceutical companies can delay generic competition by paying a generic competitor to hold its competing product off the market for a certain period of time. These "pay-for-delay" agreements benefit both parties: the brand-name manufacturer can continue to charge monopoly prices, and the generic company is compensated for its inaction.
The Federal Trade Commission (FTC) estimates that pay-for-delay agreements cost American consumers $3.5 billion per year. The Justice Department has challenged these agreements as anti-competitive and the Supreme Court is currently considering the issue.
Join the discussion: $3.1 Million to Put Lipstick On the Obamacare Pig
Pay-for-delay agreements are a consequence of the Drug Price Competition and Patent Term Restoration Act of 1984, known as the Hatch-Waxman Act. Hatch-Waxman gives generic drug manufacturers an incentive to challenge brand-name drug patents because the first generic drug manufacturer to receive Food and Drug Administration (FDA) approval to launch a generic copy of a brand name drug can receive a 180-day marketing exclusivity period for its product. The FDA cannot approve any other generic applications for the same drug until the first-to-file generic manufacturer has sold its product for 180 days or has forfeited its exclusivity period.
However, brand-name drug manufacturers often challenge generic drug manufacturers who try to launch their product prior to patent expiration, which results in litigation to determine whether the generic manufacturer is infringing on the brand-name manufacturer's patents.
Rather than face the costs and uncertainty associated with patent litigation, some brand-name and generic drug manufacturers choose to settle before a final court decision. Some of these settlements also compensate the generic drug manufacturer for agreeing to delay the launch of its competing product, which is what attracted the attention of the FTC. Such agreements can be particularly problematic when they involve the first-to-file generic manufacturer, because no other generic manufacturers can enter the market until the first-to-file manufacturer has marketed its product for 180 days.
The FTC has found that pay-for-delay agreements prohibit generic entry for an average of nearly 17 months longer than patent settlement agreements without such payments. In the meantime, consumers must continue paying brand name drug prices, which are typically 80 to 85 percent higher than generic drug prices. This negatively impacts both consumers and taxpayer-funded health programs such as Medicare and Medicaid.
Pay-for-delay agreements can also impact patient health: patients who face high prescription drug costs may fail to take their medications as prescribed, leading to unnecessary health complications that increase costs for patients and their insurers.
Unfortunately, the number of pay-for-delay agreements has been increasing. At the same time, the opportunities for pay-for-delay agreements are growing as the pharmaceutical industry faces an unprecedented number of patent expirations. In 2011 and 2012, six of the ten top-selling prescription drug products on the U.S. market faced their first generic competition, and many more drug products are expected to go off patent over the next several years.
AARP has consistently supported eliminating pay-for-delay agreements. It recently filed a friend-of-the court brief for the Supreme Court case that will determine whether pay-for-delay agreements are anticompetitive. AARP has also supported legislative efforts that would prohibit pay-for-delay agreements.
[Photo courtesy of: StockMonkeys.com, flickr]