We Need More Nurses to Provide Primary Care
By Debra Whitman , May 23, 2013 10:30 AM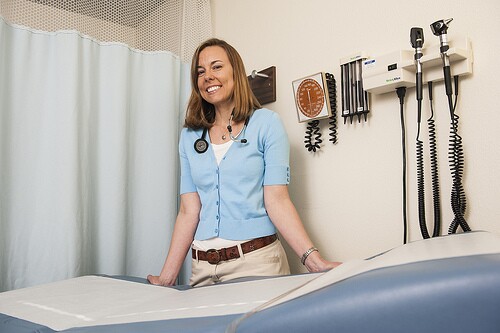 A recent survey of doctors and nurses has put the spotlight on a topic that is becoming more important every day -- the shortage of primary care providers and the role for nurses in fixing it.
According to an article in the New England Journal of Medicine, the doctors and nurses broadly agreed that, "Nurse practitioners should be able to practice to the full extent of their education and training."
Unfortunately, they held very different views on just what that should mean.
I was glad to see the well-respected and influential NEJM focus on this important topic. Advanced practice registered nurses have a tremendous role to play in expanding access and improving care. This role is becoming even more critical, as 30 million people gain health coverage under the Affordable Care Act, and the boomer generation gets older.
Related: Nurse-Practitioners: The Answer to the Doctor Shortage?
But I was disappointed that many physicians don't recognize that nurse practitioners are a terrific resource that we will need to help fill the nation's growing shortage of primary care providers.
According to the Association of American Medical Colleges, we will require an additional 45,000 primary care physicians by 2020. We need more health professionals, and it is vital that we get the most out of every one we have.
Patients are hurt by outdated laws that stop health professionals from providing care they are qualified to provide. Sick people have to wait longer for health care, or make do without it, or travel long distances when a qualified nurse may be around the corner.
When it comes to communicating with patients, the public often rates nurses as equal or superior to doctors. In 2010, an Institute of Medicine study urged a greater role for nurse practitioners, including the right to lead medical homes and medical teams.
Yet too often in Washington and state capitals, the needs of patients and their families are an afterthought in debates over health care. It's time to change that. What's best for consumers should be at the very center any debate on primary care.
AARP and the Robert Wood Johnson Foundation are engaged in a major effort to ensure that all Americans have access to skilled nurses for care they need, including affordable, primary care. The Future of Nursing: Campaign for Action has organized more than 50 leading national consumer, business and health professional organizations and 51 state Action Coalitions to help transform health care and improve access through nursing.
These advocacy efforts are gaining momentum, because they address a real need. It's one thing for doctors to say that nurses should practice to the full extent of their training. Now it's time to make that more of a reality throughout the United States.
Debra B. Whitman is AARP's executive vice president for policy, strategy and international affairs.
Also of Interest

Join AARP: Savings, resources and news for your well-being
See the AARP home page for deals, savings tips, trivia and more