States' Role in Limiting Inappropriate Use of Antipsychotic Meds in Nursing Homes
By Kathleen Ujvari , September 23, 2014 07:00 AM
As nursing homes have moved away from using physical restraints, there is evidence that some institutions are substituting antipsychotic medications to sedate residents with behavior problems.
Why is this a dangerous and inappropriate practice?
Inappropriate use of antipsychotic drugs by nursing homes exposes elderly vulnerable people to increased risk of falls, delirium, stroke and death. In 2011, the Department of Health and Human Services inspector general testified before the Senate Aging Committee that antipsychotic drugs were being prescribed in "violation of nursing home quality and safety standards" including those concerning dose monitoring, indication for use and adverse effects. A recent AARP Bulletin article shared personal stories and the settlement of a recent class-action lawsuit.
Why is this cause for alarm?
Antipsychotic drugs are indicated to treat schizophrenia and other psychotic disorders, but not for treatment of dementia-related psychosis. Despite FDA black box warnings against their use in older adults with dementia, the Centers for Medicare & Medicaid Services (CMS) and independent studies report that off-label use of these drugs is high among nursing home residents with dementia. During 2013, about 1 in 5 nursing home residents, primarily those with dementia, were prescribed antipsychotic medication. More than half of all nursing home residents have dementia and most experience behavioral and psychological symptoms of dementia (BPSD).
>> 12 Foods That Can Help You Sleep
Measuring the growing inappropriate use
The AARP Public Policy Institute (with support from the Commonwealth Fund and the SCAN Foundation) recently released the latest edition of a Scorecard report showing how well states deliver long-term services and supports. The Scorecard evaluates and ranks state performance across a broad range of measures. This edition dropped a previously reported nursing home physical restraint measure due to marked reduction in its use. The Scorecard replaced this measure with use of antipsychotic medications due to concerns that nursing homes inappropriately substituted so-called chemical restraints.
What the state Scorecard shows
The Scorecard found that inappropriate use of antipsychotic drugs varied widely across states, with almost a twofold difference in the percentage of residents receiving these medications among the top and bottom tier states (see bar graph). The Midwest and South regions of the United States had the greatest concentration of states with the highest percentage (22-28%) of nursing home residents who received an antipsychotic medication.
Wide State Variation in Use of Off-Label Antipsychotic Medications Among Nursing Home Residents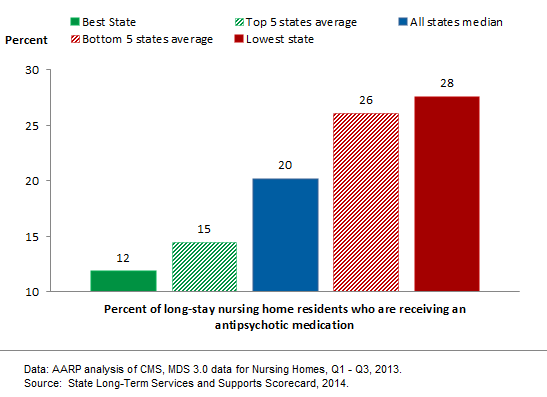 What can/should be done
All states must work to eliminate inappropriate use of antipsychotic drugs. Quality initiatives are under way through partnerships with CMS, state-based coalitions and grass-root efforts to change "staff convenience" practices of medicating people to treat BPSD. Alternatives include person-centered care, nonpharmacological approaches to dementia care and use of environmental modifications.
>> Get discounts on health services with your AARP Member Advantages.
Some states have implemented programs to train nursing home staff on appropriate use of antipsychotic drugs. Colorado added an antipsychotic medication quality measure to its nursing home Pay-for-Performance quality incentive program. Providers receive a higher Medicaid reimbursement for fulfilling quality metrics. Cultural arts and regular dance and expressive movement therapy have gained attention for their potential to generate social and behavior changes among people with dementia. As the population with dementia grows, we need effective solutions to improve quality of care for those who live in nursing homes.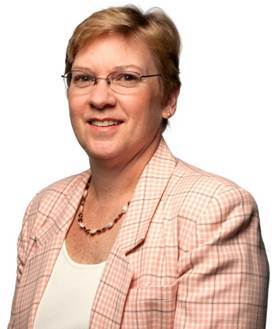 Kathleen Ujvari is a policy research senior analyst with the AARP Public Policy Institute, where she works on long-term services and supports research. She has an MBA and a Master of Science degree in health systems management.
Also of Interest

See the AARP home page for deals, savings tips, trivia and more