Striking Disparities in Food Insecurity Rates Among Older Adults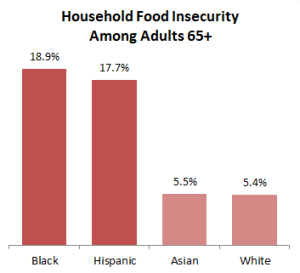 Nearly 8 percent of adults age 65 and older are food insecure, meaning they do not always have balanced meals or enough to eat because they cannot afford it. However, there are significant racial and ethnic disparities in food insecurity among older adults. Black and Hispanic seniors are over three times more likely to experience food insecurity than their white and Asian counterparts. In fact, nearly 1 in 5 black seniors are food insecure, compared to about 1 in 18 white seniors.

This is an important public health concern because food insecurity among older adults is associated with a range of health problems, including depression and chronic diseases like diabetes and hypertension. Reducing food insecurity rates among seniors of color could help narrow the health disparities gap.

The reasons for disparities in food insecurity rates among seniors are complex and likely related to socioeconomic determinants of health. Disparities in access to affordable housing, steady income, safe neighborhoods, community-based resources (including grocery stores), and reliable transportation may contribute to or exacerbate disparities in food insecurity rates. A low-income senior spending most of his or her income on rent, for example, may not have enough money left to purchase food.

Every American should have the chance to live a healthy, hunger-free life, regardless of age, race or ethnicity. State and federal policymakers should focus their efforts on reducing disparities in food insecurity among older Americans by:

Investing in research that examines the root causes of the disparities in food insecurity
Funding and scaling successful community-based hunger initiatives that narrow the disparities gap
Increasing outreach efforts to ensure that eligible seniors — especially those of color — are enrolled in federal programs that subsidize access to nutritious foods


****

This February, AARP is highlighting 29 Days of Action — simple things individuals and consumers can do to help combat hunger and food insecurity.

Want more information? Check out AARP's new DataExplorer to examine the data, read about AARP Foundation's work to fight food insecurity, and check out AARP President-elect Eric Schneidewind's recent testimony on SNAP and its importance to seniors before the House Agriculture Committee, Subcommittee on Nutrition.

****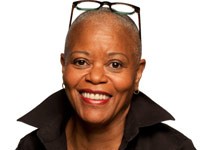 Lynda Flowers is a senior strategic policy adviser with the AARP Public Policy Institute, specializing in Medicaid issues, health disparities and public health.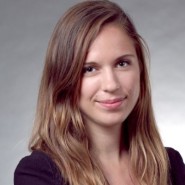 Olivia Dean is a policy analyst with the AARP Public Policy Institute. Her work focuses on public health, mental health, health disparities and healthy behavior.