Time for Action on Retirement Saving
By Gary Koenig , August 06, 2013 01:43 PM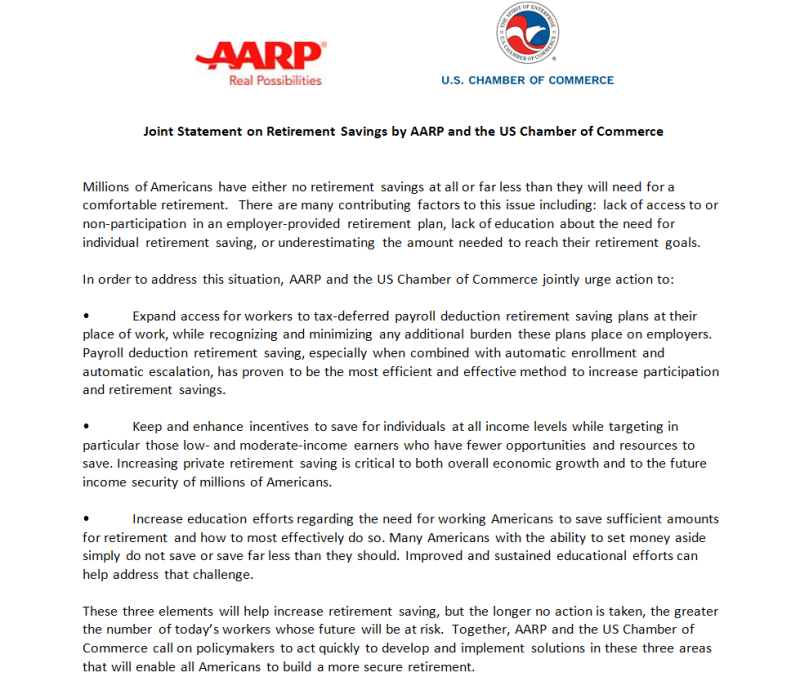 Americans need to save more for retirement, and more employees need to have access to a workplace retirement savings plan. These were the major themes at a recent AARP-U.S. Chamber of Commerce forum ( watch it here ), where these two organizations - often on opposite sides of policy issues - issued a joint call to action for policies to encourage more savings.

In the joint statement , the AARP and the U.S. Chamber urged Congress and the president to:

(1) Expand the number of workers with access to a retirement plan at work, particularly plans that automatically enroll workers and increase the percentage of earnings contributed over time through auto-escalation;

(2) Improve retirement saving incentives for those who often have the most trouble saving;

(3) Increase educational efforts to increase understanding of the importance of saving for retirement and how to effectively do so.

In addition to the statement - issued by Deb Whitman (AARP) and Randy Johnson (U.S. Chamber of Commerce) - many forum participants noted the important role that policy changes can play in increasing retirement saving.

Putnam Investments CEO Bob Reynolds called for a more automatic employer-based retirement savings system, where every workplace savings plan has automatic enrollment and automatic escalation of contributions. He also said we need to extend a workplace savings plan to all working Americans, suggesting that a proposal like the automatic IRA would be a huge step toward boosting retirement readiness and calling for raising savings rates from about 7 percent today to 10 percent.

During the first panel, Patti Bjork from Aon Hewitt, Leticia Miranda from National Council of La Raza and Cindy Hounsell from the Women's Institute for a Secure Retirement explored retirement saving challenges faced by women, African Americans and Hispanics. They agreed that access to a workplace plan was the most significant obstacle. Importantly, all agreed that these groups have both the ability and the desire to save for retirement.

On a panel focusing on solutions, Beth McHugh from Fidelity noted that automatic enrollment virtually eliminates the participation gap between high-wage and low-wage workers. But she also cautioned that too many plans set the starting contribution rate too low - typically 3 percent of pay. Jamie Kalamarides from Prudential argued that allowing small businesses to establish multiple employer retirement plans would increase coverage by lowering costs and moving the fiduciary liability to plan providers who are better able to handle it. Heather Hooper from Loring Ward said ease of administration, limiting risk exposure and creating a meaningful benefit for their employees are keys to getting employers to offer a plan. Finally, Michael Kiley from Plan Administrators Inc. argued that we need to develop new ways to encourage retirement saving, and that information provided to employees needs to be simple, easy to understand, and directly useful.

Finally, Paula Calimafde from the Small Business Council of America, Stacey Dion from Boeing and Shaun O'Brien from the AFL-CIO generally agreed that retirement plans need to be simple, but there was disagreement about whether simplicity was enough to expand coverage.

All of the participants generally agreed that more needs to be done to improve retirement security.

For the many millions of Americans who are at risk of not having enough savings for a secure retirement, these solutions cannot happen soon enough.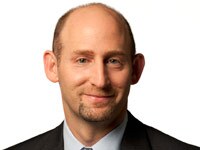 Gary Koenig directs the economic security team in the AARP Public Policy Institute. His own work focuses on Social Security, private pension reform, retirement savings and income adequacy in retirement. Follow him on Twitter.