Why Access to Advanced Practice Registered Nurses Matters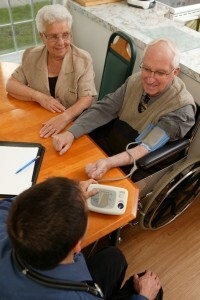 The United States health care environment is changing rapidly. A growing number of Americans have health conditions that require more complex care than ever before. Our population is aging: 55 million Americans live in areas with a shortage of primary care providers. And 25 million formerly uninsured people will soon gain access to health care through the Affordable Care Act.
Enter advanced practice registered nurses (nurse practitioners [NPs], certified nurse midwives, certified nurse anesthetists, and clinical nurse specialists [CNSs]). As the largest segment of the health care workforce-and the ones who spend the most time with patients and their families-nurses are vital to our nation's health care system. Advanced practice registered nurses (APRNs) like nurse practitioners are a significant resource to help fill the primary care gap. And health care consumers are increasingly more open to a role for nurse practitioners in primary care.
Related: We Need More Nurses to Provide Primary Care
However, outdated laws across the U.S. are limiting consumers' access to these highly-qualified clinicians. Yet, the tides are turning. In the last three weeks, we've seen victories in three states- Nevada, Iowa, and Oregon. These states are shining the light-and demonstrating progress-on this critical issue for consumers: the need for nurses to practice to the full extent of their education and training.
In Nevada, Governor Brian Sandoval signed into law a bill giving NPs full practice authority. With the passage of this legislation, Nevada became the 17th state, along with the District of Columbia, to allow NPs to practice without unnecessary oversight by physicians. This means that consumers will have quicker access to diagnoses, treatment, and referrals, which will increase their quality of life and likely save them money.
Iowa's state Supreme Court ruled that NPs can supervise fluoroscopy, an X-ray technique used in a variety of medical procedures and examinations. This will give consumers quicker access to certain imaging tests and other procedures. Oregon passed a bill (unanimously in the House of Representatives) removing restrictions faced by NPs and CNSs when dispensing crucial medication to patients, which will speed up the time when people need urgent medical attention when they go to the emergency room.
These victories are important. They will improve consumers' access to timely high-quality health care, particularly in areas where access to physicians is limited. Progress could not have been made without the support of many groups who helped draw attention to this important issue, including AARP Nevada.
There are still many other states that have outdated restrictive laws that prevent consumers getting care when and where they need it. That's why AARP and the Robert Wood Johnson Foundation (RWJF) have teamed up to lead the Future of Nursing: Campaign for Action, a national initiative working to make sure every American has access to highly skilled nurses. Through its network of 51 state Action Coalitions and partner organizations, the Campaign is working to remove outdated laws and barriers that prevent consumers from getting the best possible care from nurses.
Winifred V. Quinn, PhD, is Co-Director of the Center to Champion Nursing in America , an initiative of AARP, the AARP Foundation, and RWJF.