In COVID-19 Crisis, Nation's Largest Food Safety Net More Crucial than Ever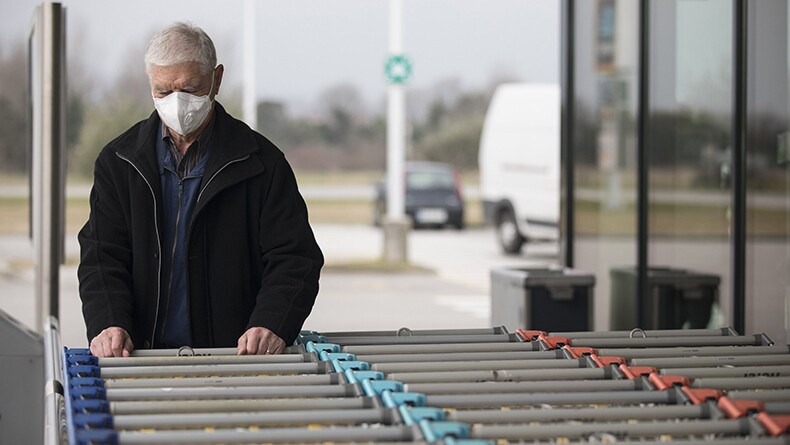 In the face of the outbreak, AARP is providing information and resources to help older people and those caring for them protect themselves from the virus and prevent it from spreading to others. You can find AARP's coronavirus resources at www.aarp.org/coronavirus.

As the country navigates a major public health crisis with the coronavirus (COVID-19) outbreak, the Supplemental Nutrition Assistance Program (SNAP)—the federal program that provides extra resources for food to eligible low-income people—is more crucial now than ever.

SNAP (formerly known as food stamps) is a critical safety net that helps millions of people of all ages put food on the table, including 8.7 million low-income households with adults ages 50 and older.[i] Even more people will rely on the program during this time of pandemic and sudden recession. But in order for SNAP to deliver, policy makers need to ensure the program has adequate resources and is nimble enough to respond to the crisis.

SNAP: A Proven Program Built to Respond

Older adults are at high risk for severe illness from COVID-19, so it is especially important that they have access to adequate nutrition and are able to stay as healthy as possible during this time. That's where SNAP comes in.

SNAP plays an important role in reducing food insecurity, and it is also associated with improved health. The program has been linked to improved self-reported health status as well as fewer sick days and doctor's visits. Among low-income older adults, SNAP participation is also associated with reduced hospitalizations. With hospitals stretched beyond their limits by the current pandemic, keeping older adults healthy and at home is all the more important.

SNAP is particularly important in periods of increased need, such as the current economic crisis. The program is designed to expand during economic downturns, as benefits are available to anyone who becomes eligible for the program at any given time.

Remove Barriers to SNAP During the Coronavirus Crisis

The COVID-19 crisis and associated economic crisis have quickly driven up unemployment among older working adults and will result in a growing number of older adults struggling to put food on the table. During this public health crisis, additional investments and flexibility in the SNAP program are needed to ensure that older adults can continue to access the food they need.

Here are three steps federal policy makers should take to make that happen:

1. Substantially increase the minimum and maximum SNAP benefit amounts until the pandemic recedes and the economy improves. The Families First Coronavirus Response Act allows states to provide emergency benefits to SNAP households up to the maximum monthly benefit amount, but this maximum benefit still doesn't fully cover the cost of needed meals and often doesn't last an entire month. With the unprecedented wage losses and unemployment related to the pandemic, more people face the threat of falling short on food. Meanwhile, an increase to the minimum benefit could be especially helpful for older Americans, as households with adults ages 60 and older make up 56 percent of households receiving the minimum SNAP benefit.

2. Expand ability for SNAP benefits to be used to purchase groceries online. With limited monthly food budgets, people who receive SNAP are hindered in their ability to stock up on food—risking greater exposure to the virus as they make more shopping trips. This is especially a problem for older SNAP beneficiaries who are at high risk. Purchasing groceries online is one way to reduce trips to the store, but only six states currently allow SNAP participants to use benefits online.

3. Suspend all rulemaking that would eliminate SNAP eligibility and reduce benefits. SNAP has come under assault in recent years, as policy makers have repeatedly tried to reduce benefits or add additional barriers to accessing the program. The USDA's proposed rules to revise categorical eligibility and methods for calculating standard utility allowances would disproportionately impact older adults, resulting in substantial benefit losses and eliminating SNAP eligibility for many. Any continuation of such rulemakings as the nation confronts the current crisis is inappropriate and inconsistent with SNAP's mission.

In these challenging times, SNAP does more than prove its worth; it becomes more important than ever. Strengthening and providing flexibility in SNAP in this time of crisis is essential to ensuring that millions of Americans – including older adults – are able to get the nutrition they need while staying home as much as possible.

[i] AARP Public Policy Institute analysis of SNAP Quality Control data, 2018.

Older adults' access to congregate meals is also threatened by the coronavirus pandemic. Read AARP Public Policy Institute's recent blog on the importance of expanding home-delivered meals during this time.