With COVID-19 Cases Rising, Essential Workers Forge Ahead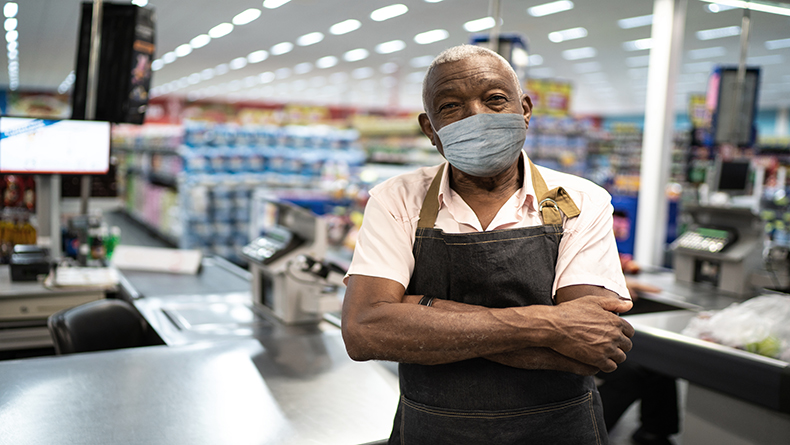 Health experts warn that there will be a surge in U.S. cases of COVID-19 in the coming weeks and months. Many states in the U.S. are likely to face tighter restrictions, keeping many employees at home working remotely. But U.S. essential workers, especially frontline workers, must continue to report for duty at the job site, despite its risks. And while the pandemic has highlighted how truly essential these workers are, it may also be pushing some critical demographics of this workforce out of the labor market.

Essential Workers Continue to Face Risk

The sacrifices essential workers have made during the pandemic cannot be overstated. Yet, despite their importance, many essential workers are in low-paid jobs; 29 percent of low-wage workers have been designated essential. Importantly, particularly in the context of the pandemic, such jobs are less likely to offer health and leave benefits than higher-wage occupations. Moreover, many, though not all, essential workers are in frontline jobs that involve higher risk of exposure to the virus.

Among this important part of the labor force are millions of older workers, who are more likely to have an elevated risk of health complications, illness, and death from COVID-19. In the health care sector, for example, 37 percent of essential workers are ages 50 and older, and 15 percent are 60 and older. Thousands have become seriously ill themselves, and many have lost their lives.

Labor Market Changes Due to the Pandemic Could Threaten Essential Workforce Capacity

There are signs that the ongoing challenges workers faced this year are changing the U.S. labor force in significant ways. Key demographics of workers, most notably women and older workers, are leaving the labor force in high numbers. Critically, many of these workers may hold jobs that are considered essential.

Looking at the older worker demographic, there is evidence that many are retiring earlier than planned due to the pandemic. In addition to the effect this will have on retirees' financial well-being, it could also influence the U.S. labor market and essential workforce. AARP analysis of government data on workers in the jobs identified as essential by the U.S. Cybersecurity & Infrastructure Security Agency (CISA) showed that over 16.1 million workers – over a third (37.3 percent) of the U.S. essential workforce – are ages 50 and older. With such a large share of the essential workforce in that age group, any decreases in labor force participation among older workers could diminish the nation's critical operations capacity.

Meanwhile, women from all age groups are more likely than men to work in essential jobs. But recent employment data also show a sharp drop in women's labor force participation rates in 2020. This is thought to be due not only to high rates of job loss in sectors employing large percentages of women but also to increased caregiving responsibilities during the pandemic.

About 34 percent of all female workers have been designated as essential, compared with 27 percent of all male workers. In the 50 and older age group, there are about 750,000 more women essential workers than men.

Over the longer term, these labor force trends may intensify labor shortages, particularly in sectors that employ many older workers or fields such as health care that rely heavily on their female workforce, many of whom work in essential jobs.

In the meantime, health experts warn that the next few months are likely to be the most difficult of the pandemic, and essential workers will continue to do their jobs under enormous pressure.

For more jobs data: Find the latest employment data in the AARP Public Policy Institute's (PPI) Employment Data Digest, PPI's monthly review of job trends for those ages 55 and over. Visit the AARP website's work and jobs section for articles on work and unemployment and job search resources.